About SyncSwap
SyncSwap is a decentralized trading platform deployed on zkSync Era to offer exchange services for ERC20 tokens such as ETH and USDC. It's built upon the SyncSwap protocol and aims to become the best trading layer and liquidity provider on the zkSync Era network.
The vision of SyncSwap is to create an entirely seamless and user-friendly one-stop DeFi hub. Click here to learn more about SyncSwap.
How Do You Use SyncSwap on zkSync Era?
Preparations
Open your ETH wallet, click on "Ethereum" at the top of the page, and select "zkSync Era" in the pop-up window to switch your ETH wallet from Ethereum network to the zkSync Era.

Ensure you have adequate ETH in your zkSync Era wallet to use as gas fees for subsequent transactions. You can deposit ETH into your zkSync Era wallet through exchanges or cross-chain bridges. Kindly check

How to Use zkSync Era with imToken

for more details
Entering SyncSwap
1. Open the zkSync Era wallet, click "DApp" to find SyncSwap, and open it.
Note: If you cannot open the DApp, please switch your mobile network and try again.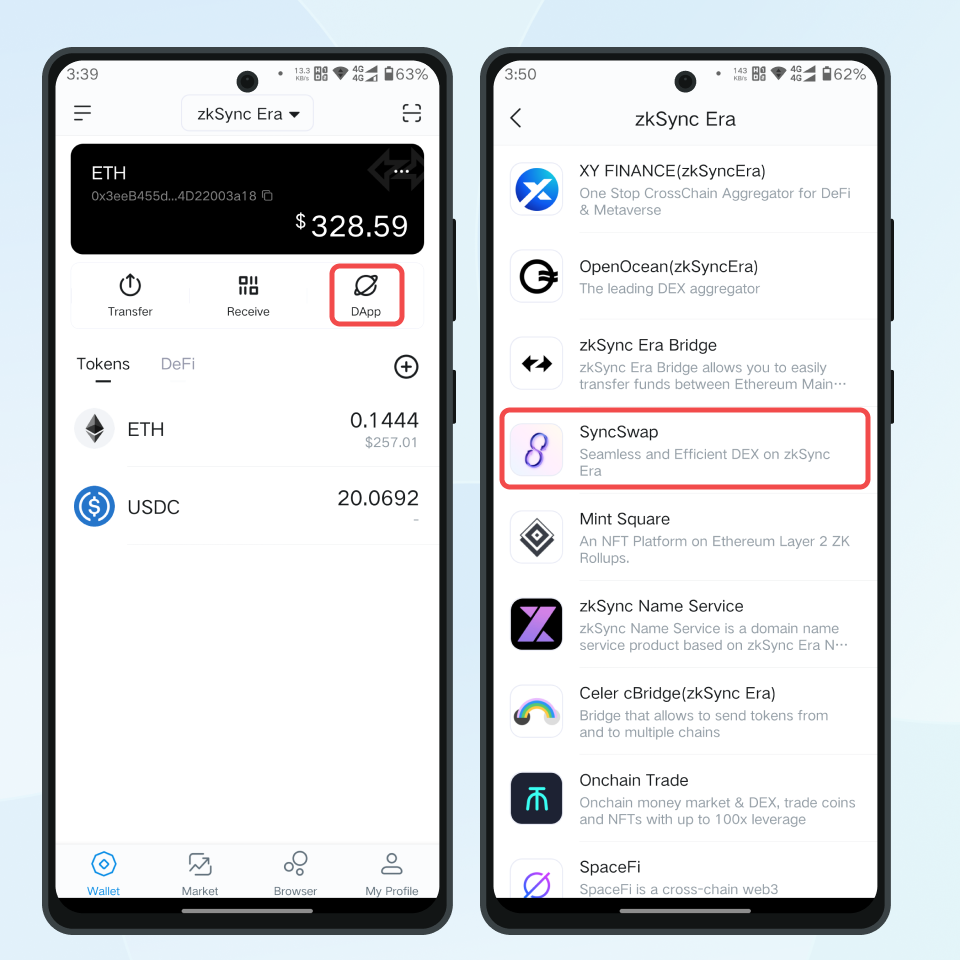 2. Click "Connect" - "WalletConnect" - "Connect" to authorize SyncSwap to access your wallet address and complete the DApp connection.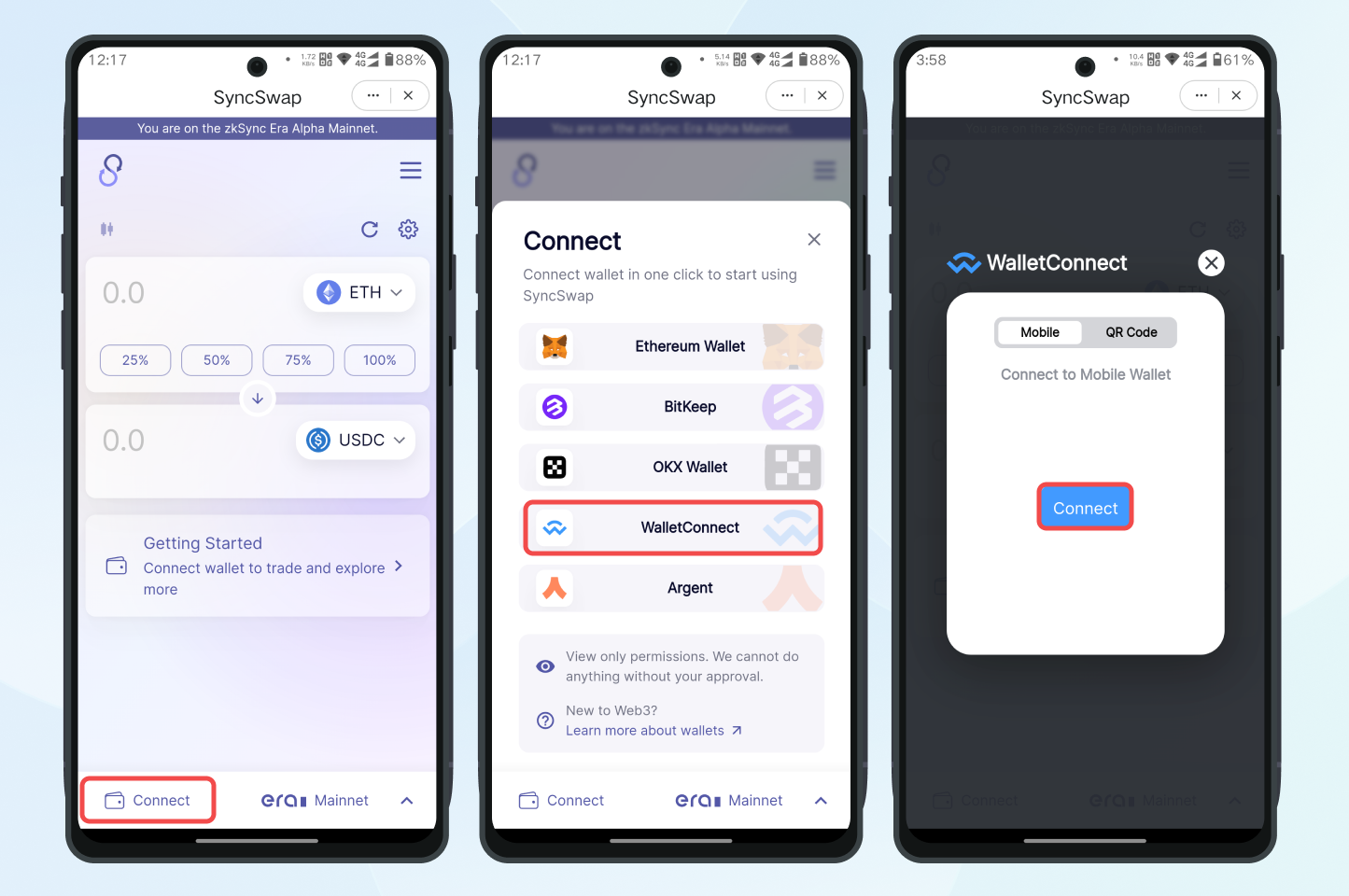 Once you enter SyncSwap, you can experience fast and low-cost token swaps and provide liquidity.
Token Swapping
To perform a token swap, set the token type and quantity you want to exchange in the input field. Click "Swap" - "Next," and enter your wallet password to complete the swap. (Consider the ETH to USDC swap below as an example.)
Note: Except for ETH, you need to click "Approve" first to authorize token swaps.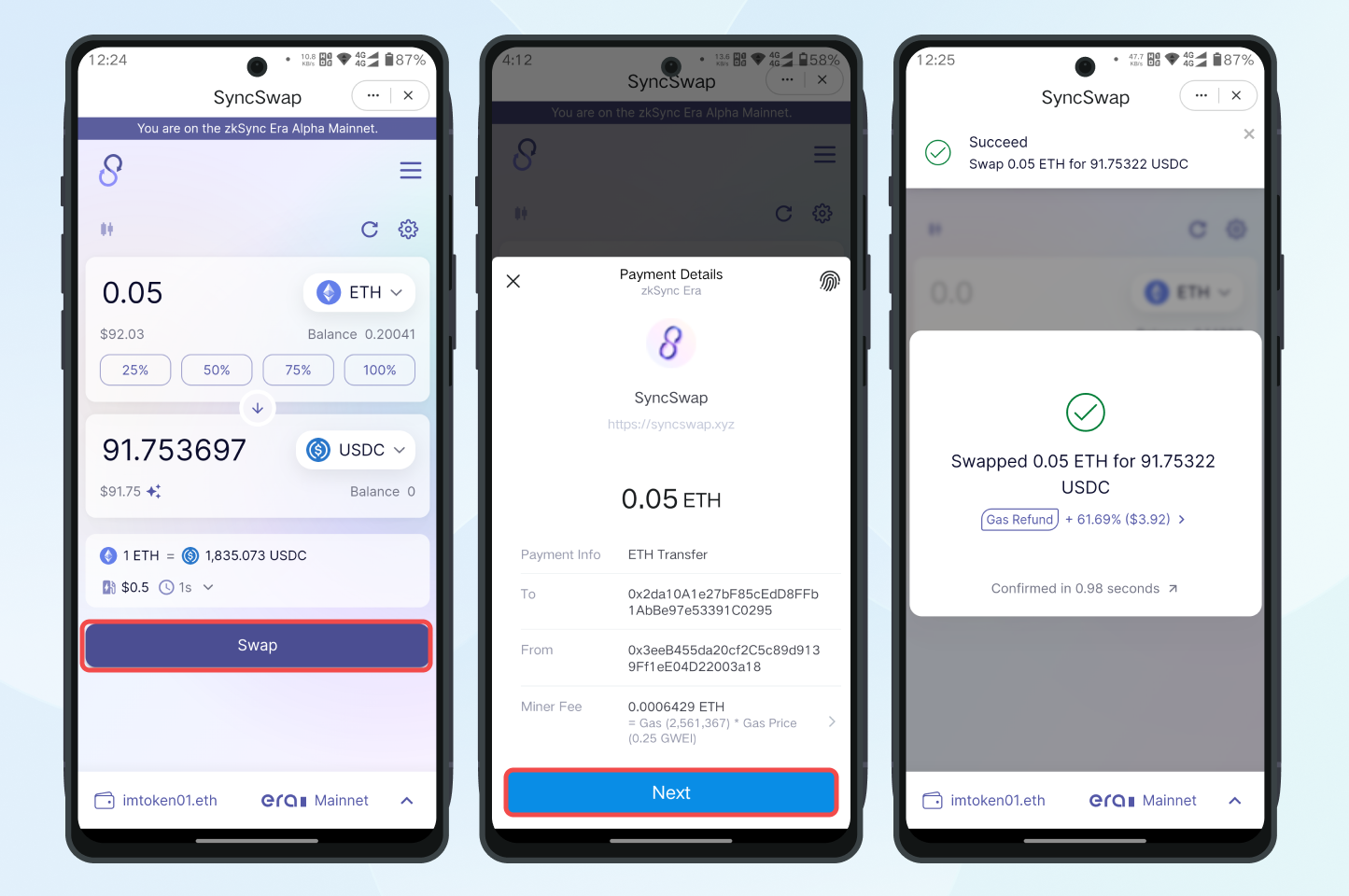 Providing and Removing Liquidity
Why Should You Provide Liquidity?
Providing liquidity to the SyncSwap exchange pool allows you to earn transaction fee rewards within the protocol.
How Do You Provide Liquidity?
1. Select "Pools" from the menu bar in the top right corner and click your favorite trading pool where you wish to provide liquidity (for example, the ETH/USDC pool).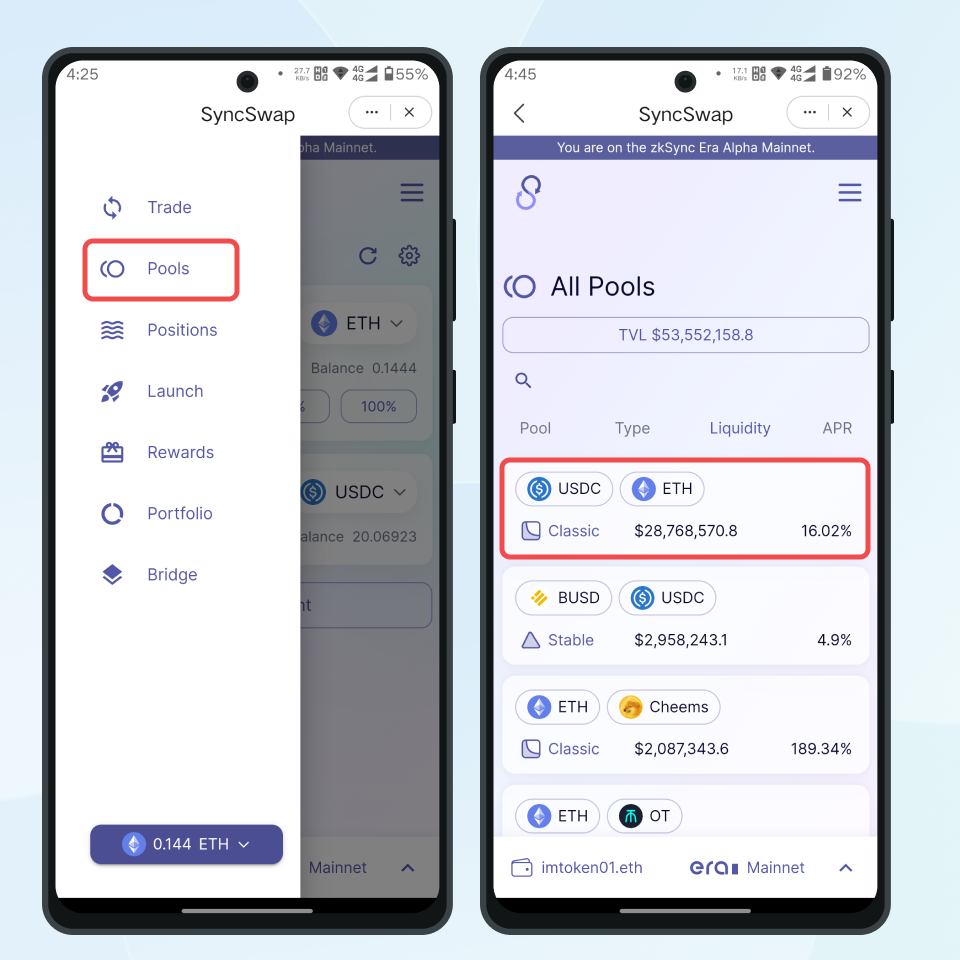 2. Click the "Deposit" tab and set the token and amount you want to deposit into the liquidity pool. Click "Deposit" to complete the staking process.
Note: If it's your first time adding ERC20 tokens to the liquidity pool, you must authorize the token transfer first.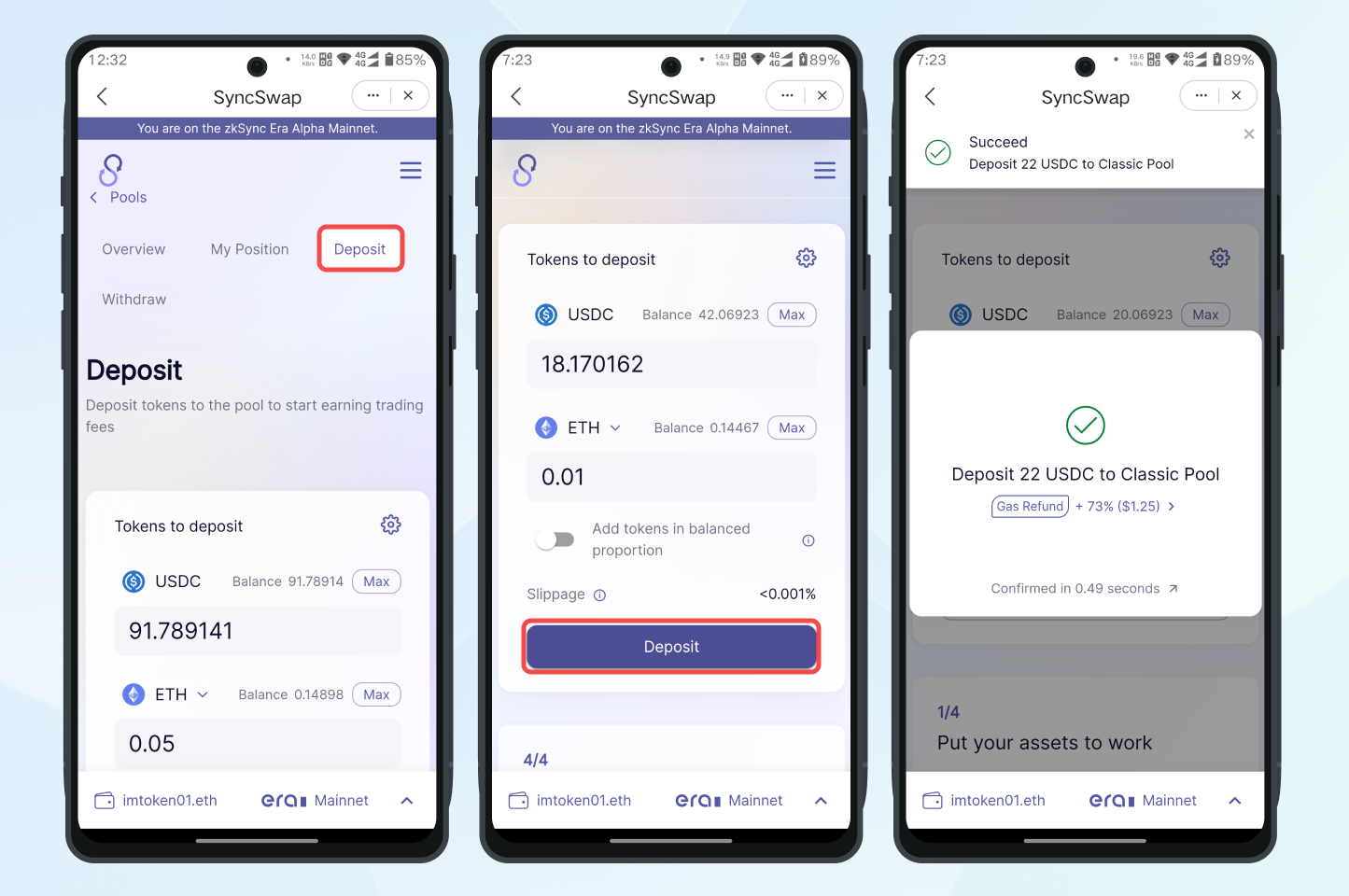 How Do You Remove Liquidity?
Click "Positions" and select the liquidity pool you want to withdraw from. Then, click "Withdraw" and set the token and quantity you wish to remove from the liquidity pool. Finally, click "Withdraw Liquidity" at the bottom and enter your wallet password to complete the process.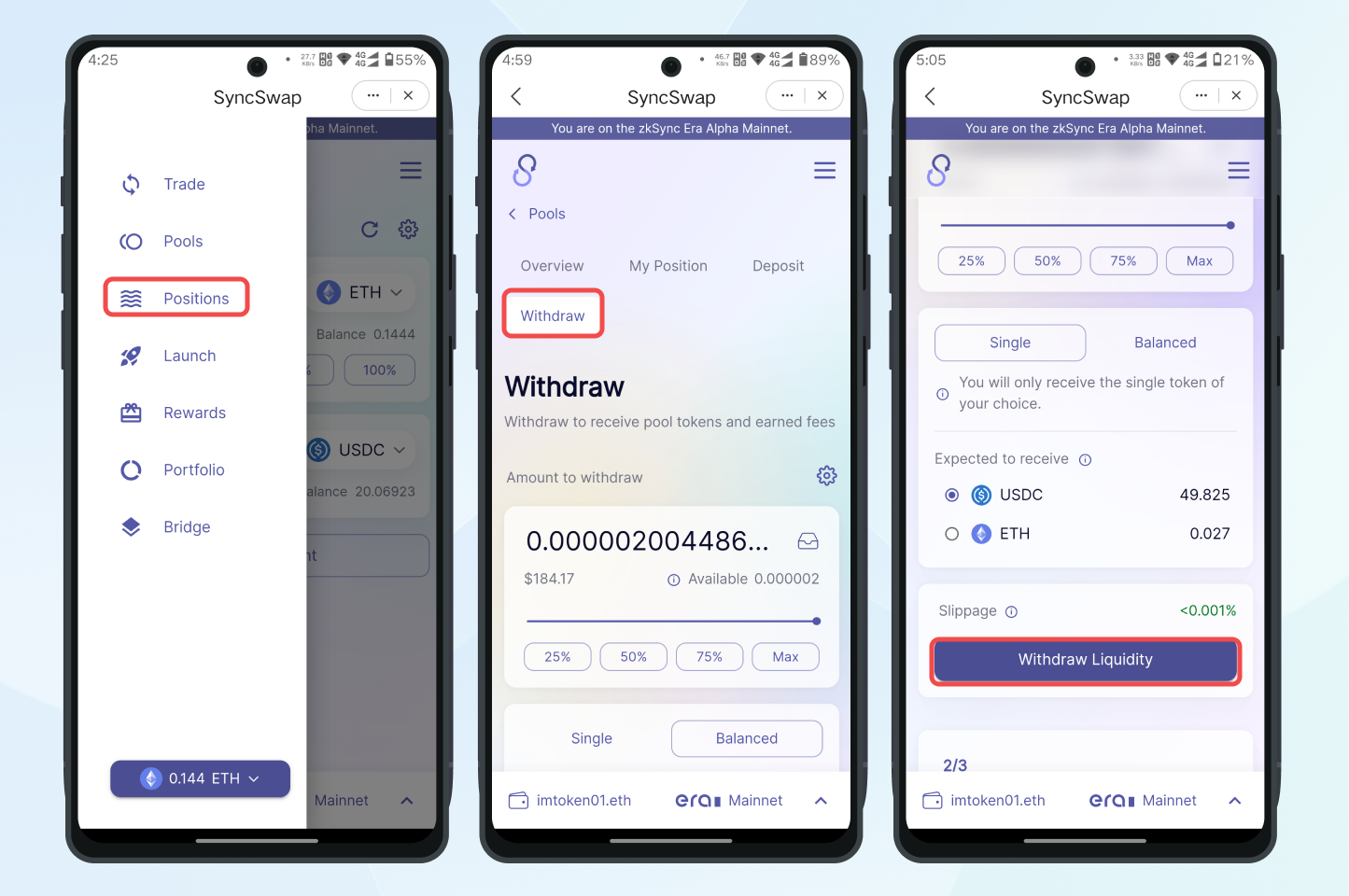 End
For the best security on large amounts of crypto, consider using our hardware wallet, imKey. In addition to providing heightened asset security, imKey supports Layer 2 ecosystems, including the zkSync Era.
Risk Warning: The information in this article is for educational purposes only and should not be considered investment advice! imToken does not endorse or guarantee any third-party services or products mentioned. Before investing in digital assets, carefully assess the associated risks and consult with relevant professionals.