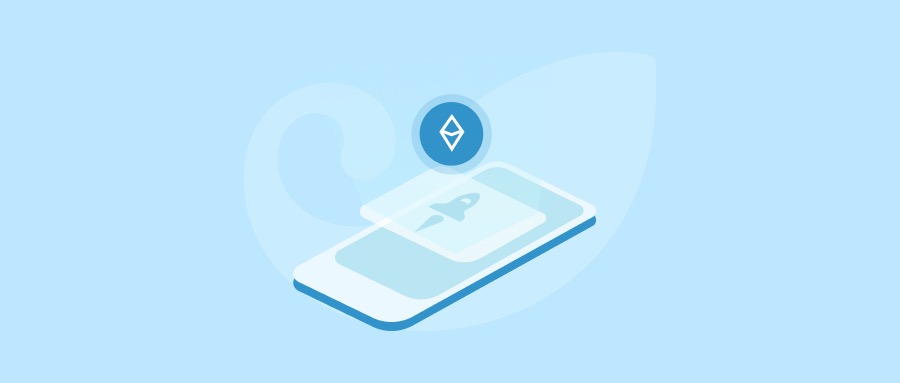 After the completion of the Shapella Upgrade, the withdrawal function of staked ETH on the Beacon Chain was activated. As one of the earliest Ethereum wallets, imToken has been committed to building the Ethereum ecosystem. And now,it supports the Shapella Upgrade and users can confidently stake ETH on imToken.
Meanwhile, the latest version also supports zkSync Era, providing users with more options for scaling solutions.
Furthermore, imToken has enhanced the risk control system to provide extra security protection for users' assets.
New on the latest version👇👇👇
Support for staked ETH withdrawals - an upgraded staking service functionality

Support for zkSync Era, enabling one-stop operations for transaction and DApp exploration

An upgraded risk control system of wallets and improved risk prompts for signatures and authorizations

More optimizations and bug fixes
Support for Staked ETH Withdrawals



ETH staking has been available in imToken since the early stage of the Beacon Chain. In imToken, users can find suitable staking solutions to earn yields as validators, regardless of the ETH amount they hold.
Related articles:

imToken has enhanced its Non-Custodial ETH Staking service in the latest version, introducing new functionalities that enable users to access and claim staking rewards while allowing them to withdraw their staked assets per their requirements and preferences.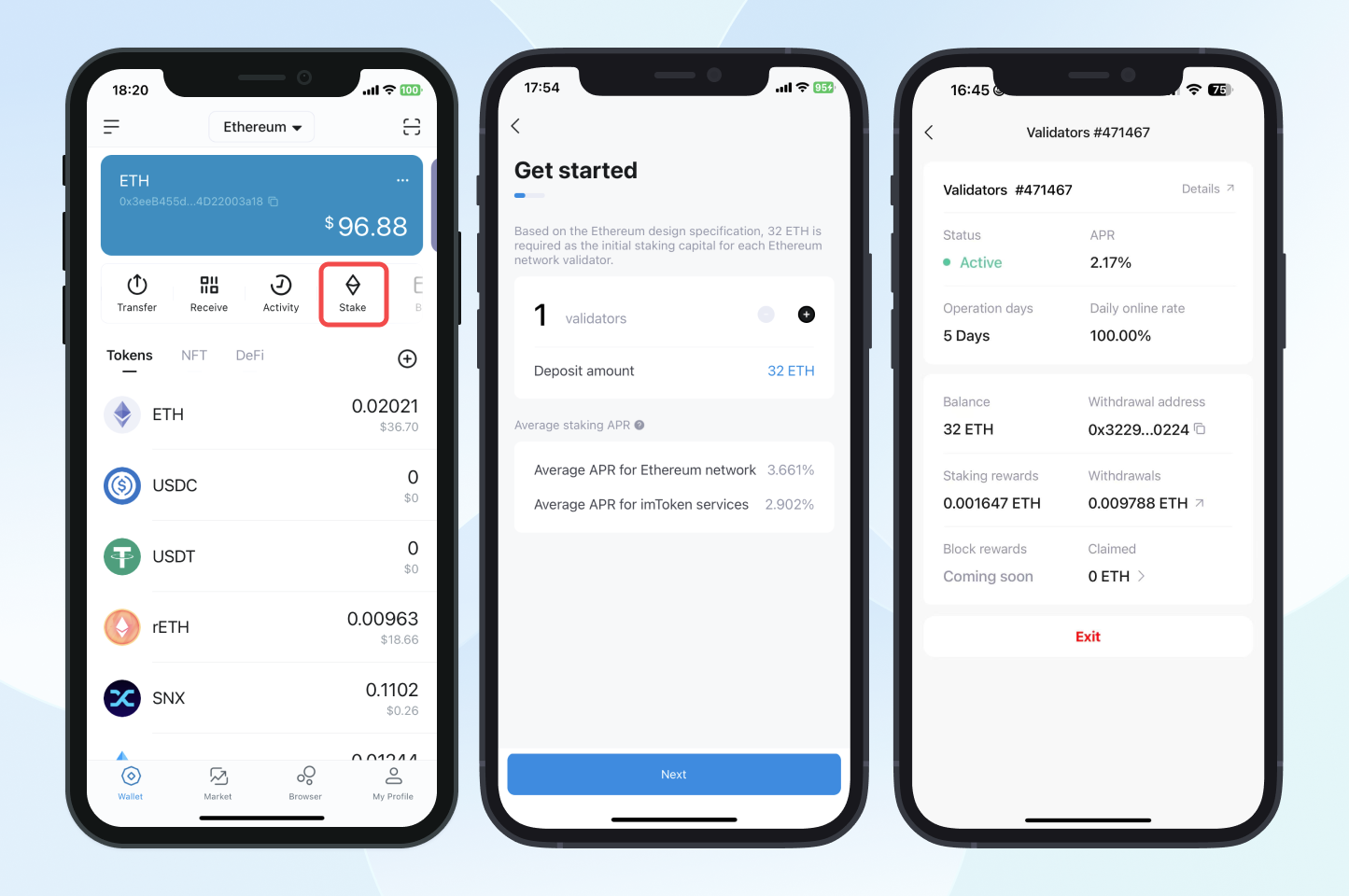 imToken is now one of the most trusted platforms for Non-Custodial Staking, having attracted over 40,000 ETH in the past two years, known for its stable and secure services
ETH staking just got better with imToken's latest version. Upgrade now to take advantage of the new and improved features!

Support for zkSync Era
imToken has been actively participating in the Layer 2 ecosystem, integrating zkSync in version 2.9.0 and supporting multiple networks such as Optimism, Arbitrum, and Arbitrum Nova. Additionally, mainstream applications for each Layer 2 ecosystem have been listed.
The update supports zkSync Era (formerly zkSync 2.0), allowing users to transfer, receive and access popular DApps. Based on ZK Rollup, zkSync Era is a Layer 2 scaling protocol designed by Matter Labs to improve Ethereum's scalability, and is EVM-compatible for easy smart contract deployment.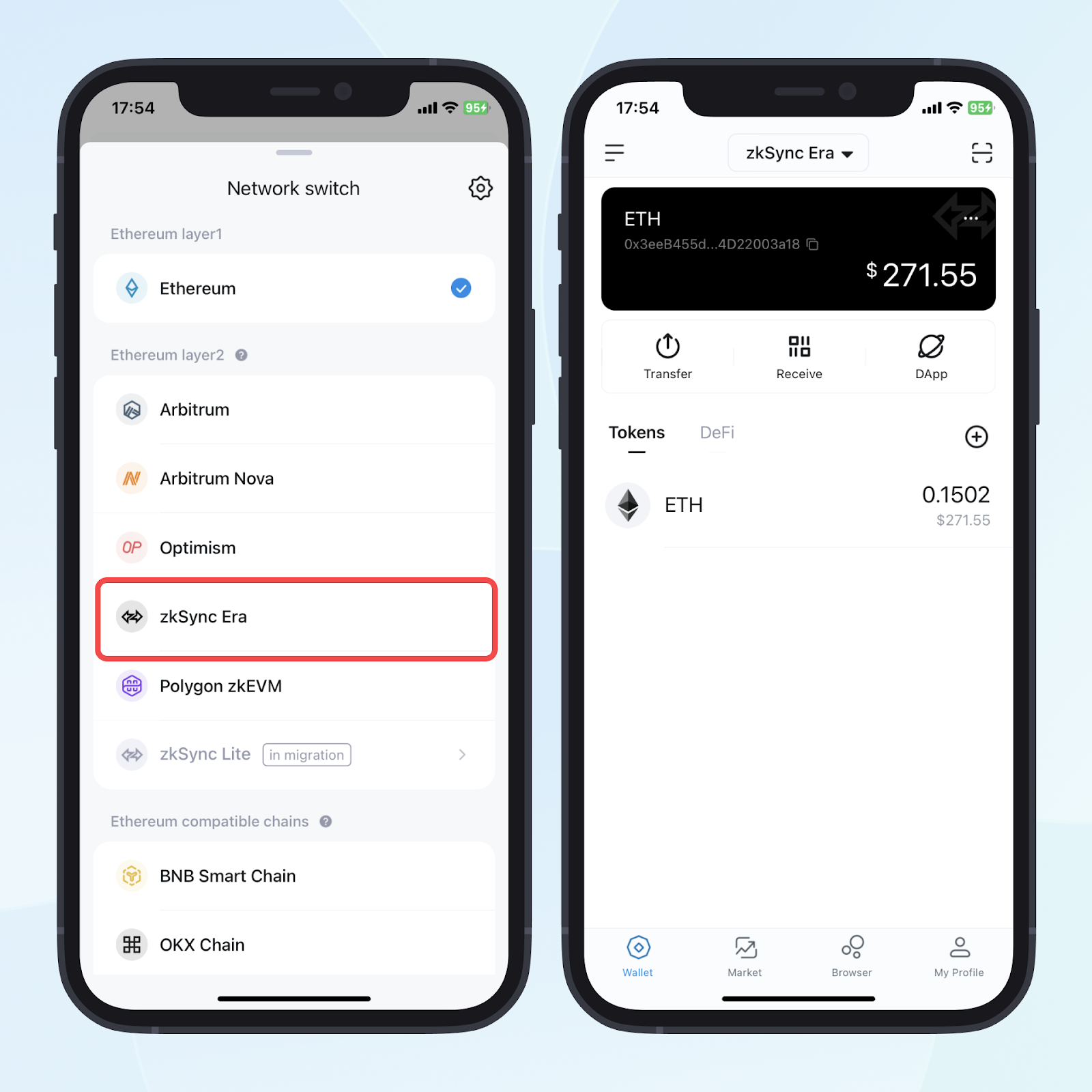 Please note that to help users differentiate between zkSync Era (formerly zkSync 2.0) and zkSync (formerly zkSync 1.0), zkSync has been renamed as zkSync Lite.
Learn more:How to use zkSync Era with imToken?

Enhanced Risk Control System



Recently, there has been an increase in eth_sign scams, in which the signer is unaware of what they are signing. This exposes users to phishing attacks and scammers can steal their assets without limits.
imToken's latest version has implemented an upgraded risk control system in response to scams of this nature. When users attempt to use eth_sign to sign messages on third-party DApps, imToken will issue a risk warning, notifying them of potential risks that may be present on the website they are visiting.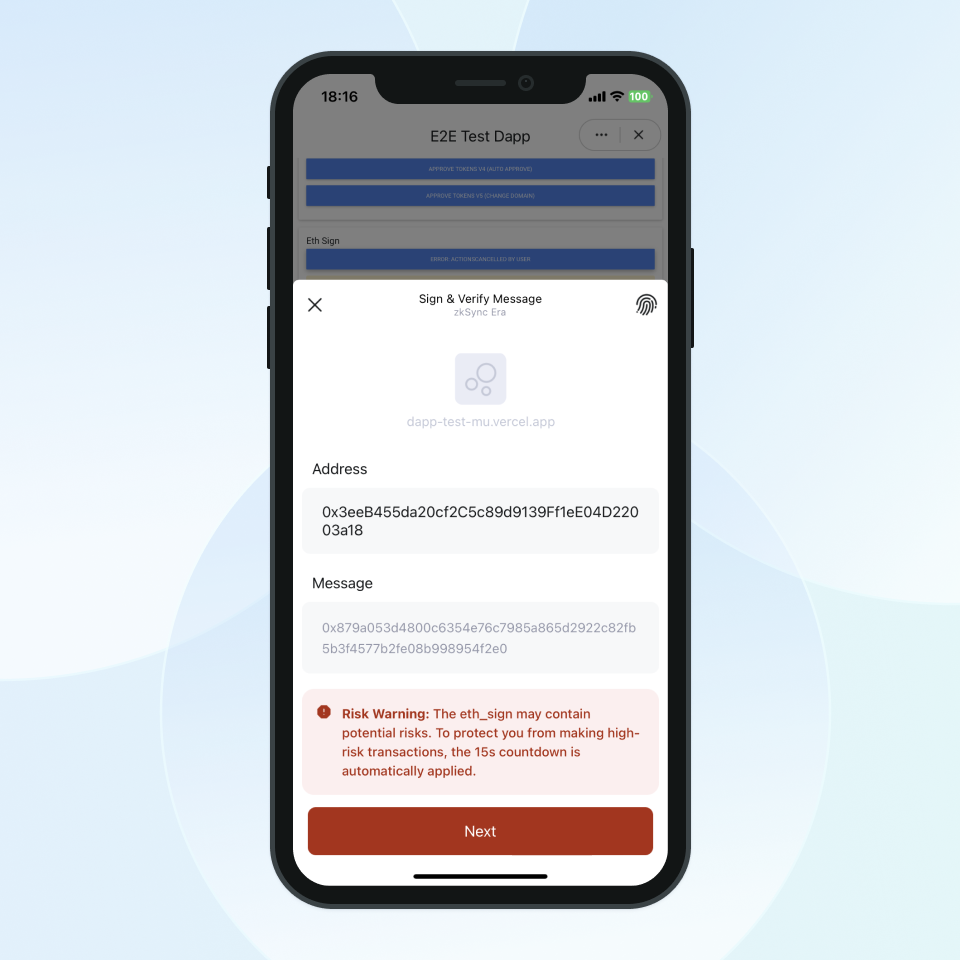 In this update, imToken has further enhanced asset security protection by strengthening risk warnings and countdown reminders for EOA (Externally Owned Accounts) authorization scams.
Learn more:Upgraded Authorization Notification now on imToken 2.9.9
Note: Scams come in many different forms and can be quite insidious. If you do not receive a risk alert while visiting third-party websites, it doesn't mean your operation is safe. Therefore, it is vital for users to enhance their ability to distinguish between legitimate websites and fraudulent ones.

Optimization of TRX & EOS Wallet
TRX wallet: Support for Tron Stake 2.0, which can be accessed by entering "https://tronscan.org/#/wallet/resources" in the "Browser" page of imToken.

EOS wallet: Updated creation process and improved Token profile.
How to Update?
If you encounter any problem during the process, you can also send an email with the subject "Download" to support@token.im to get the latest version of imToken App.
Always Backup Your Keys
Before upgrading, please make sure that all wallet identities have been backed up properly. Please write down the Mnemonic phrase on a physical paper, never store it in the network;

Please refrain from sharing your private key, Mnemonic phrase or Keystore to anyone! If you find potential hacking activities in imToken, please report to us via email at hack@token.im to prevent more people from being deceived.
Please have a look at our Help Center at https://support.token.im/hc/en-us for more detailed information about imToken.
Download imToken: Google Play | Apple App Store
Follow us: Twitter | Support | token.im