Support for Staked ETH Withdrawals
Recently, we launched imToken version 2.12.0, which supports the ETH staking withdrawal function, and users can confidently stake ETH on imToken. In addition, this version offers extensive support for the zkSync Era network, providing a seamless experience for zkSync Era transfers, collections, and DApps, all within imToken.
New on the latest version👇👇👇
Support for staked ETH withdrawals - an upgraded staking service functionality

Support for zkSync Era, enabling one-stop operations for transaction and DApp exploration

An upgraded risk control system for wallets and improved risk prompts for signatures and authorizations

More optimizations and bug fixes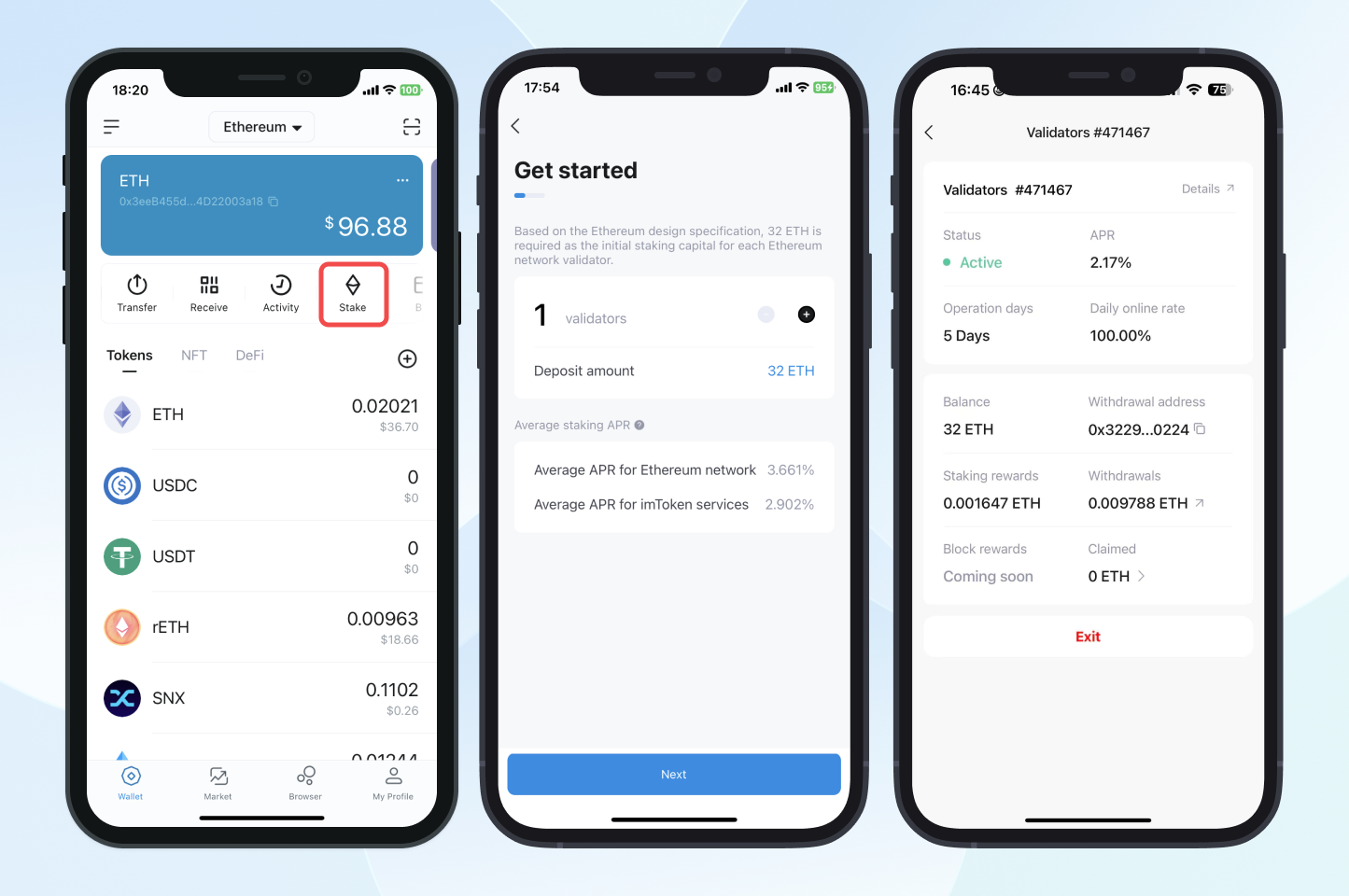 ETH staking function
imToken Singapore Meetup 🇸🇬 #3 #4
On April 18th and 27th, we hosted the third and fourth in-person meetups in Singapore, respectively.
The topic of the third meetup was Web3 Privacy. We invited Vanessa Kuang, the co-founder of Mystiko Network, and Sohrab, the compliance director of imToken, as our guest speakers. Through their respective professional knowledge, they shared their unique insights on the spot market, private transaction needs, user privacy and other aspects.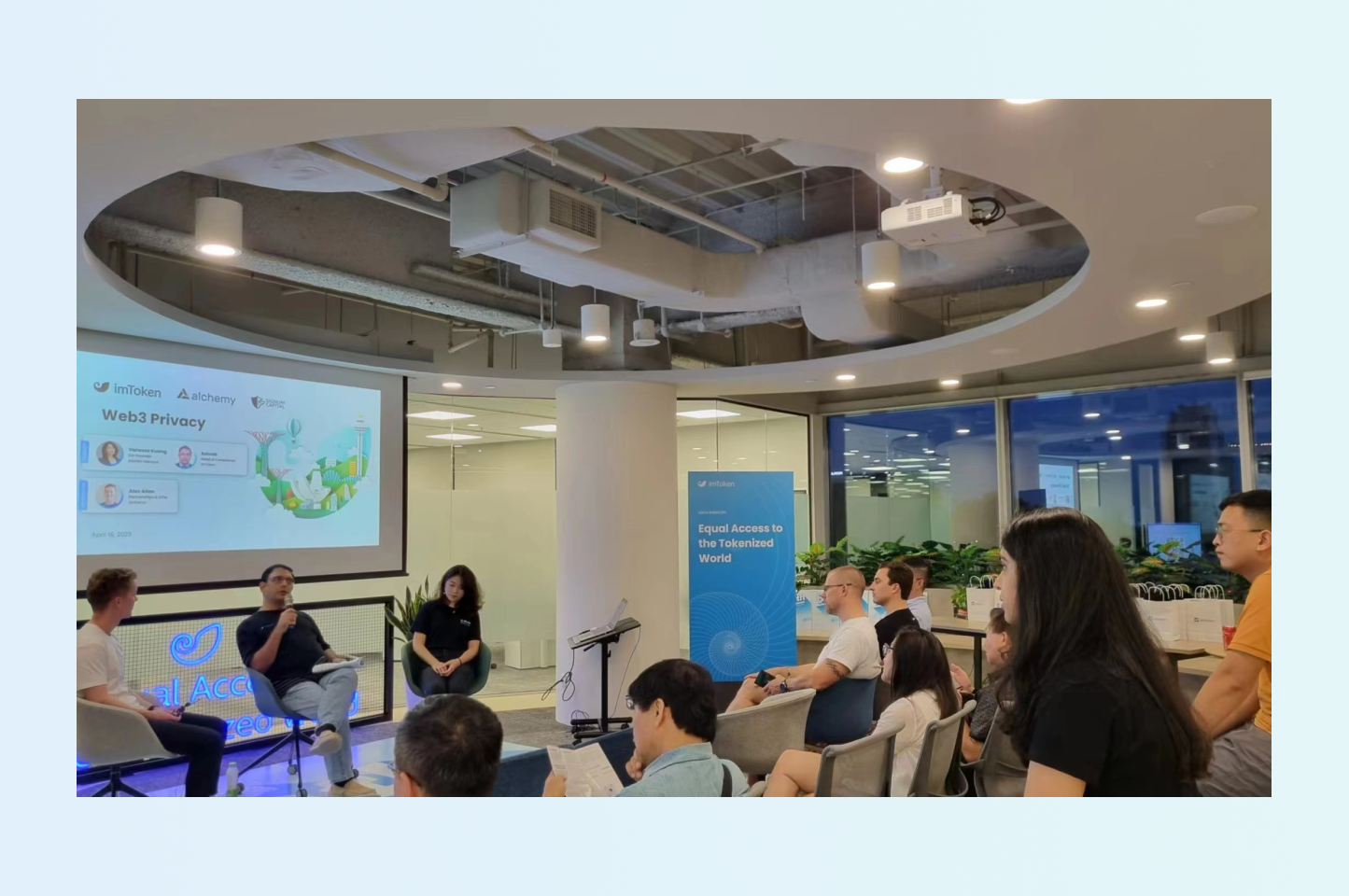 "Web3 Privacy" event
The fourth meetup focussed on Web3 Career, with our team members Jiadong, Xinlin, and Long Long as our main speakers. Before joining the Web3 space, Jiadong used to work in the traditional finance industry, Xinlin had started multiple businesses, and Long Long used to work at Microsoft.They shared their respective journeys into the crypto world and discussed how to explore a career in Web3.
Our fifth meetup is themed, "MasteringWeb3: Web3 Security - Protection and Trend," and is scheduled for May 25th, from 7:00-9:00 PM (SGT). The guest speakers will be Blue, the CTO of SlowMist, Dr. Liu, Yang, the co-founder and CEO of MetaTrust, Lambda, imToken's senior researcher, and Long Long, imToken's global marketing director.
Don't let this offline meetup slip through your fingers, Singapore residents! Register your presence for this memorable event by signing up here.
2023 Hong Kong Web3 Festival
In April, imToken Wallet participated in the 2023 Hong Kong Web3 Festival, launched jointly by Wanxiang Blockchain Labs and HashKey Group, and jointly hosted the "Web3 Financial Infrastructure: Digital Wallet and DID" forum on April 13th. We invited industry experts to discuss the applications and challenges of digital wallets and decentralized identities in future financial infrastructure.
Currently, Web3 wallets face three major challenges: user experience, security, and scalability. First, new technologies introduce new concepts and behavior patterns affecting user experience. Second, since blockchains handle valuable assets, the protocol and application layers require different security measures. Lastly, the performance and cost limitations of blockchains hinder their ability to cater to the needs of billions of users, leading to scalability issues. These challenges create a complex and interrelated relationship often referred to as the "Wallet Trilemma". imToken CEO Ben gave a keynote speech, "The Time is Ripe to Solve the Wallet Trilemma", and discussed how to balance user experience, security, and scalability in the decentralized world at the conference.
In addition, Chuck, the vice president of imToken & general manager of RIVO, and Kai, the chief architect of imToken, made their voices heard at the conference. They discussed "Web3 Payments: Entering a New Era of User and Merchant Currency Management and Transactions" and "Expanding the Next Generation of Wallets: How Encrypted Payments Lead the Future." For more insights, kindly check the imToken official blog.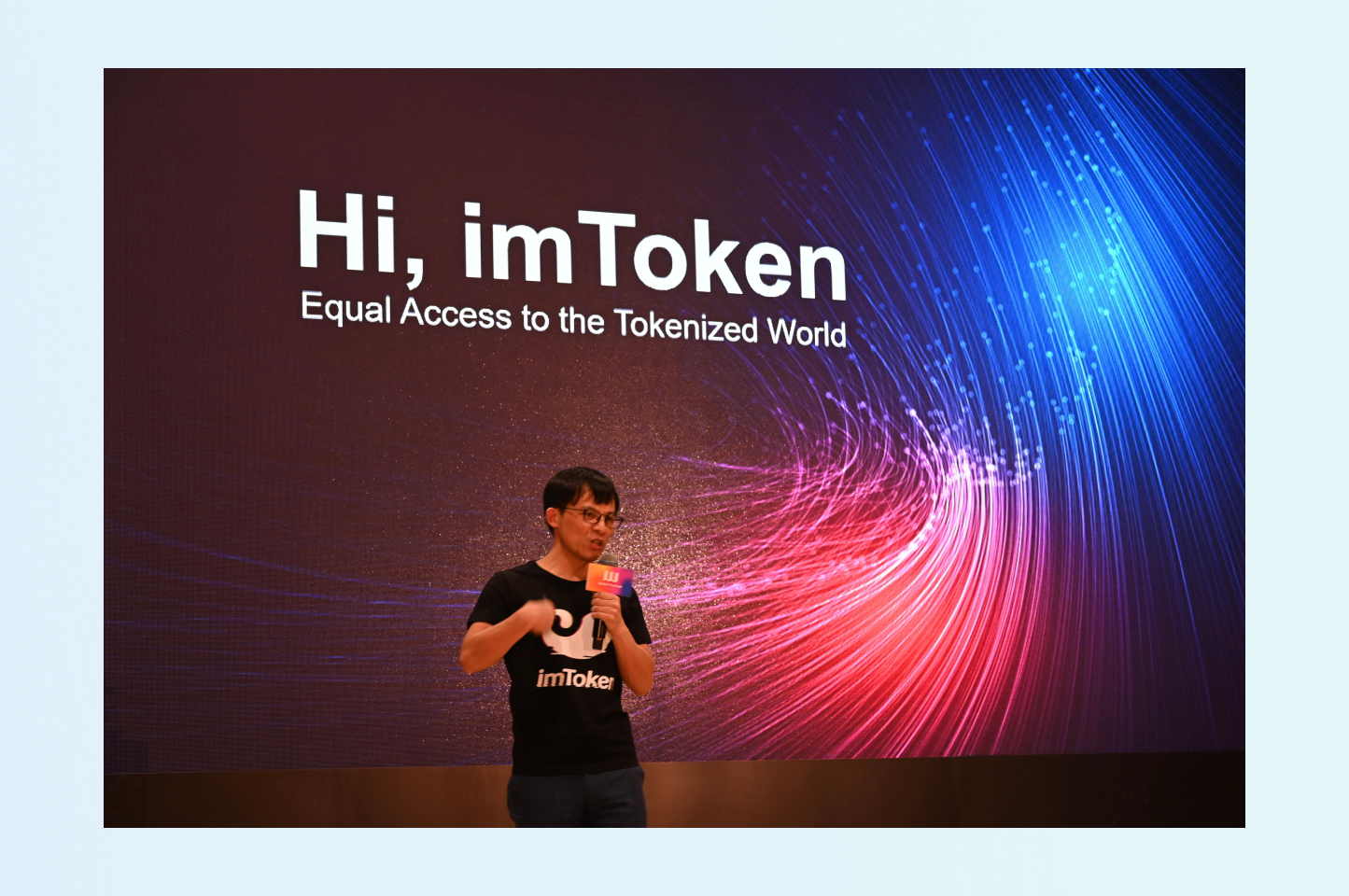 "Hong Kong Web3 Festival" event
ETHGlobal Tokyo Hackathon
From April 14th to 16th, Tokyo, Japan, buzzed with activity as the ETHGlobal Tokyo hackathon brought together the Ethereum community.
Changwu, the chief scientist of imToken, and members of the imToken Labs presented YORU, a privacy protection DApp for encrypted social payment. A YORU transaction sends tokens to a one-time stealth address owned by the recipient; only the sender and recipient know of the existence of the transaction. At the same time, YORU supports public key registration through DID and ENS, and users can bind their wallets with their social media accounts, such as Gmail, Twitter, Line, etc., taking into account privacy transmission and convenient user experience.
The project was selected as a finalist for the hackathon event. Click here to learn more.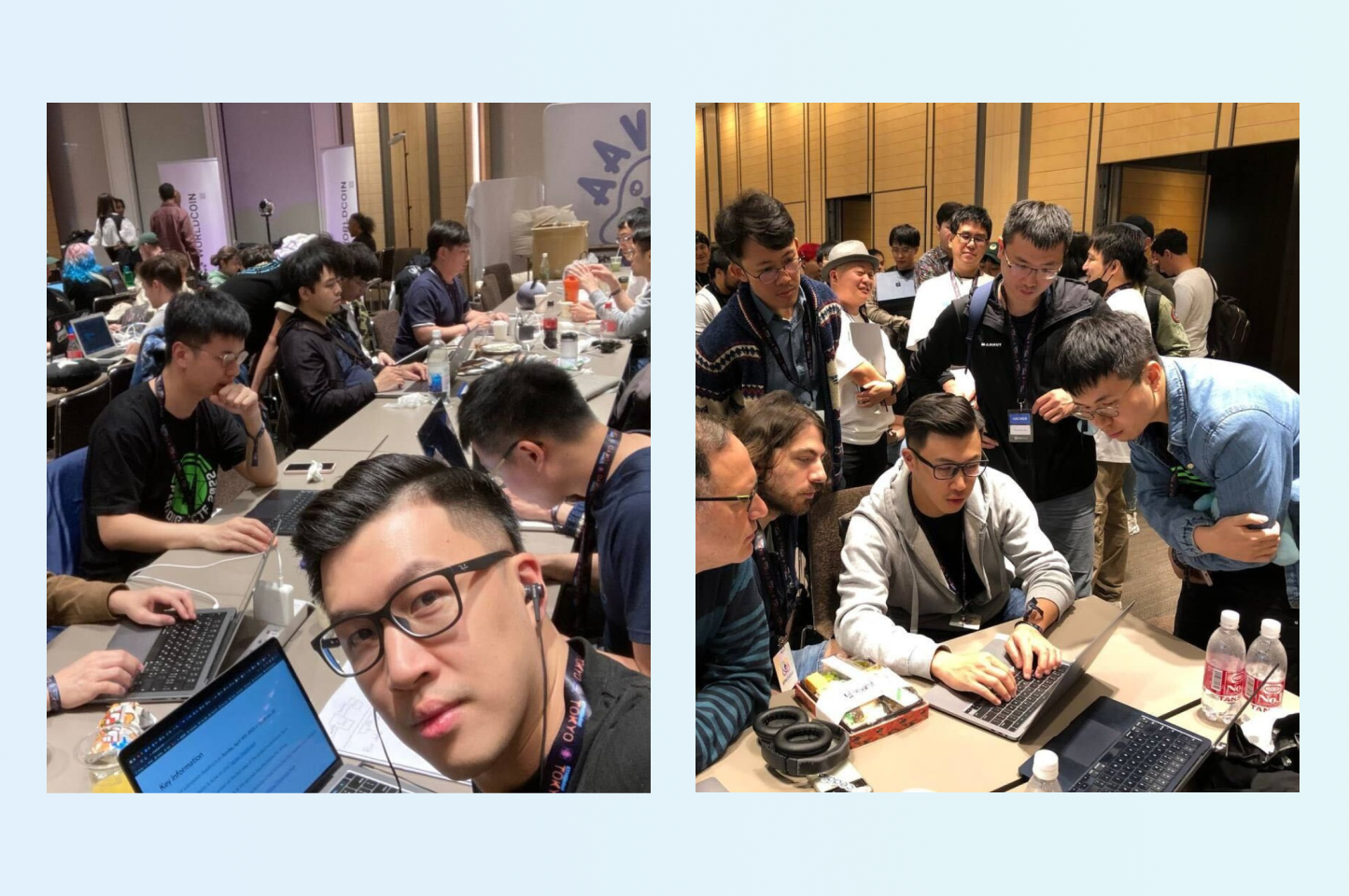 "ETHGlobal Tokyo Hackathon" event
​​ETHTaipei Developer Conference
On April 21st, imToken sponsored and participated in the ETHTaipei Developer Conference. Members of our Labs team shared Stealth Address and account abstraction applications on StarkNet. In addition, we held a 2-hour AA Workshop, leading developers from the working principle of account abstraction and contract writing to the implementation of plug-in applications, offering them detailed guidance and teachings.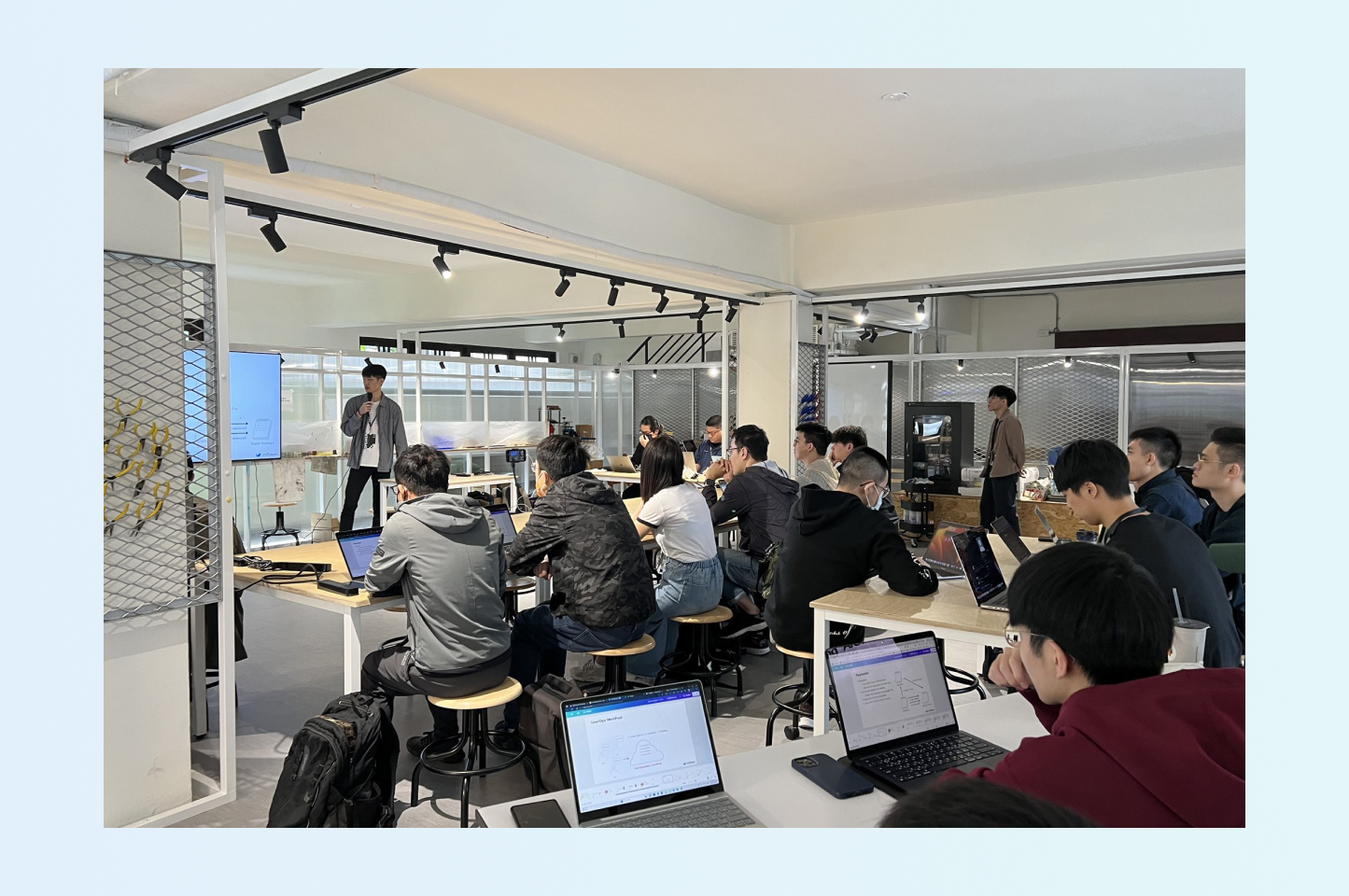 "ETHTaipei Developer Conference" event
imToken Campaigns
imToken hosted two community Campaigns in April👇
#1: Using imToken for On-Chain Interactive Experiences
Perform any on-chain interaction activity in the imToken wallet, such as trading, wrapping, lending, adding liquidity, etc., and share its screenshot on this Discord channel to earn experience rewards. Participants who use Optimism, Arbitrum, zkSync, and other Layer2 networks get additional experience points.
#2: Feel Spring, Enjoy Nature
The event strives to create a tranquil space where Web3 enthusiasts can unwind and find physical and mental therapy.To participate, please take a picture of the beauty of spring, post it on this ⁠Discord channel, and let people worldwide experience the beauty of your hometown.
AMA Event: A New Chapter for Ethereum
On April 26th, we held our first Chinese voice AMA in our Discord group. imToken market researcher Mako was the host, while Ethereum community enthusiast Lambda and Nothing Research partner Todd were the guests. After the Ethereum Shanghai Upgrade, PoS, LSD, and MEV have become hot topics, and the guests shared their unique insights on them.
Missed this event? No worries! We have more exciting community AMA events planned for the future. Please keep track of such updates via our official Discord channel and social media handles
Recommended Readings
Next
imToken invites you to vote and express your voice in our product development!
As we celebrate our 7th birthday, we have collected product optimization suggestions from our community. The decision on which suggestions should be prioritized is up to you. Your vote is crucial to us, as the top seven suggestions with the most votes will be included in our next version update. Remember, you are our product manager, and your voice will shape the future of imToken!
Voting form: https://jinshuju.net/f/MKyETn
Remember, we will host a special AMA event on our Twitter handle on May 26th at 8 PM (SGT). Our CEO and other team members will share the 7 product optimizations most voted on and their delivery time.
imToken Official Contacts
Website: https://token.im
Weibo: https://weibo.com/imToken
Twitter: https://twitter.com/imTokenOfficial
Discord: https://discord.com/invite/imToken