About NFTScan
NFTScan is a professional multi-chain NFT explorer and data analysis platform through which you can get access to NFT data on-chain. Now, the platform supports nine networks, namely Ethereum, BNB Chain, Polygon, Arbitrum, Optimism, and Avalanche.
How to use NFTScan in imToken?
Launch NFTScan
1. On the "Wallet" page of your ETH wallet, switch to the "Browser" page and enter "NFTScan" in the search bar to launch the DApp.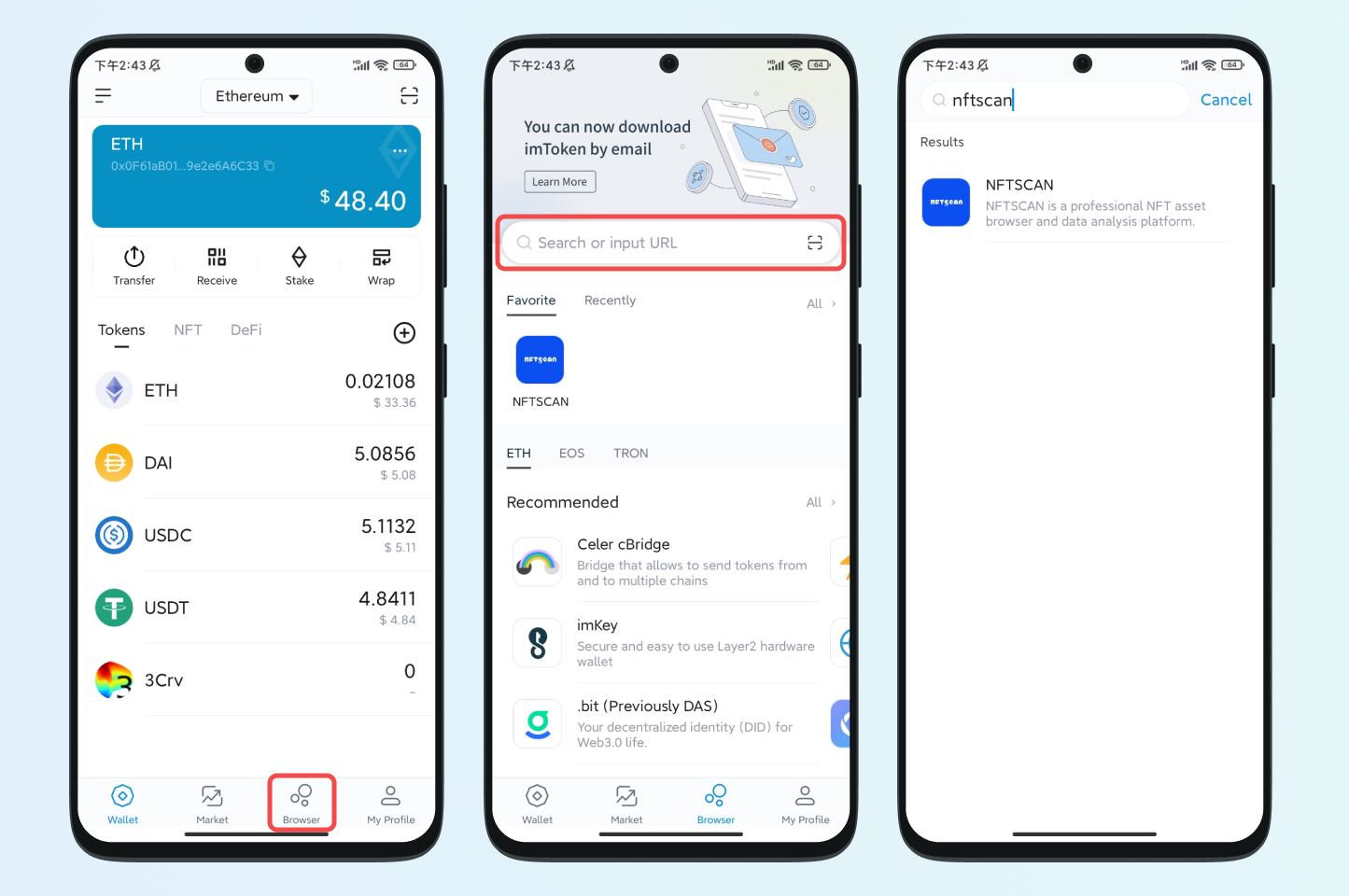 2. Click "Confirm" to authorize NFTScan to access your wallet address. After that, your wallet will be connected to the DApp. Then click "Ethereum" at the top left corner to choose the network you'd like to use.
Check out the NFT data
1. Here is an example of checking NFT data on Ethereum. First, enter the ETH wallet address that you want to check and click the search button. Then you will enter a page showing all the details of that address.
Note: NFTScan supports searching through addresses or domain names ending in ".eth" and ".bit".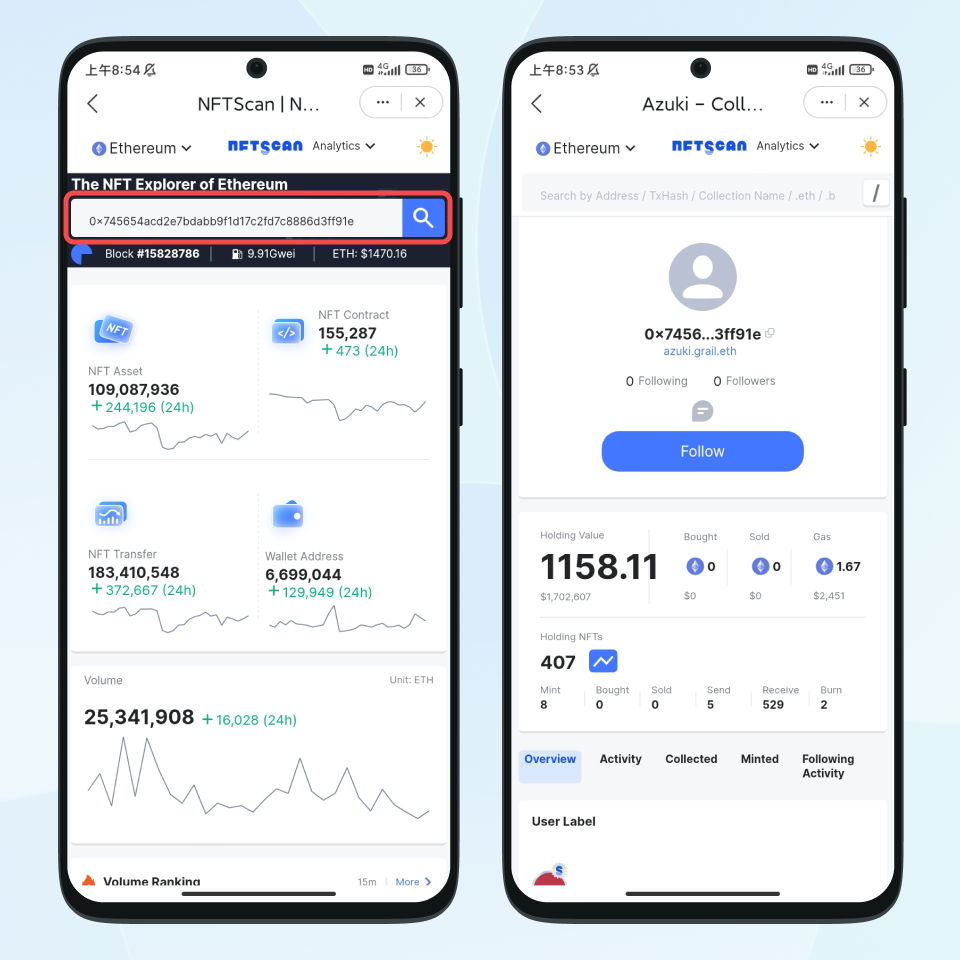 2. On the page, you can check out the NFT data of the address through options like Overview, Activity, Collected, and Minted.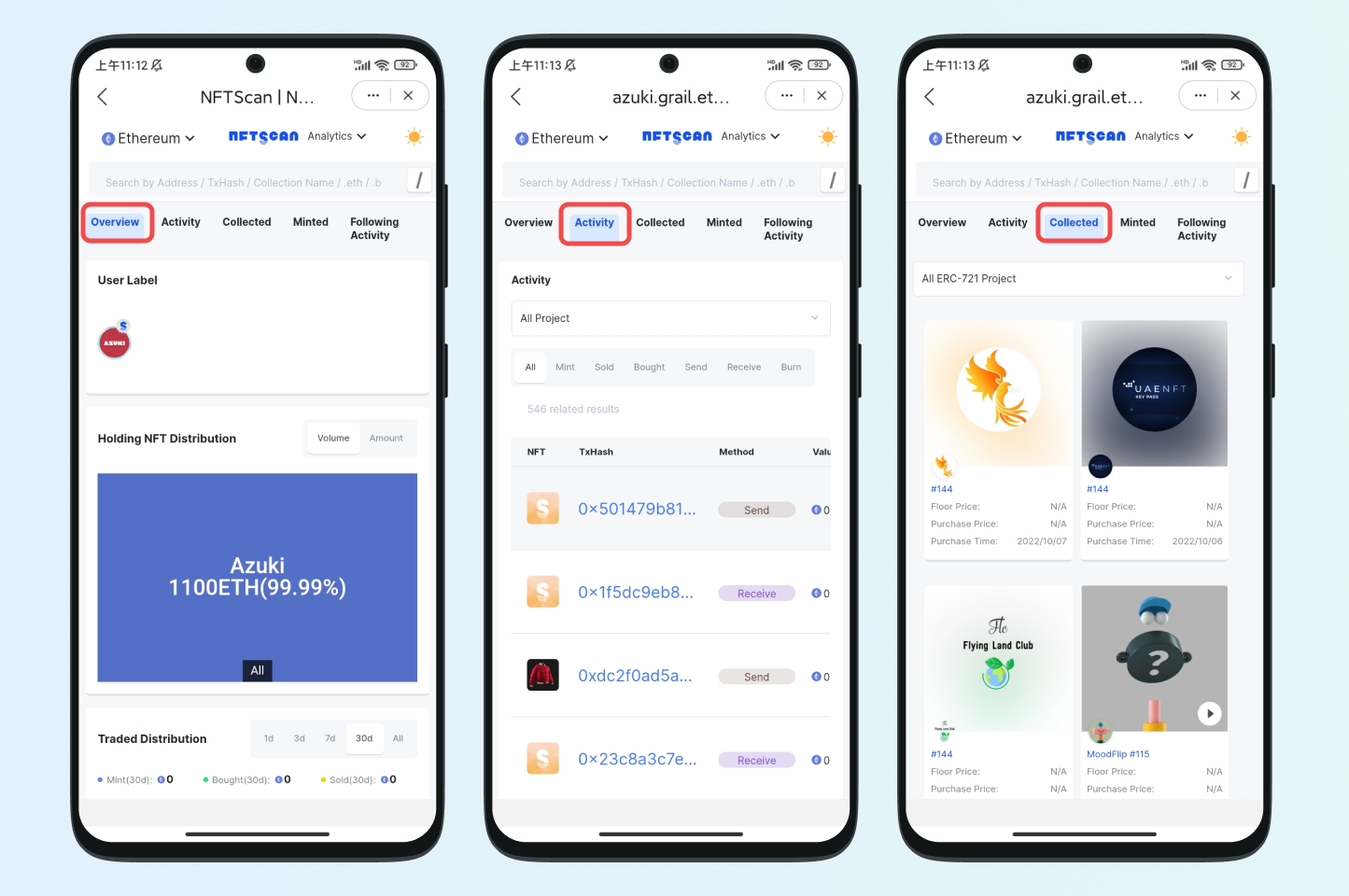 3. You can check out the transaction details of an NFT trade by entering its TxHash in the search bar.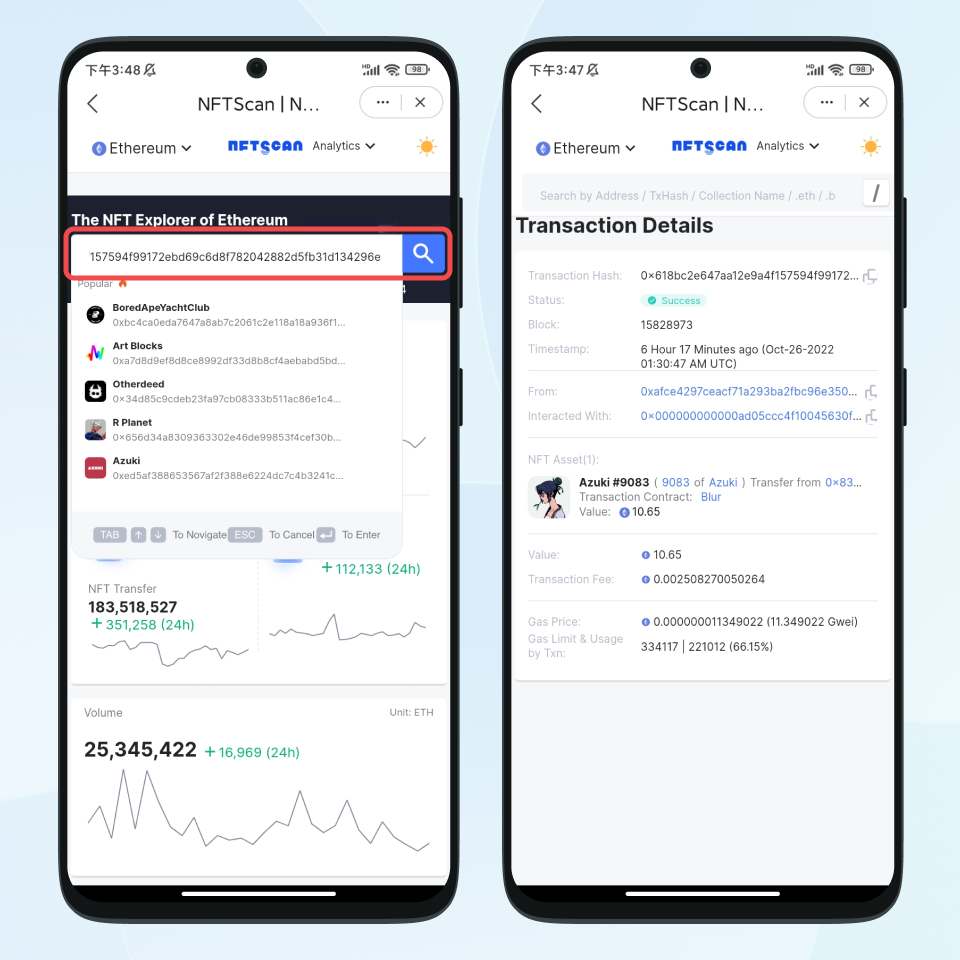 Check out other data
Check out the information of an NFT collection
You can check out the information of an NFT collection by entering its name in the search bar. Then you will enter a page showing all the details of that collection.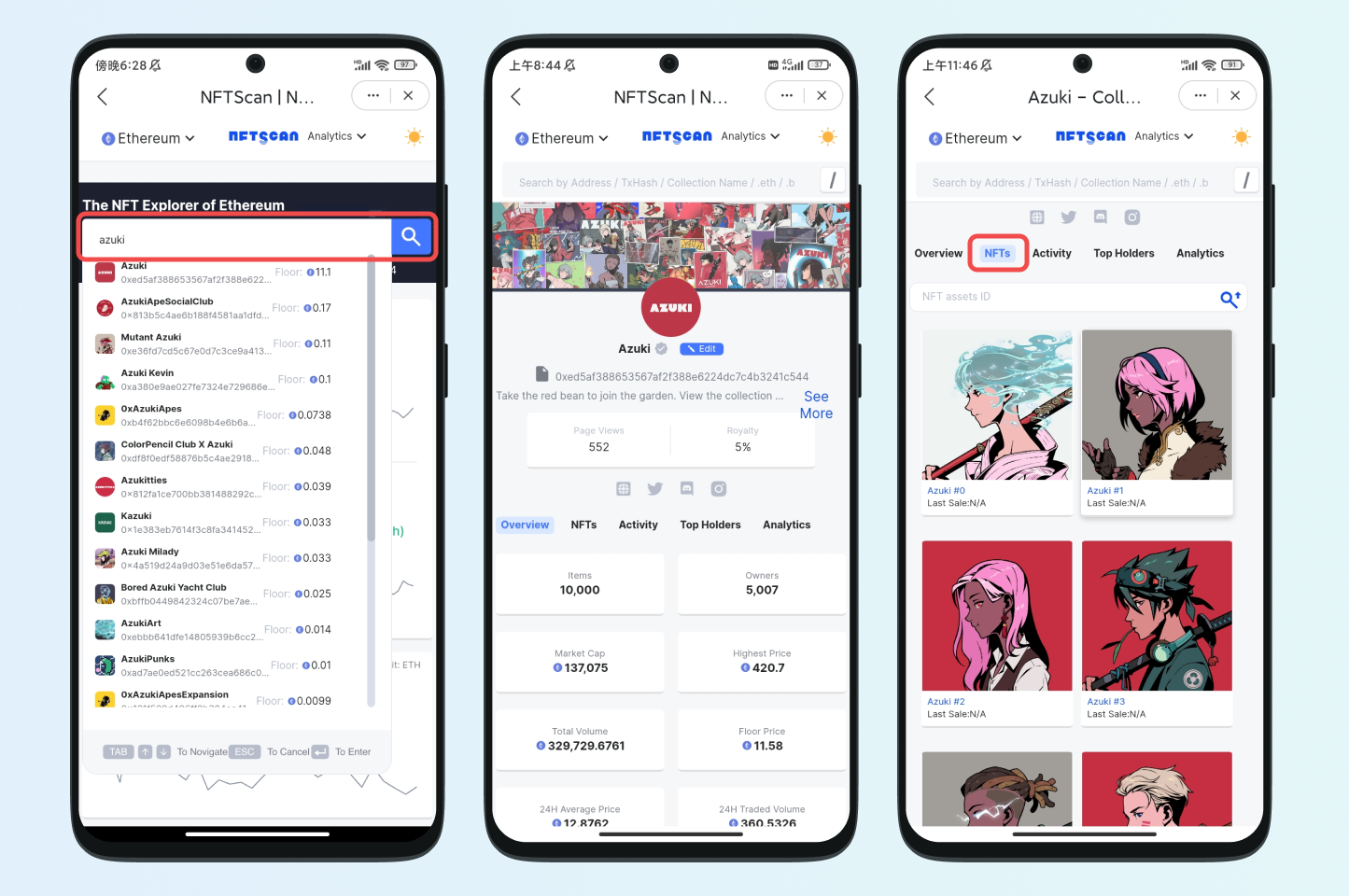 NFT data on the NFTScan homepage
On the NFTScan homepage, you can see NFT collection rankings based on trade volume and mints if you scroll down. Also, NFT marketplaces are ranked according to their trade volume in the Top Marketplace section. The latest NFT mint information and transaction details are shown in the Live Minting and Latest Transactions sectors respectively.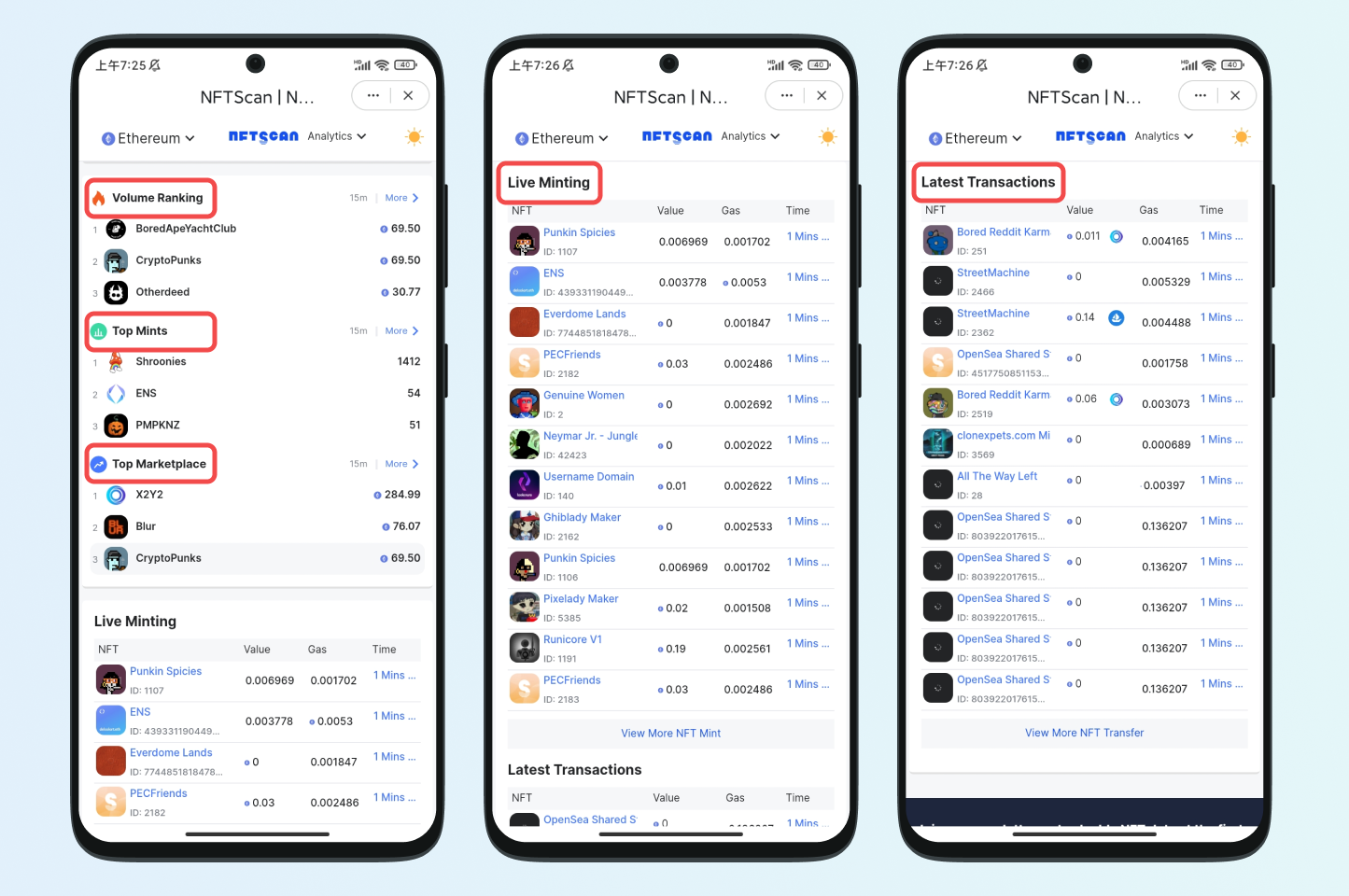 Whatsmore, you can learn about other information through Ranking, Marketplace, Trending, Discover, and Gas Tracker after you click "Analytics" at the top of the homepage.
"Ranking" shows NFT collection rankings, including market cap, trade volume, and transfer.

"Marketplace" shows NFT marketplaces information, including their trade volume, distribution, Gas, sales, and the number of addresses holding NFTs.

"Trending" shows what is trendy in the NFT sector based on NFT collection trade volume, sales, floor price, and average price.

"Discover" allows you to check out the top trader addresses and top mints.

"Gas Tracker" shows NFT collections based on their Gas fees. They are ranked according to their total Gas fees in 24 hours.
Note: you can swipe left and right on a page to see more information, which may not be fully displayed on your mobile phone screen.
END
For best security on large amounts of crypto, consider our hardware wallet, imKey.
Risk Warning: The content of this article does not constitute any form of investment advice or recommendation. imToken does not make any guarantees and promises for the third-party services and products mentioned in this article, nor assume any responsibility. Digital asset investment has risks. You should carefully evaluate these investment risks and consult with relevant professionals to make your own decisions.