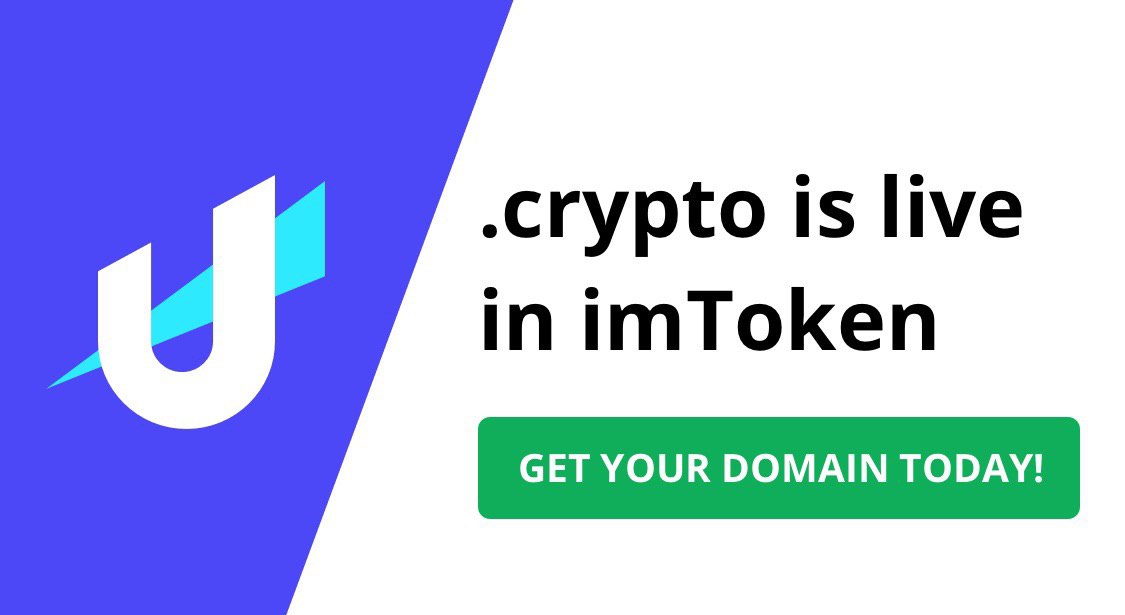 Unstoppable Domains are now on imToken
Buy, send & receive funds to any .crypto and .zil domain
What is .crypto?
.crypto is a new kind of domain. A domain, which unstoppably links to your Ethereum and Zilliqa accounts.
Generally, a domain defines the owner of a web address (.com, .org, .gov, .net, etc.). Unlike regular domains, blockchain domains store the records on the blockchain and their main purpose is to:
Simplify crypto payments, and
Build uncensorable websites
How does that help me?
The current internet is full of gatekeepers who control our behavior, and who lock us in and out of our digital lives: The big companies hold your money, email and web addresses.
Now, .crypto was built to give freedom back to you, the users.
Owning a .crypto domain, you can decide what to publish and what transactions you engage in on the internet. No company or 3rd party, including Unstoppable Domains, can take away your domain.
With the latest update, Unstoppable Domains' .crypto domains are finally available on imToken. Open imToken to send a transaction or get your own domain in the imToken DApp Browser or on Unstoppable Domains' website.
Who is Unstoppable Domains?
Unstoppable Domains is a San Francisco-based company building domains on blockchains. The company is backed by Draper Associates and Boost VC and has received grants from the Ethereum Foundation and the Zilliqa Foundation.
How to buy a .crypto domain
Follow the step-by-step tutorial below and open your imToken do get .crypto
Step 1: Install the imToken wallet on your mobile, set up and link the wallet to your Unstoppable account. To do so follow this guide.
Step 2: Open the imToken Wallet application. Navigate to Unstoppable Domains and log in through the Dapp browser. Note that Google Authentication won't work and you will have to manually log in by typing your email and password.
Step 3: Go to 'My Domains'
Step 4: Select your domain and click on 'Claim .crypto'. This account only has 1 domain but feel free to select as many as you like.
Step 5 : Press 'Connect'
Step 6: Press on the checkbox 'I understand' and click on 'Confirm'.
Step 7: Press on 'View domains' and you wait for the claiming process to finish.
Step 8: The claim process can take up to 15 minutes to complete depending on the backlog. You will know the claiming is complete when you are allowed to manage the domain.
Step 9 : Add cryptocurrency addresses to your domain by going to 'My Domains' and clicking on 'Manage'.
Step 10: Copy and paste your cryptocurrency addresses in the respective fields.
Step 11 : Press ' Save changes'.
Step 12 : Press 'Connect wallet'.
Step 13: Confirm the transaction by selecting 'Authorize Signature'.
Step 14: Confirm by entering your password. This alert box will pop up three times.
Step 15: Confirm that your addresses are added after the transaction is completed by going to 'My Domains' and pressing on the 'down arrow'.