Use imToken's DApp browser as developer or user

For users: Our imToken DApp browser supports all DApps on ETH, EOS, TRON. Simply enter a DApp link to enter the DApp Website. Just like any ordinary browser.
Or, click one of the DApp icons. If you want us to add a new DApp icon, just let us know via the support!
For developers:
Request your DApp icon to be added to the imToken DApp browser via the steps below.
Integrate the open source project WalletConnect to get imToken users on your desktop and Android/iOS application. See details below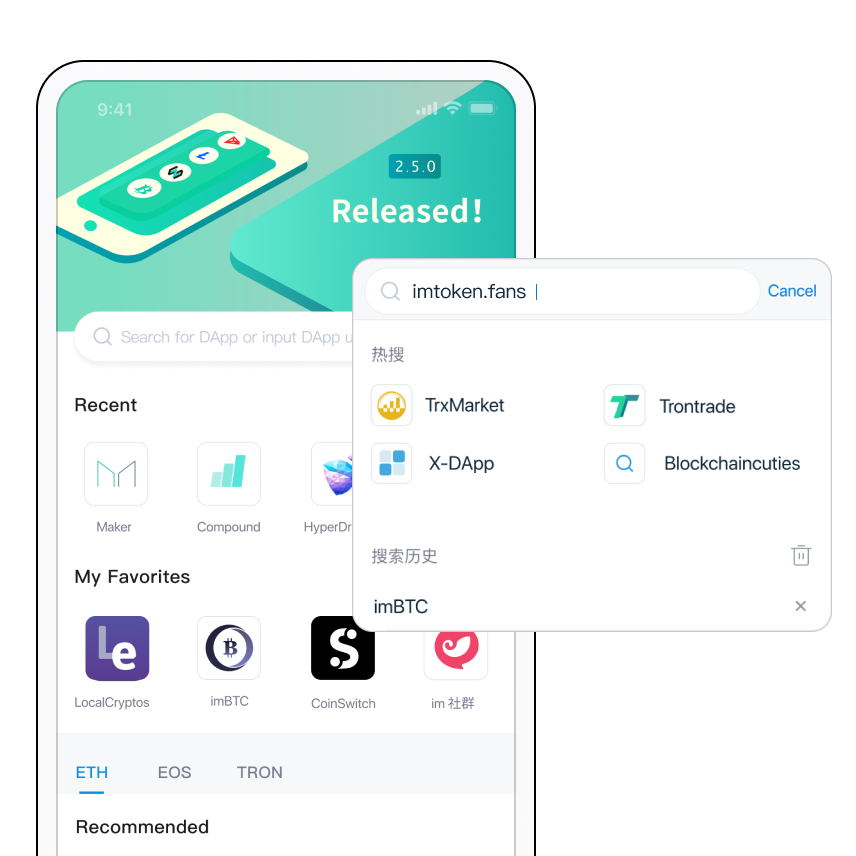 How to add your DApp to imToken: The DApp submission process
First, please walk through the checklist below before submitting the application:
Test your DApp in imToken Android and iOS
Take a video (alternatively: if a video is not possible, please prepare screenshots of all relevant functions and interactions including transactions). The video should show that the DApp achieves following criteria:

Optimized for mobile: Make sure that all text & elements are visible using imToken DApp browser
Fast web page speed: Make sure that the site loads quickly
All functions work properly in imToken

Verified security: If your DApp involves custody of user funds, (such lending), please have open source smart contract (verified) and/or security audit report
Add the imToken logo to your DApp using deep linking (see how-to)
The DApp submission form will also ask for: Your DApp logo, description, URL, category and other details
Second, for technical help on signing transactions, please refer to our imToken DApp SDK documentation. The documentation should help to answer questions about transaction signing (EIP-1102 (Ethereum) or Scatter (EOS, Tron) standards), help with troubleshooting via built-in browser debug console (here), show you how to detect imToken (here) and more.
Now, if your DApp passes all the above checks, fill in the form to submit the application. We usually provide an answer within 7 working days.
DApp collaboration and co-marketing
We are excited to work together with excellent DApp teams to build out the decentralized application ecosystem.
Ask us for our imPartner collaboration framework via mail at bd(at)token.im. Please note that DApps with referral, revenue sharing, affiliate or other programs are preferred.
Ask us about our go-to-market consulting for support with the Chinese crypto market.
Add WalletConnect to make your DApp accessible on ordinary desktop and mobile browsers via imToken
Do many users access your website via Chrome, Safari, Firefox on desktop or on mobile?
Good news: All users can now use your DApp with their imToken wallet!
How does it work?
Mobile browser (e.g. Chrome, Safari on Android and iOS) users can use your DApp in imToken's DApp browser (no WalletConnect involved)
Mobile app (i.e. Android and iOS apps) users can now use your Android/iOS app while signing transactions (i.e. sending tokens, trade etc) with their imToken wallet
Desktop users can use your website while signing transactions after scanning a QR code on your website
All you need to do is to integrate the open source project WalletConnect.
Add 'Connect with imToken' to let your users know about imToken
Let the user jump from your website, directly into your app in imToken wallet via deep linking:
<p>
<a href="imtokenv2://navigate/DappView?url=https://your.dapp.com">Click to open imToken
</a>
</p>