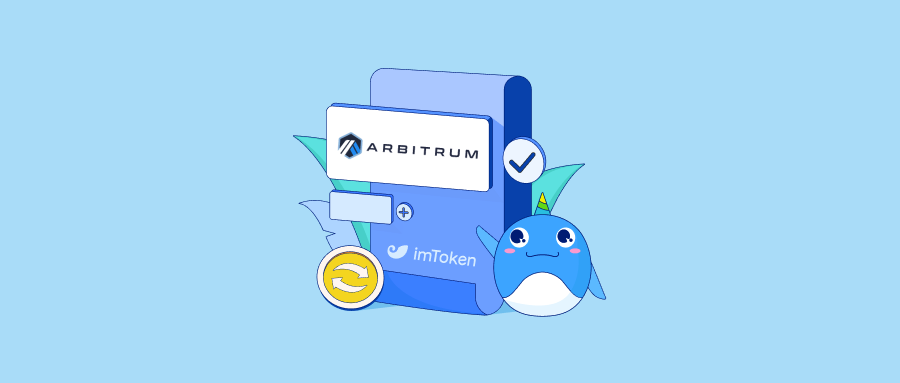 What is Arbitrum?
Designed by development team Offchain Labs, Arbitrum is a Layer 2 scaling solution for Ethereum by adopting the multi-round interactive Optimistic Rollup.
Arbitrum has attracted wide attention in communities since the launch of its testnet in May 2021. Aave, Uniswap, Curve, MakerDAO, SushiSwap, CREAM, dForce, DODO, and other DeFi projects have been integrated into the Arbitrum ecosystem.
Update to the latest version of imToken now to enjoy the diverse ecosystem of the Arbitrum wallet.
Click here for more about Arbitrum.
How to Use the Arbitrum Wallet in imToken?
Switching to the Arbitrum Wallet
Open your ETH wallet then click "Ethereum" at the top. Choose "Arbitrum" in the pop-up to switch to the Arbitrum wallet.
Note: if you want to switch back to your ETH wallet, please click "Arbitrum" at the top then choose "Ethereum".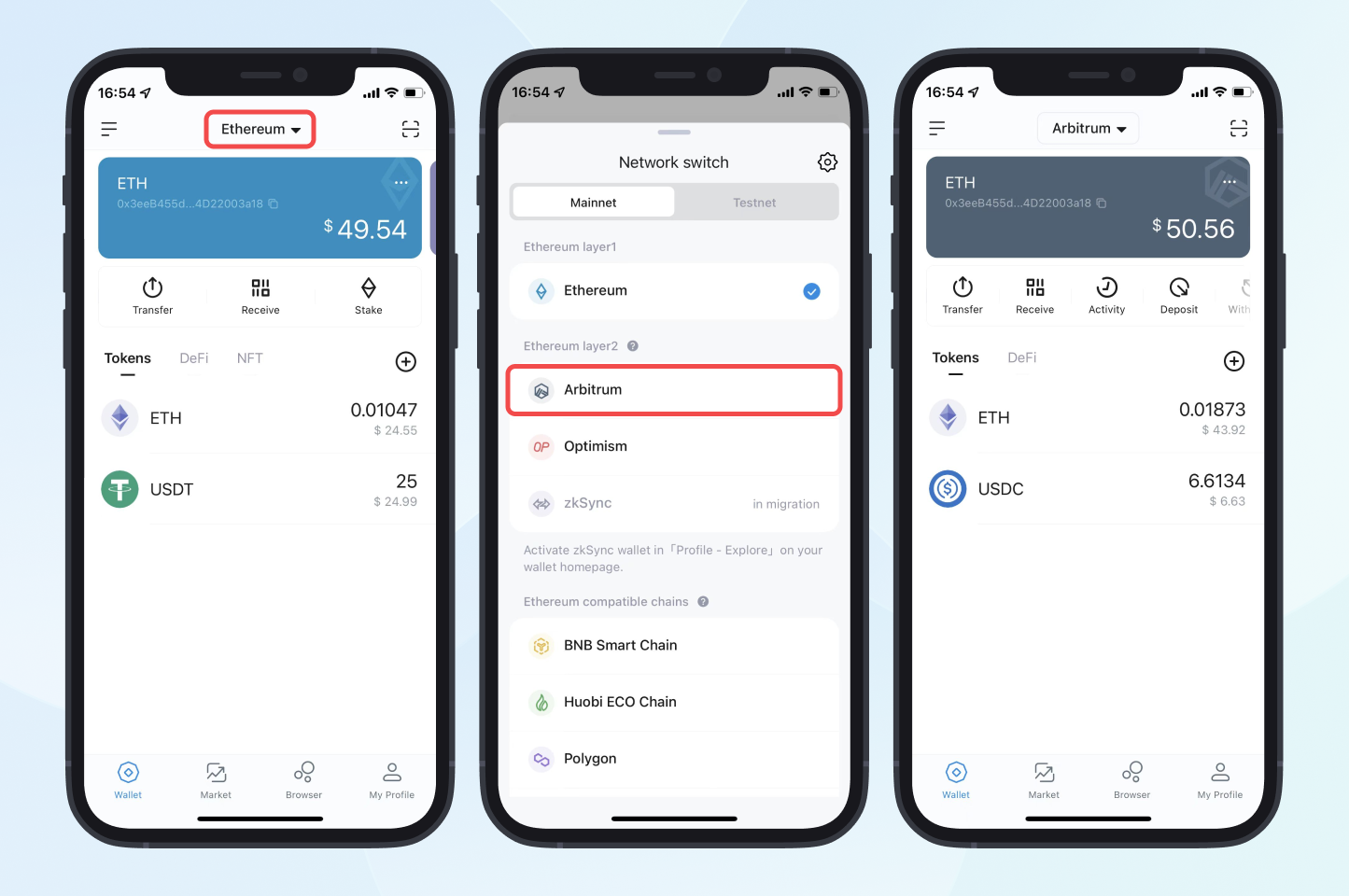 Transferring and Receiving Assets
In the Arbitrum wallet, click "Transfer" or "Receive" to perform the corresponding operations.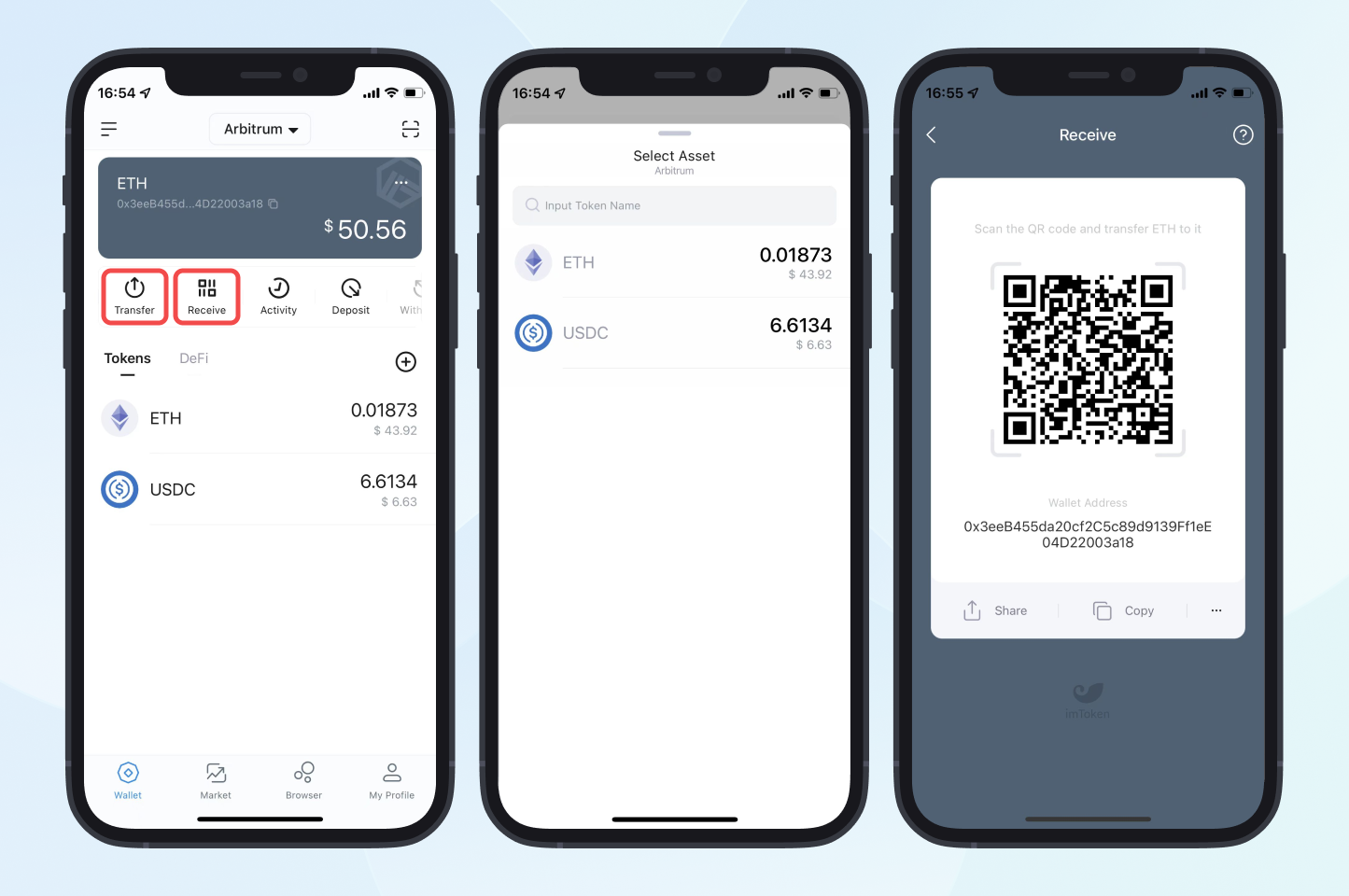 At present, most exchanges including Binance, FTX, OKX have supported the deposit and withdrawal of tokens on the Arbitrum network.
Transferring Assets
Click "Transfer", set the type and amount of token you want to transfer, enter the receiver's address, and then click "Next".
Notice:
Please make sure you have sufficient ETH in your wallet to pay Gas fee.

Please choose the Arbitrum network in the exchange, if you want to transfer from your Arbitrum wallet to it.
Receiving Assets
Click "Receive" then you can share your QR code or wallet address on the page to receive assets from others.
Note: you should choose the Arbitrum network if you want to withdraw from the exchange to your Arbitrum wallet. Alternatively, you can withdraw from exchanges to imToken faster and cheaper through LayerSwap.
Depositing and Withdrawing Through Bridges
Deposit and withdrawal mean that through the cross-chain bridge, you can send assets from the ETH wallet to the Arbitrum wallet and withdraw the assets from the Arbitrum wallet to the ETH wallet.
Click "Deposit" or "Withdraw" on the Arbitrum wallet page to perform the corresponding operations.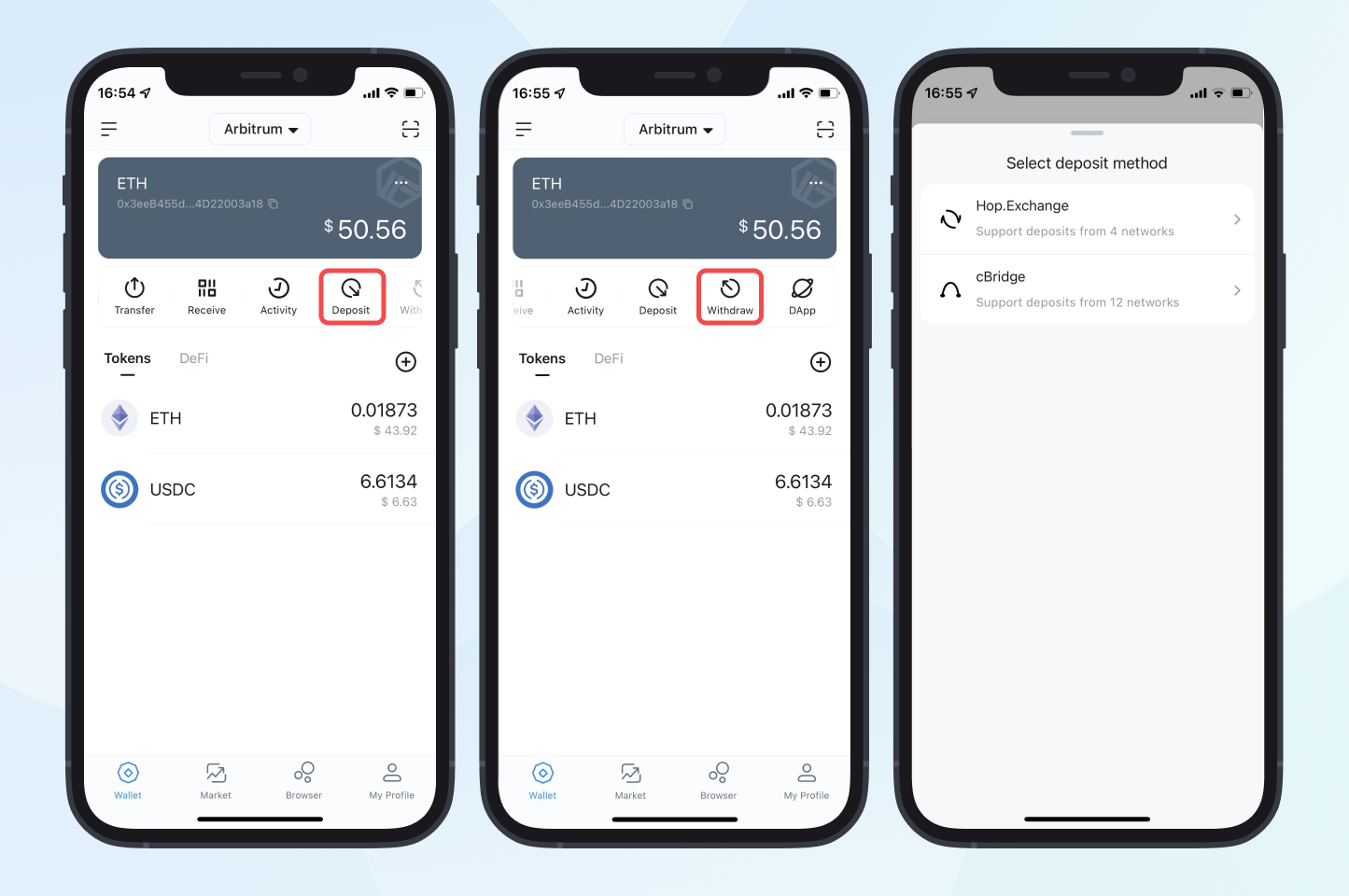 imToken already supports Hop.Exchange and cBridge, please refer to the following tutorials for detailed instructions:
Note: Hop.Exchange and cBridge also support you to transfer assets between Arbitrum, Optimism, BSC, Polygon and other networks.
Experiencing DApps in the Arbitrum Network
Click "DApp" on the wallet page then you can see the most popular DApps in the Arbitrum ecosystem.
Now you can experience the DApps that you are interested in.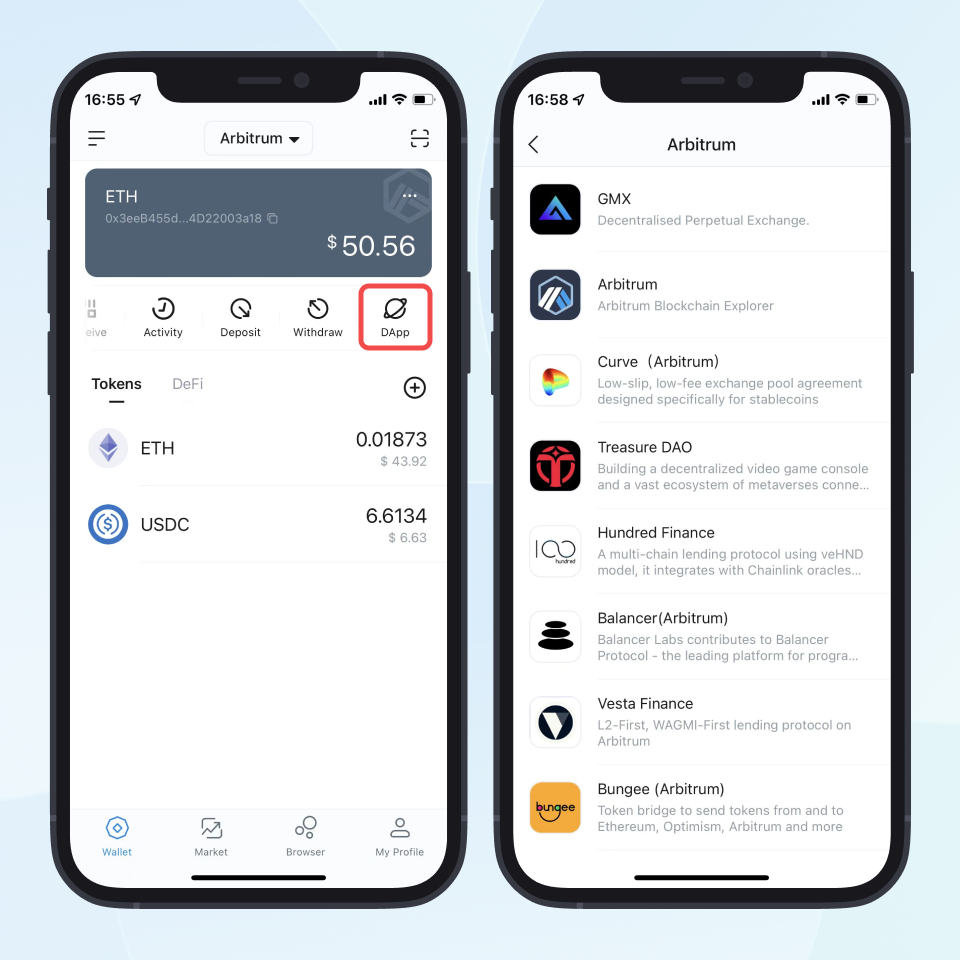 End
For best security on large amounts of crypto, consider our hardware wallet, imKey. imKey also allows users to use Arbitrum and supports the Layer 2 ecosystem.
Risk Warning: The content of this article does not constitute any form of investment advice or recommendation. imToken does not make any guarantees and promises for the third-party services and products mentioned in this article, nor assume any responsibility. Digital asset investment has risks. You should carefully evaluate these investment risks and consult with relevant professionals to make your own decisions.