Happy Lunar New Year from imToken team!
We are still working tirelessly for this new iteration, striving to release this new 2.2.1 version for you.
Some updates include:
Biometric verification feature: Send tokens using Face ID & fingerprint

Automatic discovery of collectibles: Find all your collectibles in imToken

Improved transaction notifications
Biometric Verification brings convenience while keeping security
One of the most fundamental functions of a wallet is transaction execution. We received a lot of feedback that having to manually input passwords for every transaction interrupts the user experience.
Now you can set both a strong, secure password and have the convenience of using Face ID and fingerprint on lower amount transactions.
Fingerprint and Face ID information is stored in your device's secure environment
While confirming transactions with biometric verification your device verifies your input against the same secure environment that stores your passwords. When executing a transaction, your preset biometrics (fingerprint of facial) will decrypt the password to sign the transaction.
Please ensure to backup your passwords even if you have enabled the biometric verification feature, making sure you will be able reset your biometrics through your password at any point. Your password itself can be reset on reimporting your wallet with a Mnemonic Phrase or Private Key.
How to enable and a side-by-side comparison
Enable the biometric verification for each address.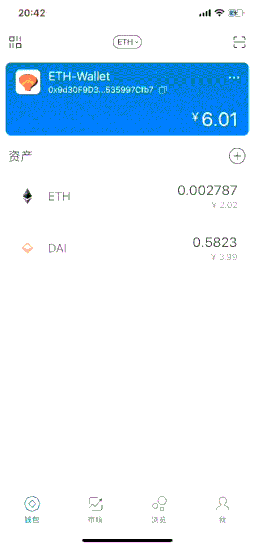 We are sure you are excited to try this out, update to imToken 2.2.1 and experience it!
The Mystery HongBao Event
imToken 2.0 has prepared a mystery HongBao event for you, stay tuned for the event announcement soon~
How to update to the latest imToken 2.0
Android users: Download the latest 2.0 version from imToken website,

https://token.im

;

iOS users: Download the latest 2.0 version on Apple Appstore.




imToken has released version 2.0. For 1.0 users, please follow the tutorial below to upgrade 1.0 to 2.0 safely:
https://support.token.im/hc/en-us/articles/360013262654
https://medium.com/imtoken/tutorial-step-by-step-guide-for-upgrading-to-imtoken-2-0-dbe3b392242
If you face any difficulty using imToken or have any comments and suggestion for us, please submit your feedback directly within the app.
A Reminder for All
Before upgrading, please make sure that all wallet identities have been backed up properly. Please write down the mnemonic phrase on a physical paper, never store it in the network;

Please restrain from sharing your private key, mnemonic phrase or Keystore to anyone! If you find potential hacking activities in imToken, please report to us via email at 

hack@token.im to prevent more people from being deceived;
Please go through our Help Center at https://support.token.im/hc/en-us for more detailed information about imToken