imToken 2.1.4 is released, the main updates for this iteration revolves around the following:
Enhanced DApp browser functionalities with improved compatibility with MetaMask (ETH) and Scatter (EOS), released full support for the DApp ecosystem;

Released automatic EOS token discovery and management, you will be able to easily manage all your EOS tokens;

Introduced support for .luxe and .xyz domain names, you can now bind your wallet address with .luxe or .xyz domain names and execute transactions with imToken 2.0;

Introduced an emergency CPU rental function, you are now able to stake your EOS for CPU for your friends and choose to reclaim it to your own account;

Introduced the EOS Recovery DApp. If you have yet to conduct EOS mapping, with the help of EOS Recovery DApp, you can now recover your EOS on mainnet directly from your unmapped ETH wallet address;

Optimized EOS resources management page, enabled resources staking for friends.
Special Mention: Introducing EOS DApp Browser!
We have been working hard to make our DApp browser more robust than before. The introduction of EOS DApp browser in 2.1.4 iteration is a giant leap towards that. Similar to how our DApp SDK is compatible with Metamask on the Ethereum blockchain, our DApp SDK for EOS will be compatible with Scatter.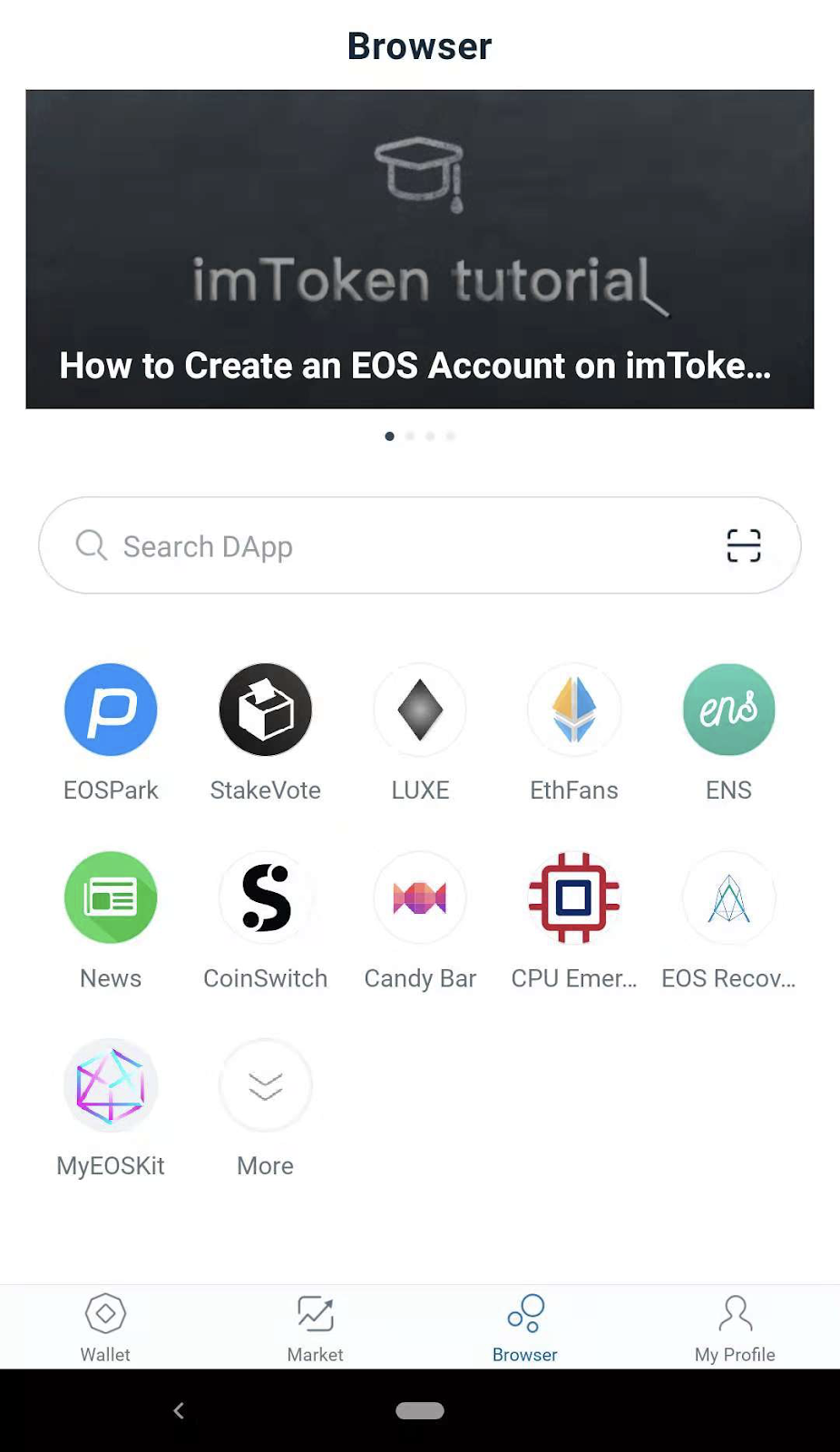 Similar to our ETH DApp browser, you will now be able to access different EOS DApps directly under imToken 2.0's "Browser" tab.
For users, search for the relevant supported DApps in the search field above to have a taste of different Ethereum and EOS DApps.
For developers, we hope that you feel the sincerity of imToken to work with all of you, bringing the DApp ecosystem to the masses!
EOS DApps we support right now:
EOSPark (block explorer)

StakeVote (BP voting DApp)

CPU Emergency (emergency CPU rental service)

EOS Recover (recovery of EOS for unmapped users)

MyEOSKit (comprehensive information on the EOS blockchain)

EOS MonKit (allows you to see comprehensive details on different EOS contracts),

EOS Charge (information on resource consumption)

Chainta (decentralized EOS lending platform)
...and fret not, there are more exciting DApps in the pipeline right now!
Automatic EOS Token Discovery and Management
According to the statistics on EOSPark, there are more than 2499 tokens issued on the EOS blockchain, with majority of the tokens distributed via mass airdrop method. The introduction of automatic EOS token discovery will provide convenience to our users.
If you are a project owner and your token's logo or price is not shown on imToken 2.0, please contact us via email with token contract, logo and other relevant information, we will provide the necessary assistance accordingly.
Support Transactions with .xyz and .luxe Domain Names
With imToken 2.1.4, you can now 'connect' your .luxe or .xyz domain names with your ethereum wallet address, bridging the services between traditional domain names and ENS. You can now purchase .luxe domain names and bind your ethereum wallet address to experience transactions with .luxe domain names. We will also release relevant tutorials for the above-mentioned.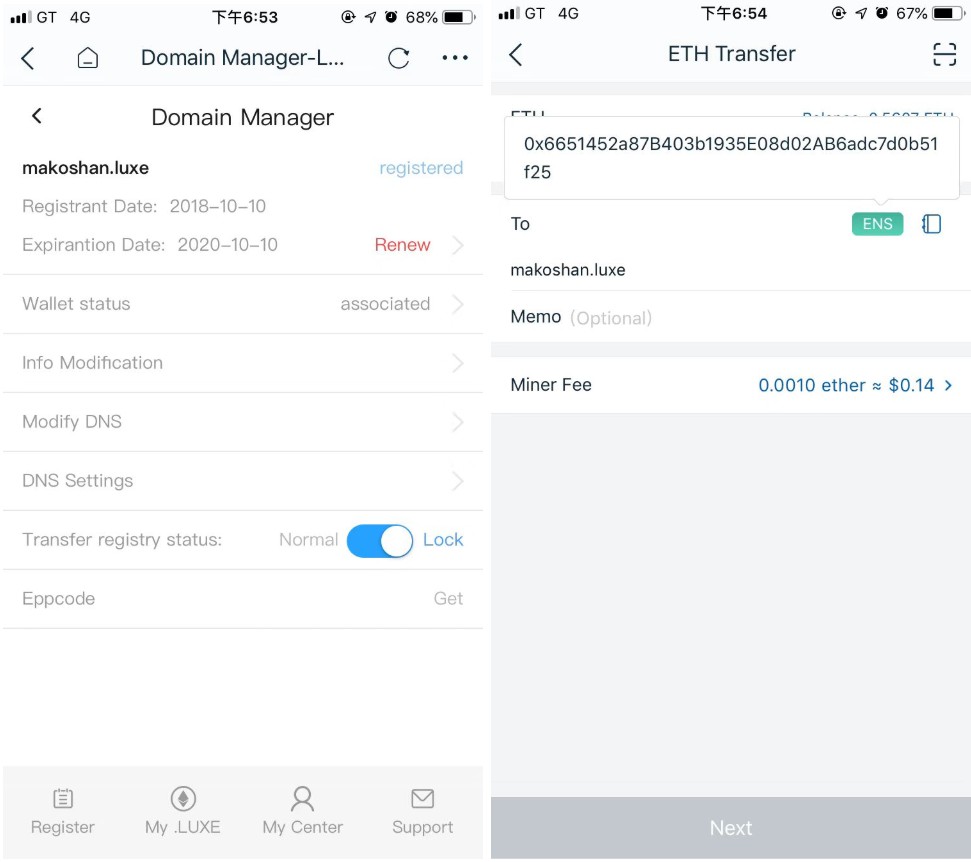 How to Update to the Latest imToken 2.0
Android users: Download the latest 2.0 version from imToken website, https://token.im;

iOS users: Download the latest 2.0 version on Apple Appstore.
Please visit our blog for tutorial on how to update from 1.0 to 2.0,
https://medium.com/imtoken/tutorial-step-by-step-guide-for-upgrading-to-imtoken-2-0-dbe3b392242
If you face any difficulty or have any suggestion for us, submit your feedback directly within the app. Users who submit constructive feedbacks to us will stand a chance to win some tokens of appreciation from imToken.
A Reminder for All
Please ensure that your wallet is securely backed-up, writing the Mnemonic Phrase down on a physical paper is the recommended way.

imToken team will never request for user's Private Key, Mnemonic Phrase or Keystore from you. Please refrain from sharing your Private Key, Mnemonic Phrase or Keystore with anyone!

Please go through our support center, https://help-center.token.im/hc?locale=en, for more information about imToken.