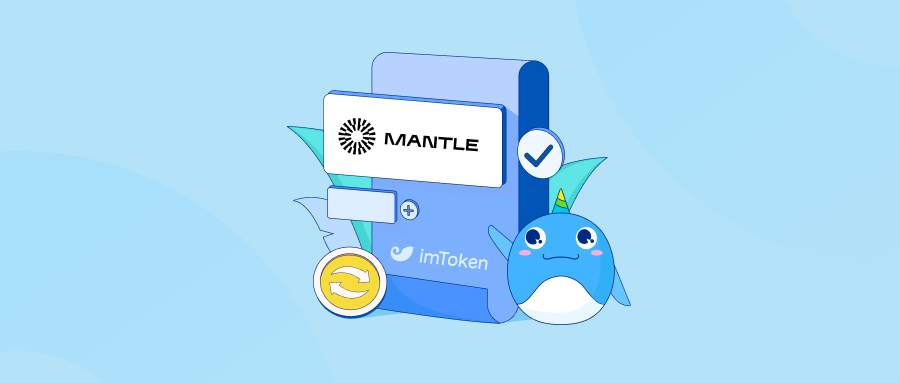 Prerequisites:
To better understand this blog, you should master the basic concepts of Ethereum first.
What is Mantle?
Mantle is an Ethereum layer 2 scaling solution developed by BitDAO to improve Ethereum's scalability. It utilizes Optimistic Rollups and a novel data availability solution called EigenDA, which allows Mantle to process transactions much faster.
The Mantle mainnet launched in July 2023. It has quickly gained adoption, with total value locked exceeding $1 billion according to L2Beat. This makes Mantle the 5th largest Ethereum layer 2 protocol.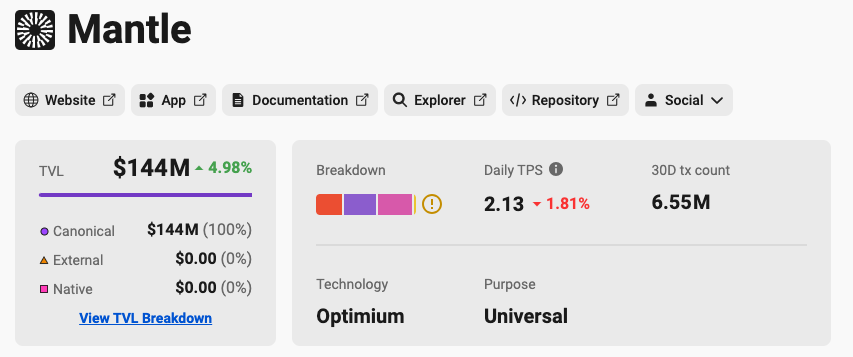 Learn more: https://www.mantle.xyz
How Mantle works?
Mantle adopts a modular architecture, dividing transaction execution, settlement, consensus and data availability into four modules. In traditional Ethereum layer 2 protocol solutions, L2 is only responsible for the transaction execution module, and other work layers depend on Ethereum. Mantle uses the EigenDA data solution, the data availability layer no longer relies on Ethereum, which improves Mantle's processing speed while greatly reducing users' costs (gas fees).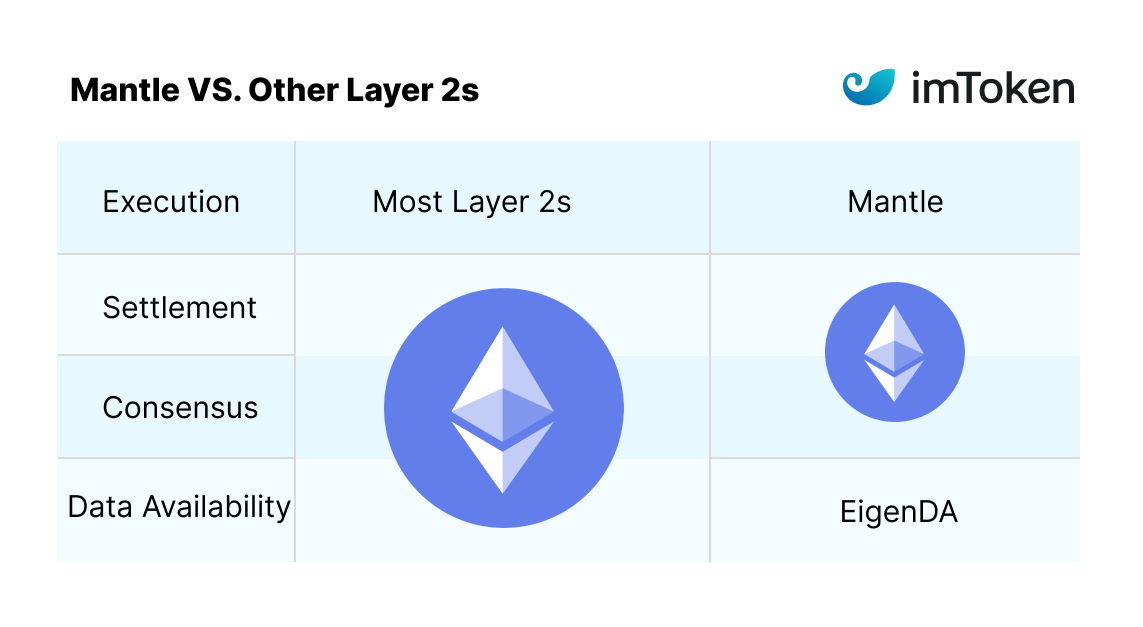 The transaction process on the Mantle network comprises three key stages:
Initiation: Users kick off transactions through their wallets or DApps. They approve the transaction and pay gas fees and then dispatch them to Mantle sequencers.

Processing and Validation: Mantle sequencers process these transactions in batches, subjecting them to verification using the Ethereum Virtual Machine (EVM).

Data Storage and Finalization: Post-validation, the data is stored off-chain by Mantle DA (Data Availability) nodes powered by EigenDA technology. The state root is then published on the Ethereum network. If no fraud proof is presented during a specified challenge period, the state root is confirmed as the final state.
Mantle's modular architecture is designed to provide Ethereum-level security, while simultaneously ensuring swift settlement and cost-effective transactions.
Features
Ensuring data availability is achieved through EigenDA technology by EigenLayer

Transaction fee settlements on the Mantle network are conducted using its native token MNT, rather than ETH

Ultra-low transaction fee

High TPS
Mantle Wallet
To use the Mantle network, you will need:
A wallet, such as imToken

The native token of the Mantle network, MNT, which is used to pay gas fees

To transfer ETH through bridges to the Mantle network in order to explore DApps
Let's take a look at how to use the Mantle wallet with imToken. First download and install imToken (https://token.im ) and create/import an identity wallet.
Note: Check the website security certificate before downloading.
Open your ETH wallet then click "Ethereum" at the top. Choose "Mantle" in the pop-up to switch to the Mantle wallet for transferring, receiving, and trying out the DApp.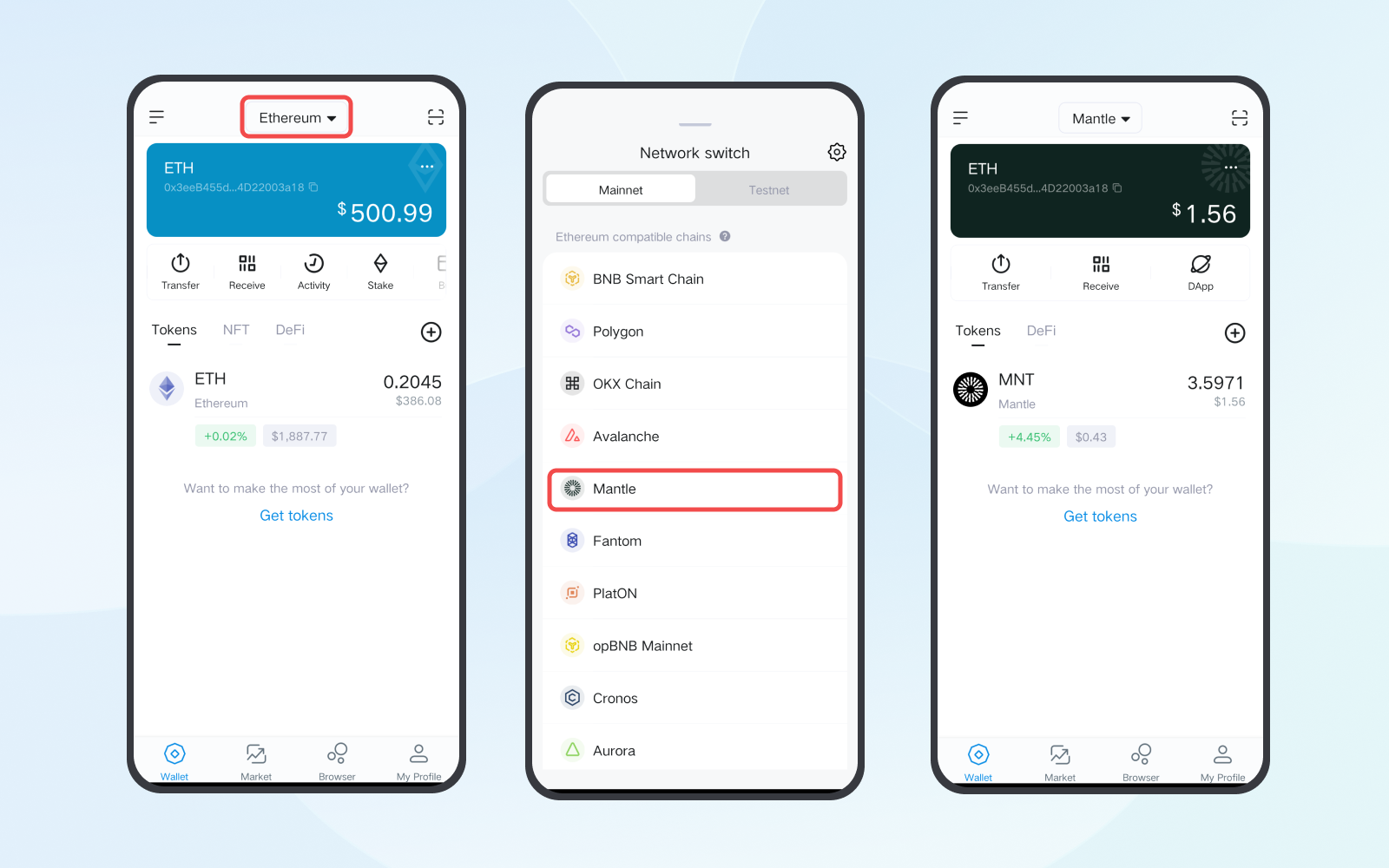 Learn about: How to use Mantle wallet with imToken?
Ecosystem
BitDAO
BitDAO, the incubator of the Mantle network, is one of the largest DAO organizations in the crypto community. With the approval of BIP-21, BitDAO has rebranded itself as Mantle.
End
For best security on large amounts of crypto, consider our hardware wallet, imKey. imKey also allows users to use the Mantle wallet.
Risk Warning: The content of this article does not constitute any form of investment advice or recommendation. imToken does not make any guarantees and promises for the third-party services and products mentioned in this article, nor assume any responsibility. Digital asset investment has risks. You should carefully evaluate these investment risks and consult with relevant professionals to make your own decisions.