What is Mantle?
Mantle is an Ethereum layer 2 scaling solution developed by BitDAO to improve Ethereum's scalability. It utilizes Optimistic Rollups and a novel data availability solution called EigenDA, which allows Mantle to process transactions much faster.
The Mantle mainnet launched in July 2023. It has quickly gained adoption, with total value locked exceeding $1 billion according to L2Beat. This makes Mantle the 5th largest Ethereum layer 2 protocol.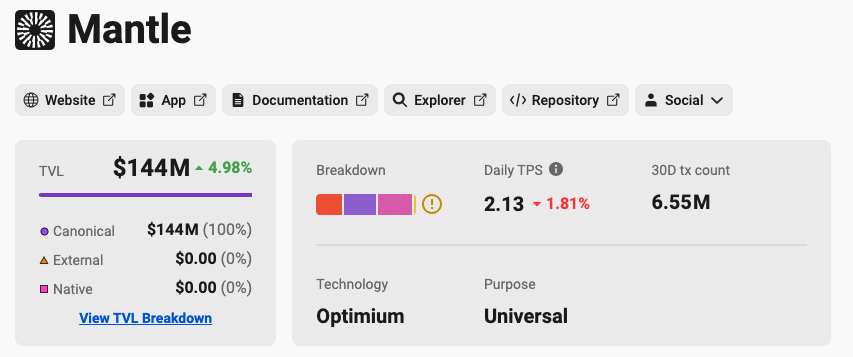 Learn more:A complete guide to Mantle
How to use Mantle with imToken?
Switching to Mantle wallet
Open the ETH wallet, click "Ethereum" at the top of the page to enter the network switching page, and select "Mantle" to switch to the Mantle wallet.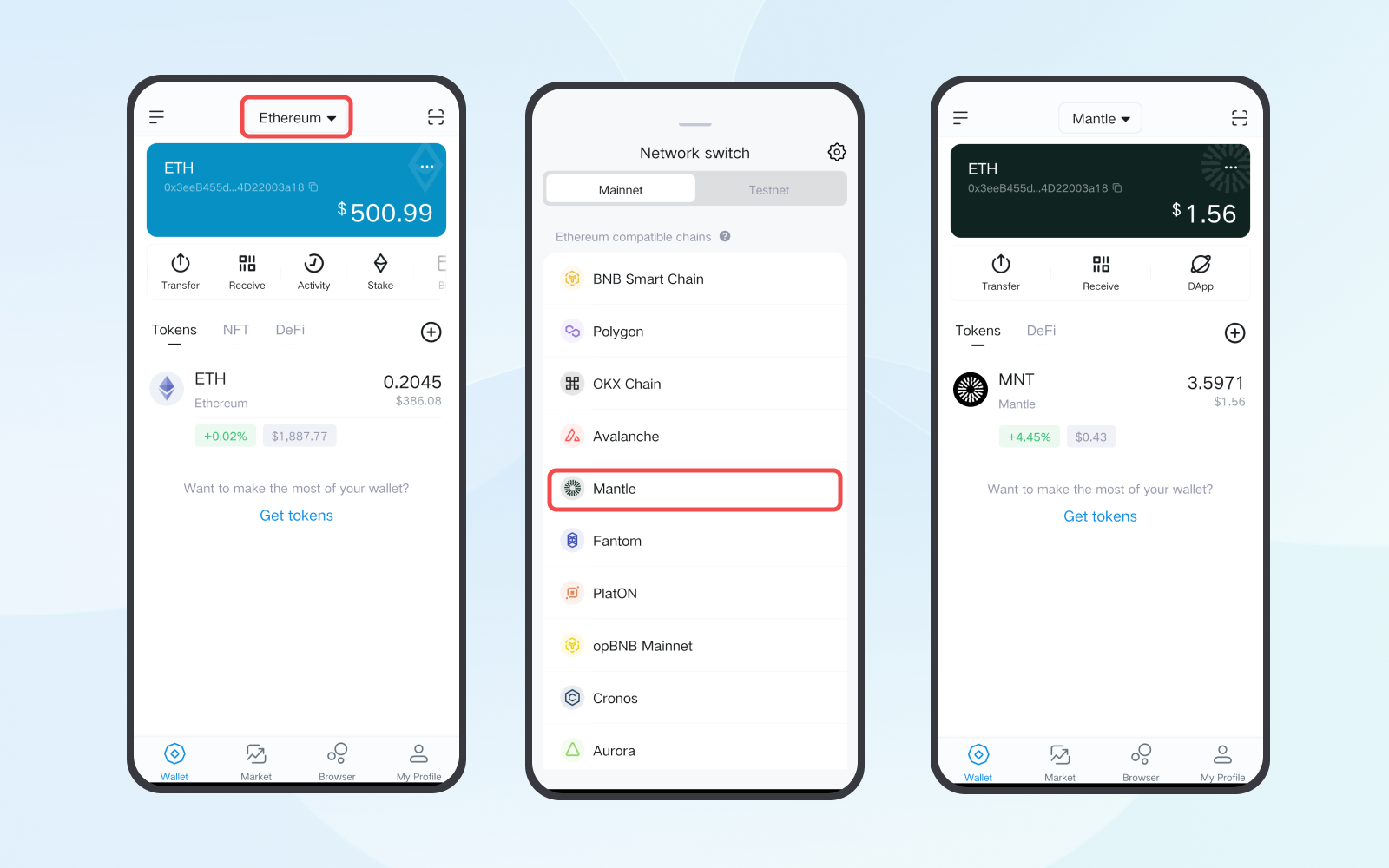 Receiving and transferring funds
In the Mantle wallet, You can click "Transfer" or "Receive" and then perform the corresponding operation.
Receiving
Click "Receive ", share the QR code or copy the address and send it to the other party.
Transferring
Click "Transfer", set the type and amount of token you want to transfer, enter the receiver's address, and then click "Next".
Note:Please make sure you have enough MNT in your wallet to pay the gas fee before transferring.
Experiencing Mantle's ecosystem on imToken
Click "DApp" on the asset homepage to view and experience recent popular DApps on Mantle.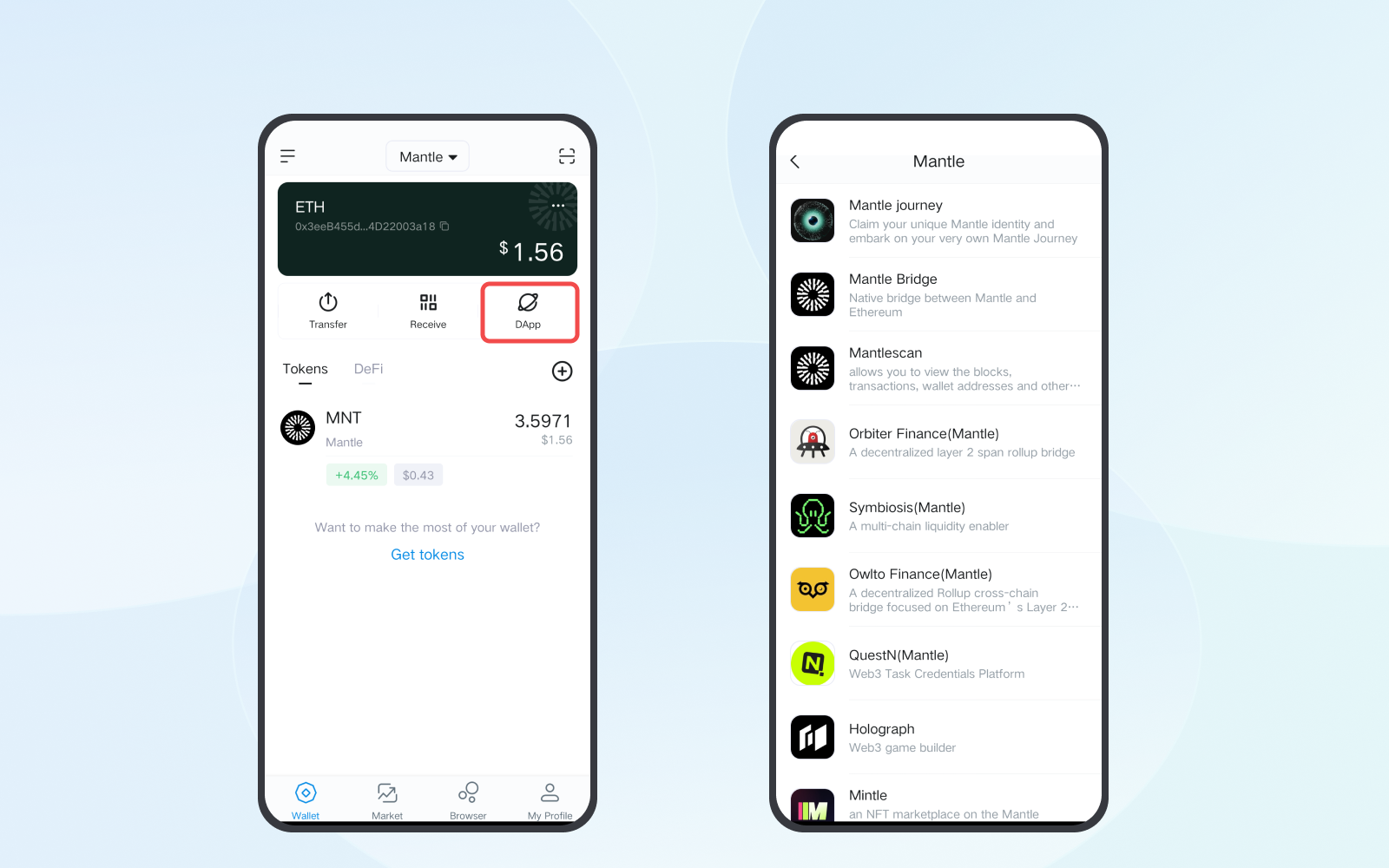 Depositing and Withdrawing
Through the bridge, you can transfer assets between Mantle and Ethereum. Here we take the Mantle Bridge as an example.
Depositting
1. Click "DApp" on the Mantle wallet homepage and select Mantle Bridge. Open Mantle Bridge, click the menu bar - "Connect Wallet" and select imToken to complete the wallet connection.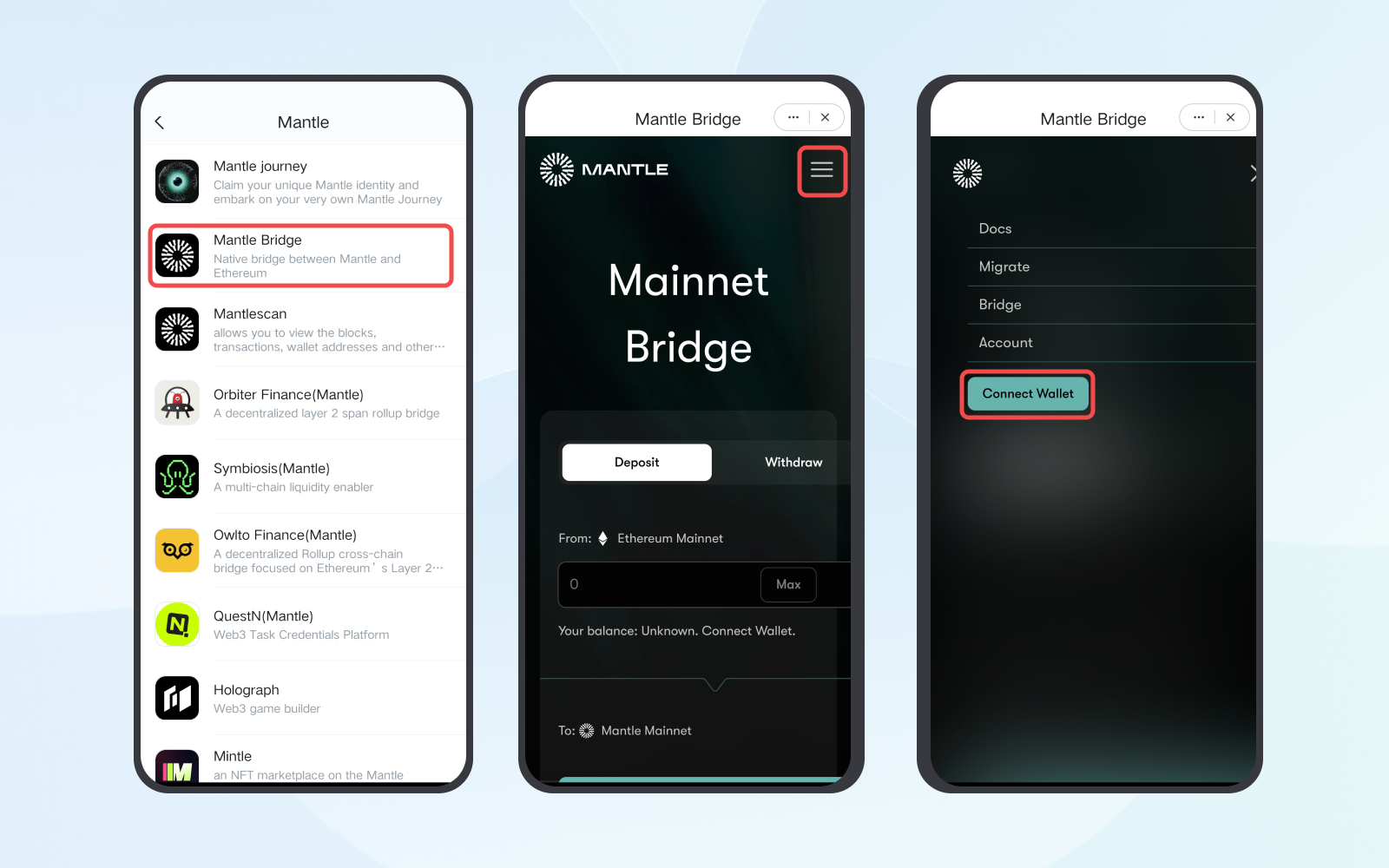 2. Here is an example of sending ETH from Ethereum to the Mantle network. Click "Deposit", select ETH and enter the amount you want to send, then click "Deposit Tokens to L2" - "Confirm" - "Sign" to initiate the transaction.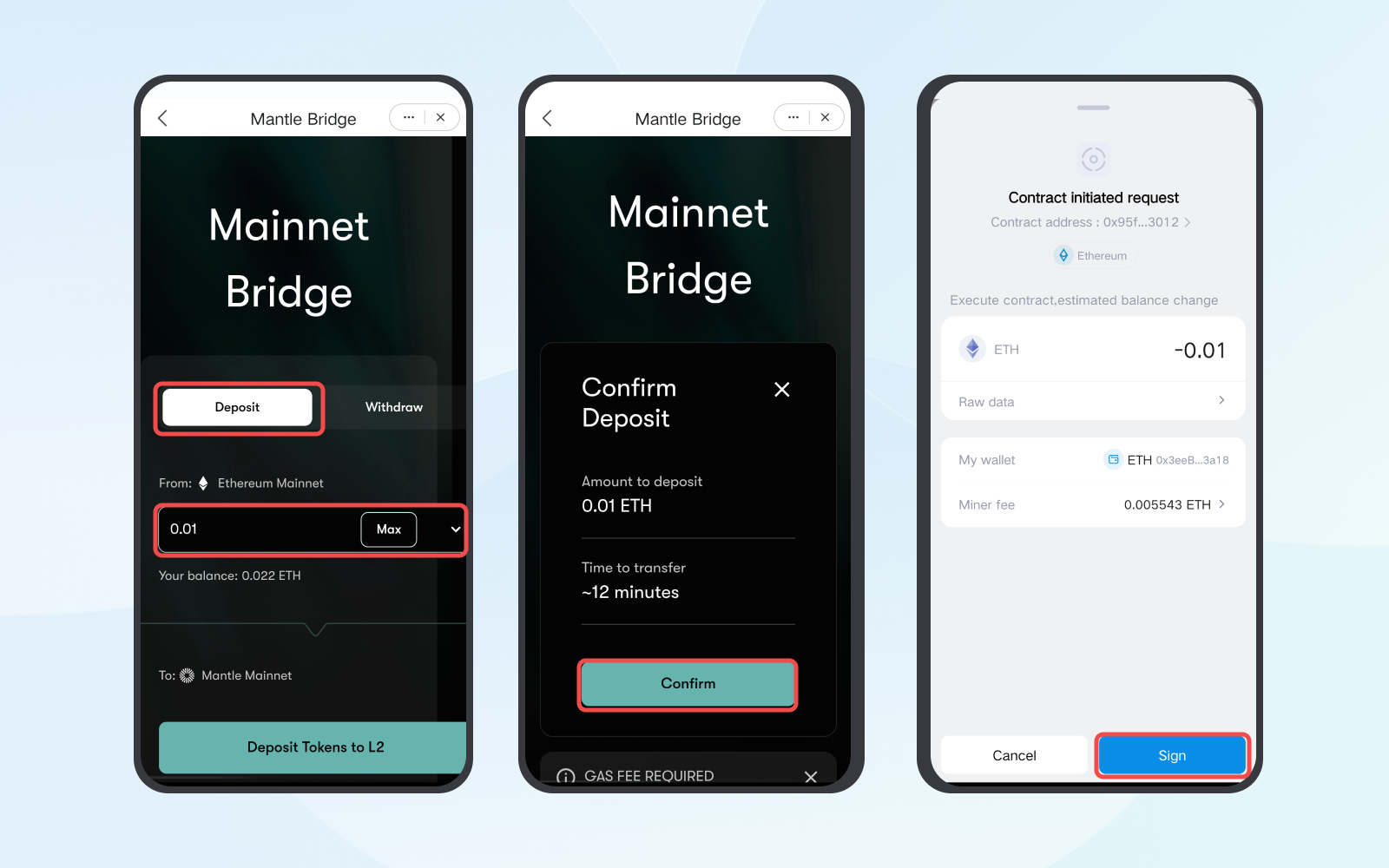 Withdrawing
Here is an example of sending ETH from the Mantle network to the Ethereum network. Select "Withdraw" on the Mantle Bridge page, select ETH and enter the corresponding amount. For first-time use, you need to click "Allocate allowance before withdrawing assets" - "Confirm" to complete the authorization. Finally, click "Withdraw Tokens from L2" to initiate a cross-chain transaction.
Note:To withdraw money from Mantle to the Ethereum, you need to wait for about a week and then open the Mantle Bridge again to receive the assets (ETH will be consumed as a transfer fee)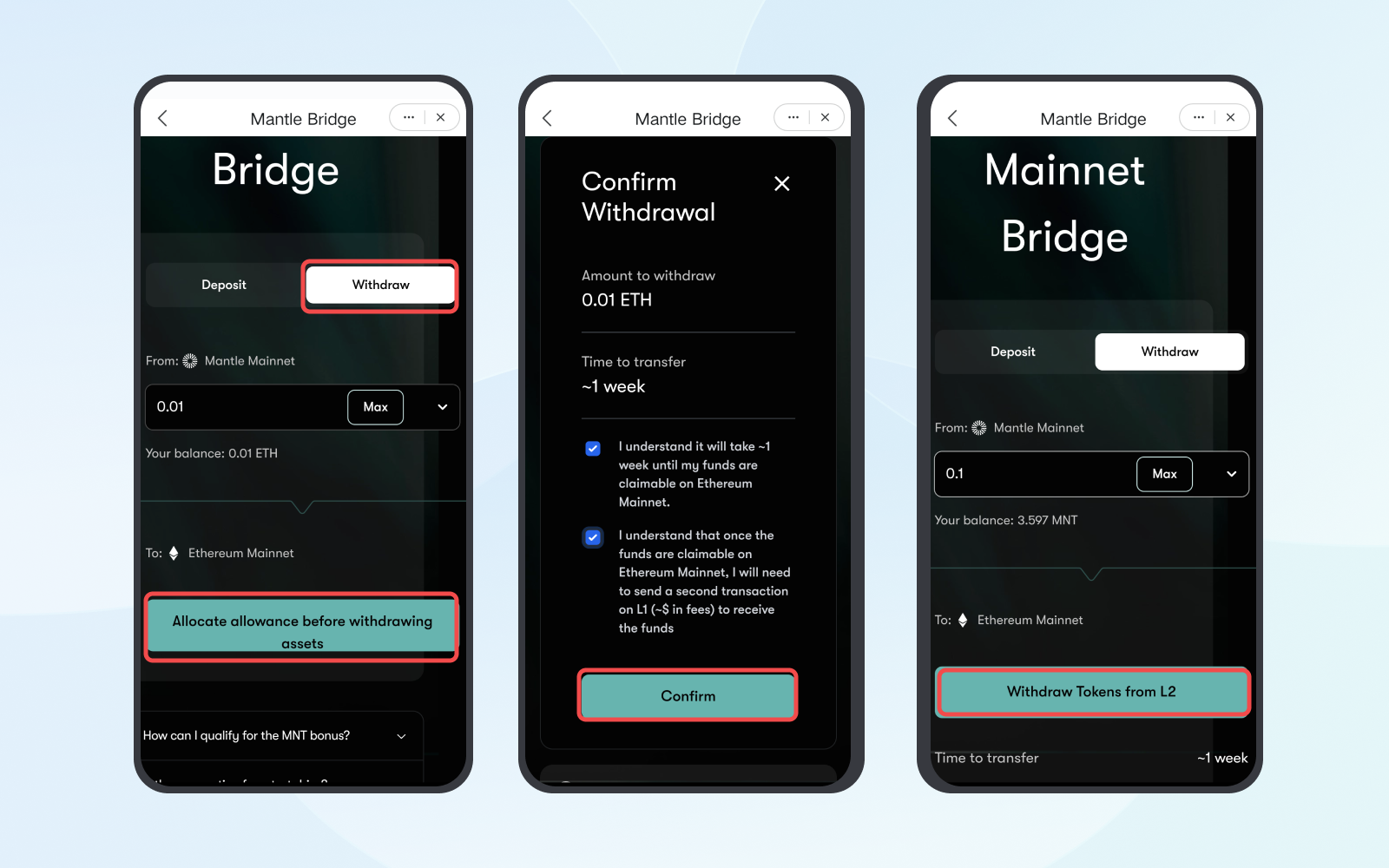 End
For best security on large amounts of crypto, consider our hardware wallet, imKey. imKey also allows users to use the Mantle wallet.
Risk Warning: The content of this article does not constitute any form of investment advice or recommendation. imToken does not make any guarantees and promises for the third-party services and products mentioned in this article, nor assume any responsibility. Digital asset investment has risks. You should carefully evaluate these investment risks and consult with relevant professionals to make your own decisions.