About PlatON
PlatON is an open financial infrastructure initiated and promoted by the LatticeX Foundation, with privacy-preserving computing at its core, aimed at establishing a leading blockchain platform for the Web3 era.
PlatON supports smart contracts and is EVM-compatible, allowing developers to deploy smart contracts and build DApps on PlatON conveniently. Compared with Ethereum, the transaction fees are lower and confirmation time is faster.
How PlatON Works
PlatON employs modern cryptographic algorithms such as Zero-Knowledge Proofs (ZKP), Verifiable Computation (VC), Homomorphic Encryption (HE), Secure Multi-Party Computation (MPC), Secret Sharing (SS), and more to implement a non-interactive proof-of-computation scalability solution. This approach decouples consensus from computation, enhances processing performance through verifiable computation, and achieves true privacy computation through homomorphic encryption and secure multi-party computation. This makes PlatON a blockchain platform that ensures the security of private data without the need for trust in third parties.
Features
Compatibility with EVM and WASM

Unique privacy computing technology

Fast transaction settlement

Low transaction fees
Learn More
PlatON Wallet
Take imToken as an example, first download and install imToken and create or import a wallet. Download link: https://token.im
Note: Click to check website certificate security
Enter the asset page of the ETH wallet, click "Ethereum" at the top of the page, and select "PlatON" on the pop-up page to switch to the PlatON wallet for transfer, collection and other operations.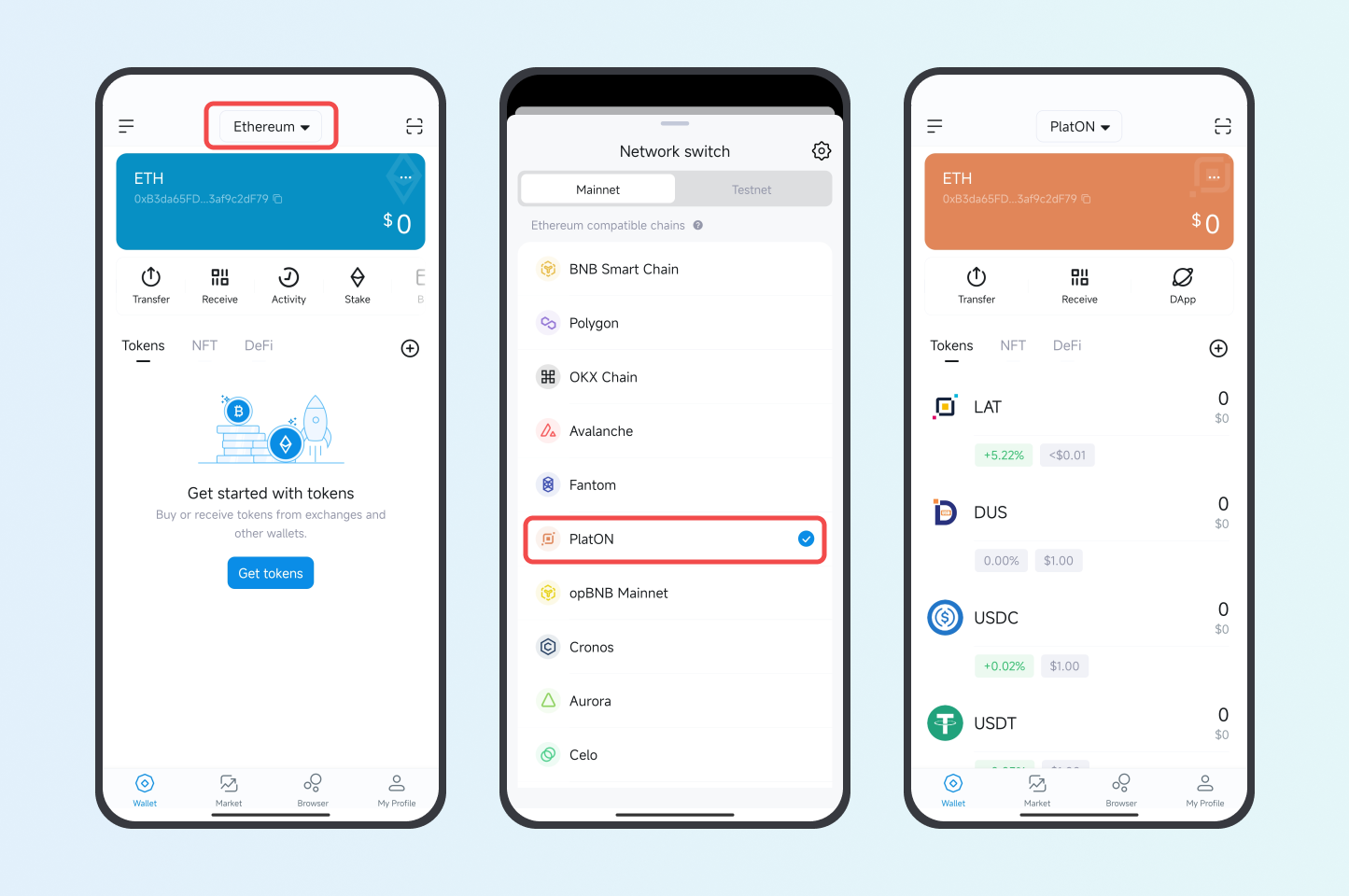 Detailed tutorial: How to use PlatON with imToken?
Other Wallets That Support PlatON
ATON

MetaMask

Cobo

MathWallet

……
Study
Development Team
The core founders of PlatON include Feng Xiao, Founder of Wanxiang Blockchain, Lilin Sun, Founder of Matrix Element, and Chuanwei Zou, former Chief Economist of Bitmain.
In addition, Ethereum founder Vitalik Buterin serves as the Chief Scientist of Wanxiang Blockchain Lab, and Xinjun Liang, co-founder and former president of Fosun Group, serves as the Chief Advisor of LatticeX Foundation.
EVM-compatibility
Ethereum Virtual Machine (EVM) is a virtual CPU for Ethereum to execute codes of smart contracts. EVM-compatibility means creating an EVM-like code execution environment that makes it easy for Ethereum developers to migrate smart contracts to an EVM-compatible chain without having to write the code from scratch again.
LAT Basic Information
LAT Price
PlatON Blockchain Explorer
The PlatON blockchain explorer is a website for querying PlatON blocks, transactions, tokens, addresses, and more.
More Information
End
For the best security on large amounts of crypto, consider our hardware wallet, imKey. imKey also allows users to use the PlatON wallet.
Risk Warning: The content of this article does not constitute any form of investment advice or recommendation. imToken does not make any guarantees and promises for the third-party services and products mentioned in this article, nor assume any responsibility. Digital asset investment has risks. You should carefully evaluate these investment risks and consult with relevant professionals to make your own decisions.