What is Spark Protocol?
Spark is a DeFi lending protocol introduced by MakerDAO, providing two essential services: interest-earning deposits and collateralized borrowing. What distinguishes Spark from other lending protocols is its focal point on DAI as the core asset and its exclusive support for five high-market-value, high-liquidity assets as collateral: DAI, ETH, wstETH, WBTC, and Savings DAI.
It is noteworthy that MakerDAO is actively pursuing Real-World Assets (RWA) as a pivotal developmental direction. The DAO treasury holds a substantial amount of US government bonds, and as the yields on these bonds increase, the MakerDAO governance voting triggers consecutive enhancements in DAI earnings within the DSR contract (also known as sDAI). As a consequence, the deposit interest rate for DAI in the Spark market presently stands at 8% (at the time of writing), significantly surpassing that of other lending markets.
Click here to learn more.
How to Access Spark with imToken
Open your Ethereum wallet and click "Browser" at the bottom. After that, enter "Spark" in the search bar to launch the DApp. Click "Confirm" to authorize Spark to access your wallet address and complete the DApp connection.
Note: If you are unable to open this DApp, please switch your mobile network and then reopen it.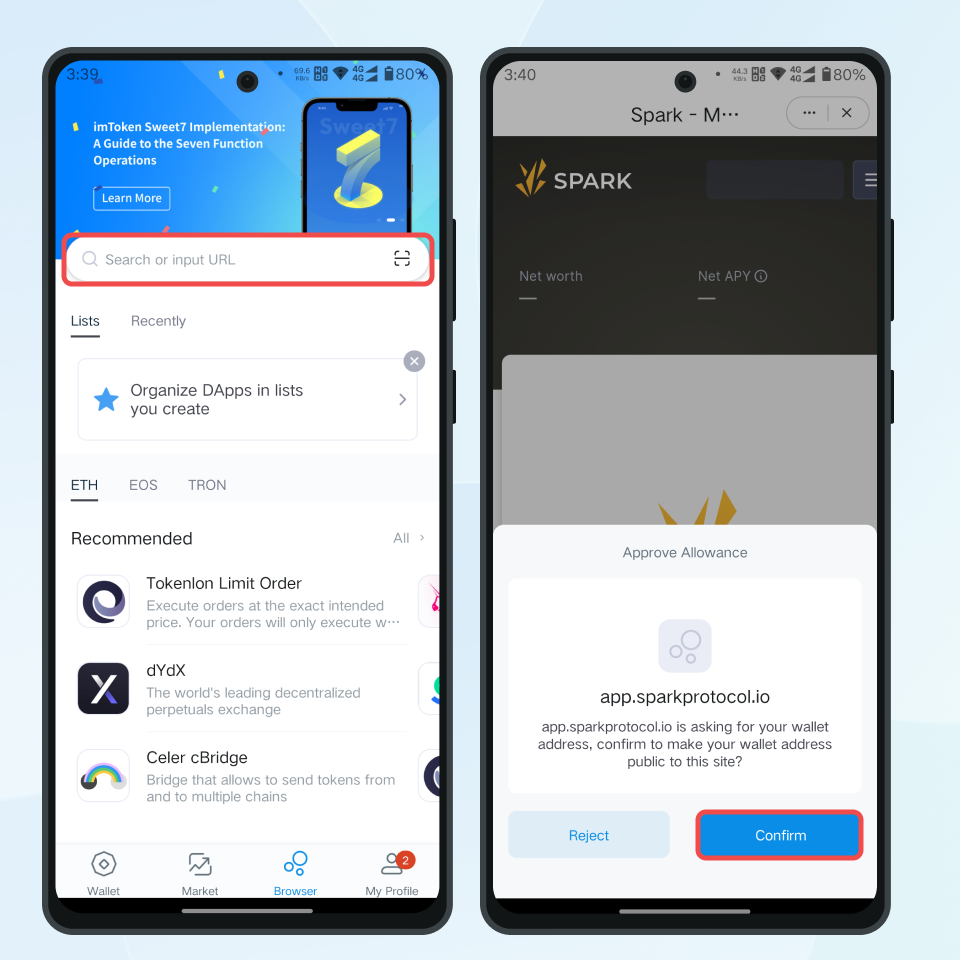 Depositing Assets to Earn Interest
Here we use depositing DAI as a demonstration. On the Spark homepage, click on the top-right menu, select sDAI, and enter the sDAI deposit/withdrawal page.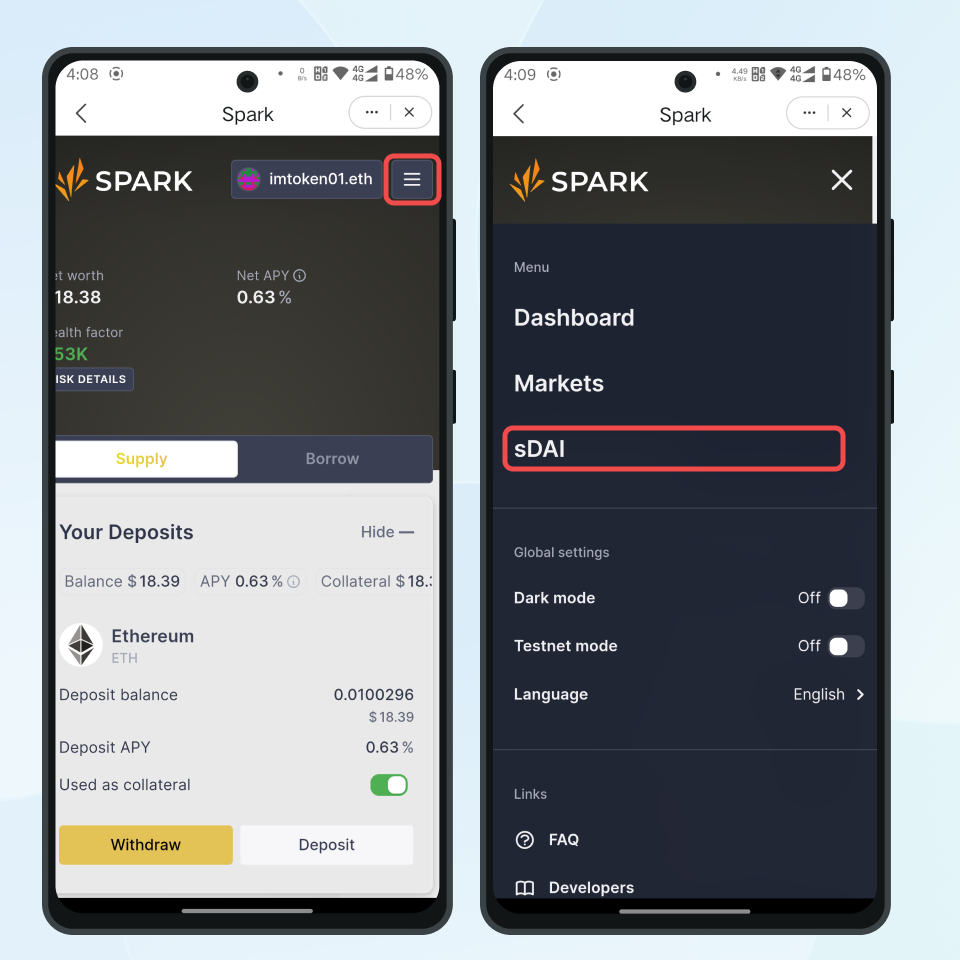 Deposit
Select "Deposit," enter the amount of DAI you wish to deposit, and click "Swap" to initiate and confirm the transaction.
Note: If this is your first time using DAI on Spark, you need to authorize the transfer of DAI tokens to the Spark protocol. Click "Approve to continue" to authorize the transfer.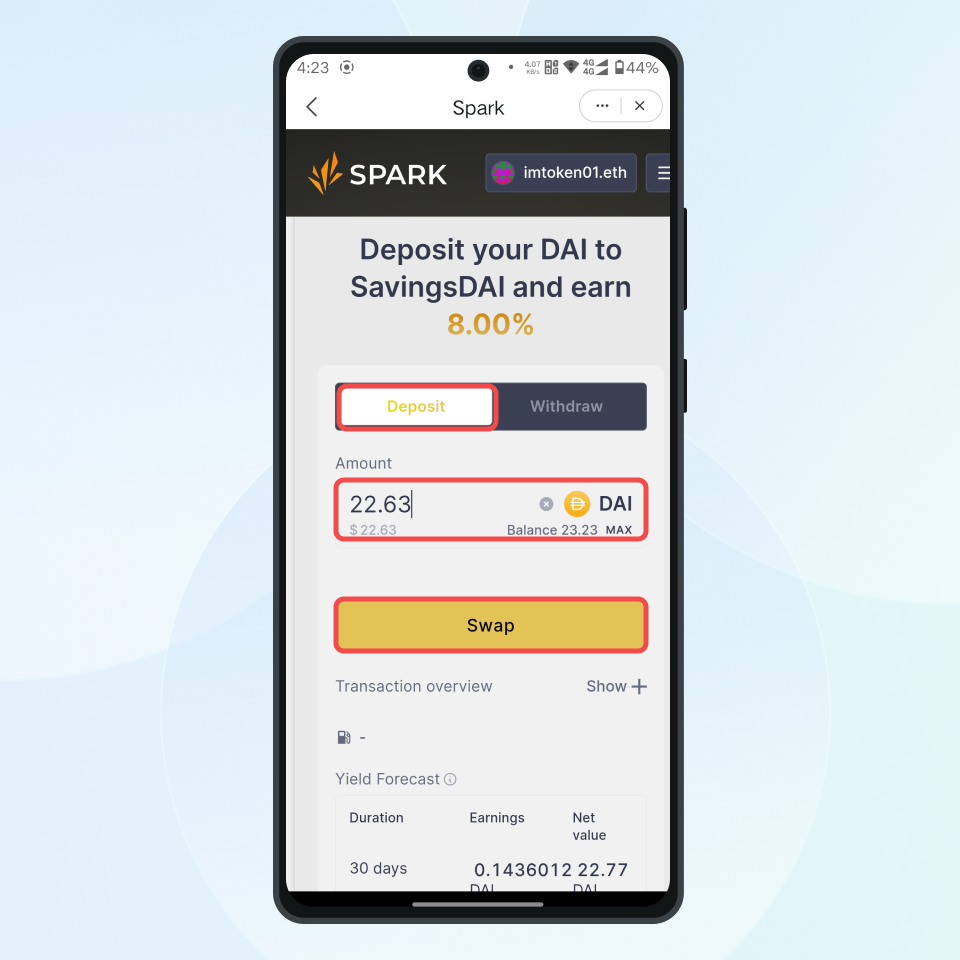 Withdraw
Select "Withdraw," enter the desired amount of DAI you wish to withdraw, and click "Swap" to initiate and confirm the transaction.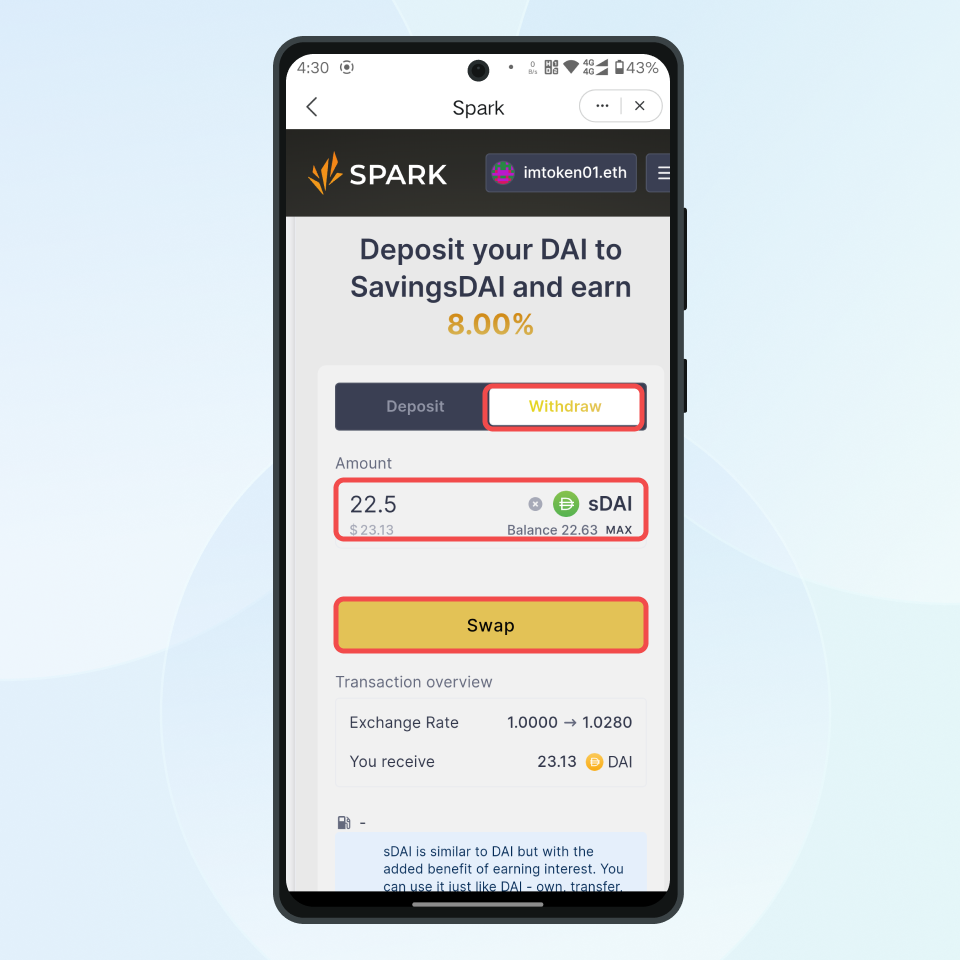 Collateralized Borrowing
After depositing assets, you can earn stable returns or borrow other assets on Spark. Let's take borrowing DAI against ETH collateral as an example.
The screenshot below shows that 0.01 ETH has already been deposited (collateralized), allowing the user to borrow other digital assets. The deposit page for ETH will display "Collateralization - Enabled," indicating that the deposited asset can be used as collateral.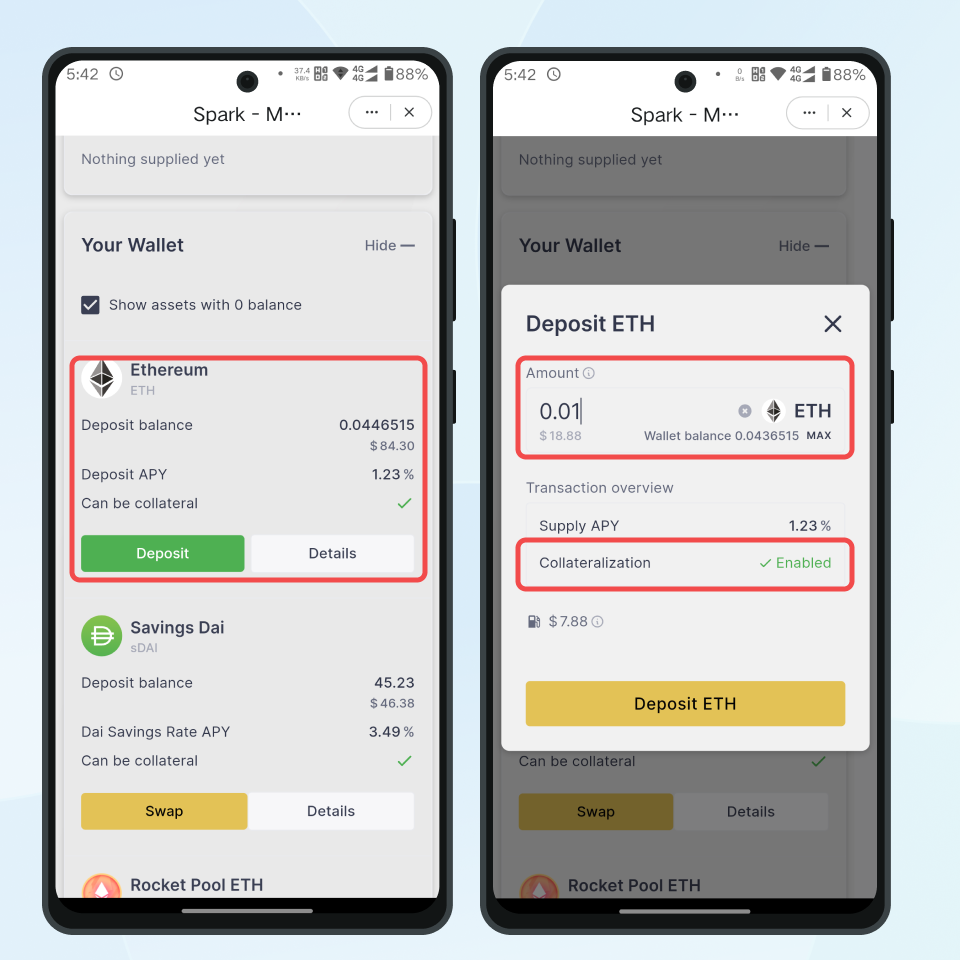 After depositing the collateral, on the top of the Spark homepage, click "Borrow" to switch to the borrowing page. Input the amount of DAI you want to borrow, check the box "I acknowledge the risks involved," and then proceed to initiate the loan.
Note: Borrowing digital assets on DeFi protocols involves risks! For instance, if the price of the collateralized assets falls below the maintenance margin, the protocol will automatically sell/liquidate the collateral to maintain its health.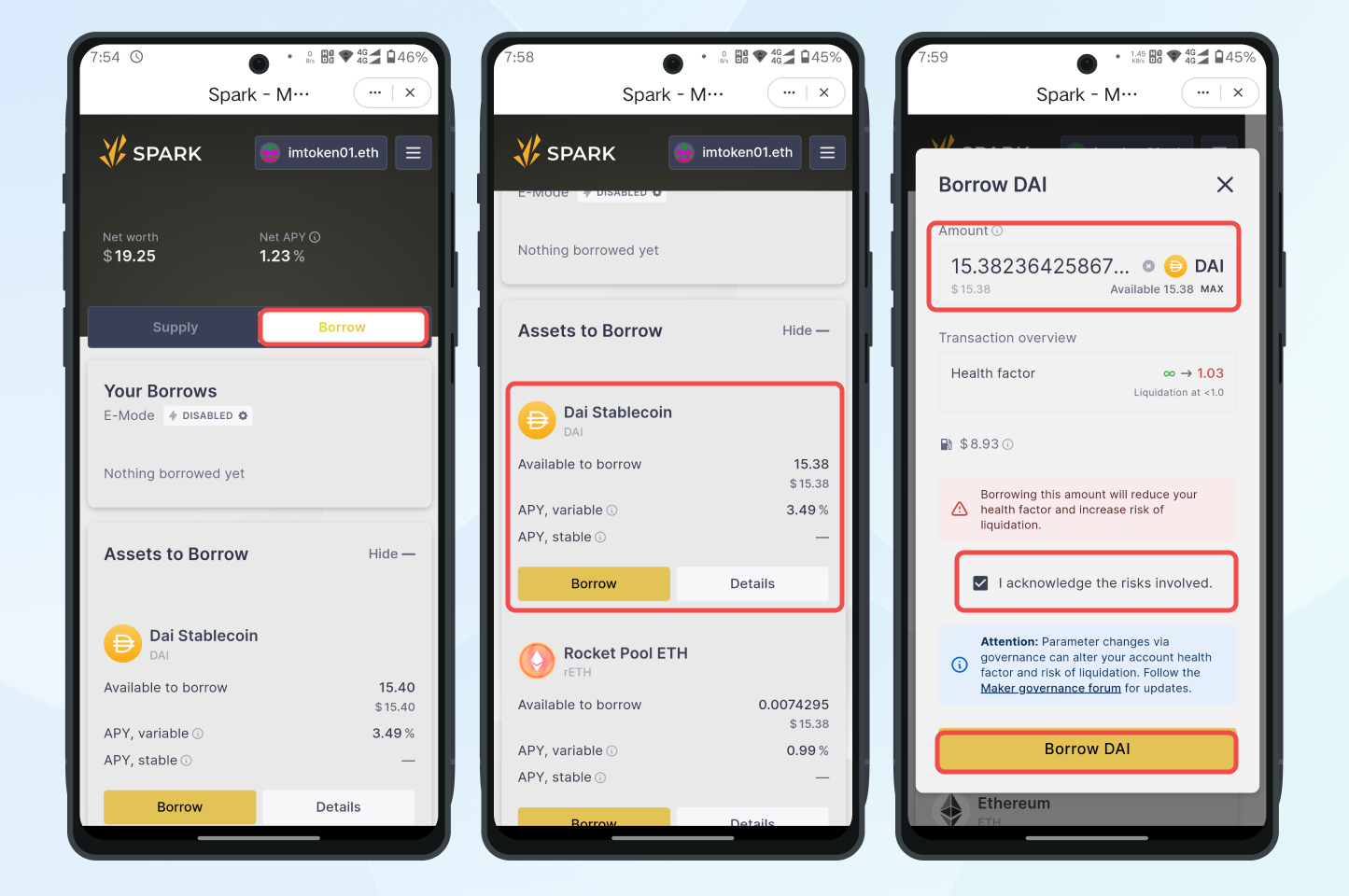 End
With this guide, using Spark Protocol via imToken becomes seamless. These steps amplify your crypto experience and empower you with control and security, pushing blockchain's boundaries and redefining what's possible in this digital era.
Suppose you wish to store significant amounts of assets or have higher security requirements. In that case, we recommend using imKey, a professional cold wallet device incubated by imToken, as a safer option for asset storage. It supports the Ethereum ecosystem, including the use of Spark protocol.
Risk Warning: The content of this article does not constitute any form of investment advice or recommendation. imToken does not make any guarantees and promises for the third-party services and products mentioned in this article, nor assume any responsibility. Digital asset investment has risks. You should carefully evaluate these investment risks and consult with relevant professionals to make your own decisions.