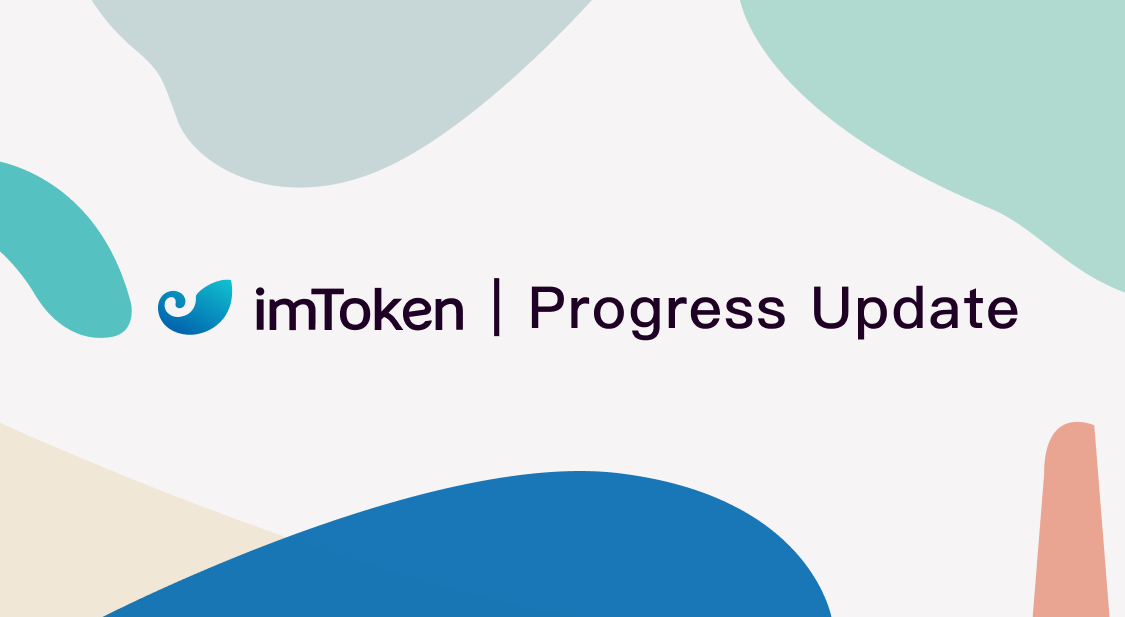 imToken Singapore Meetup 🇸🇬 #5
On May 25, we held our fifth Meetup in Singapore. Our guest speakers were SlowMist CTO - Blue and MetaTrust co-founder & CEO - Dr. LiuYang. Both guests, alongside imToken Senior Researcher - Lambda and imToken Global Marketing Director - Long Long, shared their valuable insights on "Web3 Security" with the attendees, making the event highly informative and engaging.
It was a special moment as we introduced our first-ever hybrid event, allowing individuals unable to attend in person to experience it through high-definition live streaming and replays on the imToken YouTube channel.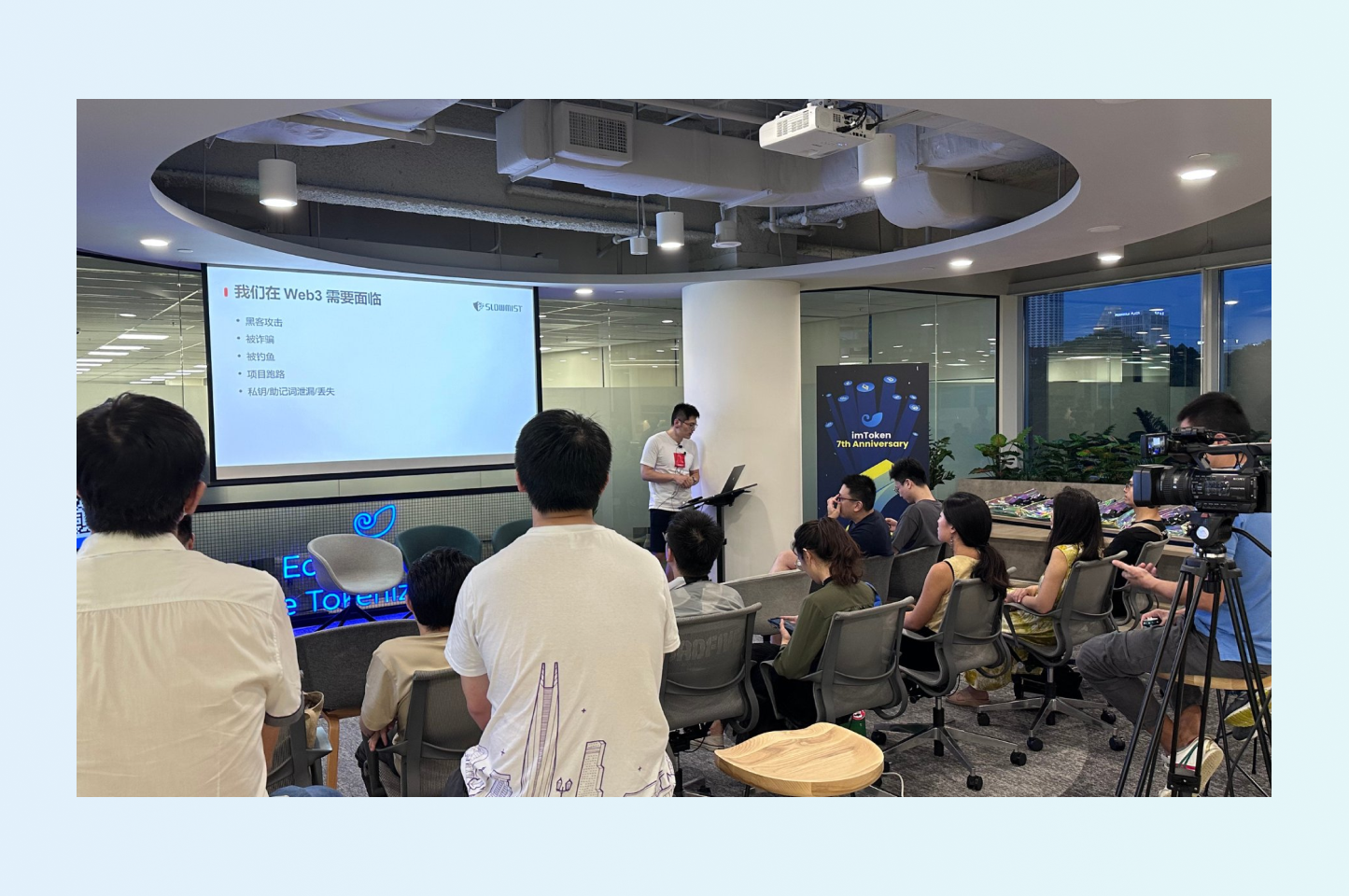 "Web3 Security" SG Meetup
If you missed the fifth meeting, fret not because we have more lined up for you! Our sixth meeting is scheduled for June 28th from 7:00 pm to 9:00 pm (SGT). The theme of this meetup is "ETH Staking Track Analysis." If you are in Singapore, don't miss this opportunity to meet offline!
imToken 7th Anniversary 🎉
We're still immersed in the celebration mode of our 7th anniversary, savoring the #sweet7!
In the past seven years, we have been exploring the innovative path of blockchain technology, providing safe and reliable digital asset management services to more than 15 million users in 150+ countries.
Since 2016, imToken has helped 15 million users enter the blockchain world, providing them with safe and reliable digital asset management services. During this period, imToken invested in and incubated the Tokenlon DEX protocol and the imKey hardware wallet, providing users with convenient token exchange services and heightened security.
Let's review some of the important imToken milestones since its establishment in 2016:
On May 2, 2016, imToken was established, and then on November 11, we released imToken version 1.0.

On April 28, 2017, we participated in the Global Blockchain Finance (Hangzhou) Summit, during which Vitalik visited imToken and discussed ENS functions.

On February 14, 2018, imToken users surpassed one million. On May 31 of the same year, imToken received $10 million in Series A investment from IDG Capital.

On July 31, 2019, we officially launched Tokenlon. In the same year, imKey, which was incubated by imToken's investment, officially released the first-generation hardware wallet.

In September 2020, we established the imToken Taipei Office and formed the imToken Lab team. On December 22 of the same year, the Tokenlon V5 version was officially released.

On March 31, 2021, we completed $30 million Series B financing led by Qiming Venture Capital, and launched the imToken 3.0 development plan.

On May 27, 2022, we officially launched the imToken SG New Office. In the same year, we hatched a new brand focusing on payment, RIVO.
These milestones attest to the phenomenal growth of imToken and ignite the spark that propels our future development. What started as support for the Ethereum blockchain alone has blossomed into imToken's proficiency in managing 12 diverse public chains, including Bitcoin, Ethereum, Cosmos, EOS, Tron, Nervos, Bitcoin Cash, Litecoin, Kusama, Polkadot, Filecoin, and Tezos. We also support Layer2 networks, like Arbitrum, Optimism, zkSync Era, etc., and EVM-compatible networks, such as BSC, Polygon, OKX Chain, Fantom, and Avalanche. User satisfaction is our key driving force as we relentlessly work towards developing an intuitive, secure, and hassle-free wallet.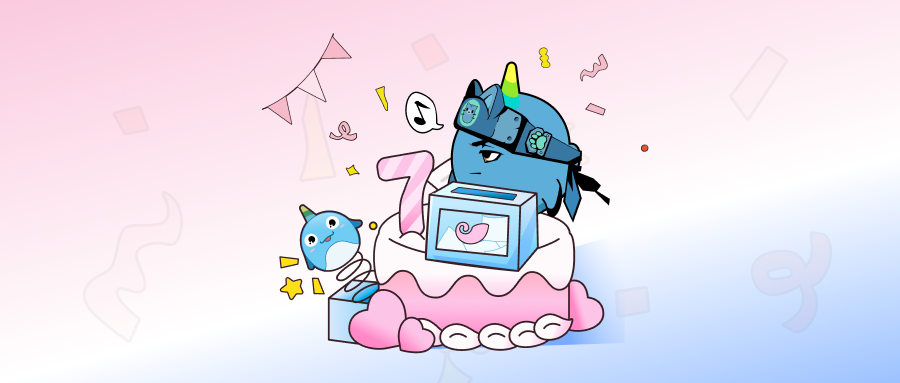 Sweet7 Series Community Events
We held 7 community events, including the Singapore Meetup mentioned earlier, and a Twitter AMA on May 31 to celebrate our 7th anniversary.
Community Product Suggestion Voting Event
During our 7th anniversary, we collected many product demand suggestions from our community, summarized them into 49 items, and then decided the priority of our next product updates through community voting. Ultimately, we received 80,000+ votes from the community for the Top 7 product suggestions. We are profoundly grateful for your enthusiastic support, which was instrumental in discovering the product requirements.
Discord Community Voting Event
Users who participated in our community product voting picked one or two demand suggestions they supported, described the reasons for choosing them, and sent them to a designated Discord channel to get 777 experience point rewards. The top 3 feedbacks also received an additional 1500 XP rewards.
Exploring Layer 2 AMA Event
On May 19th, we held an English AMA event themed "Exploring Layer 2: Unveiling Tech Innovations & Future Trends" on imToken Twitter. We invited Sebastien, head of zkSync DeFi, Cozy, and Celer, co-founders of Velocore Network, and core developer Michael Zhou as our guests. Together with Zeng Jiadong, the product manager of imToken, they shared the technical innovation and future trends of the Layer 2 track.
If you are interested in the content of this AMA, you can click here to listen to the audio playback of the shared content.
The Future of LSD Staking AMA Event
On May 24th, we held another English AMA event on Twitter themed "Post Shapella Upgrade: The Future of LSD Staking." We invited Rocketpool manager Darren Langley, StakeWise co-founder Kirill Kutakov, and Frax Finance core contributor Defi Dave as our guest speakers. Together with our Director of Partnerships Jia Yung, they shared the latest hotspot information about LSD staking.
Missed this great AMA event? Click here to listen to the audio playback of the shared content.
imToken 7th Anniversary Trading Experience Event
Task 1: Here, participants used the Tokenlon flash exchange feature to exchange any currency and amount, and qualify for the 7th anniversary limited edition NFTs. The three transactions with the most number "7" in the exchange transaction hash (TXID) also received token rewards of 777, 520, and 500 USDT.
Task 2: Participants were required to enter the Velocore DApp in imToken, and exchange more than 0.05 ETH in the ETH/USDC or VC/ETH trading pairs to qualify for the 7th anniversary limited NFTs.
Every time the participants completed an activity, they earned a chance to receive additional rewards provided by Tokenlon and Velocore. Eventually, 40 wallet addresses holding the 7th anniversary limited NFTs were drawn to share 3000 USDT and 10 imKey Pro hardware wallets as rewards.
imToken Founder Twitter AMA Activity
On May 31st, we held a "User-Centered Product Building" AMA event on Twitter. imToken founder Ben and 7 other team members announced the final 7 product requirements, shared the corresponding solutions, and answered questions from the community during the event.
It is a great pleasure to meet and communicate with new and long-standing users during the 7th-anniversary celebration. We gained valuable insights into various user needs and will actualize them with time.
As we bask in the warmth of your birthday wishes, we want to thank you wholeheartedly for your steadfast support and the valuable feedback that constantly guides our journey.
If you missed this great AMA event, here is its replay.
Recommended Readings
Next
We have released imToken version 2.12.1! It adds TRX wallet transaction memo and fee estimate display functions. Besides, it optimizes the ETH Staking function. Please update to the latest version in time to get the best experience.
imToken Official Contacts
Website: https://token.im
Weibo: https://weibo.com/imToken
Twitter: https://twitter.com/imTokenOfficial
Discord: https://discord.com/invite/imToken