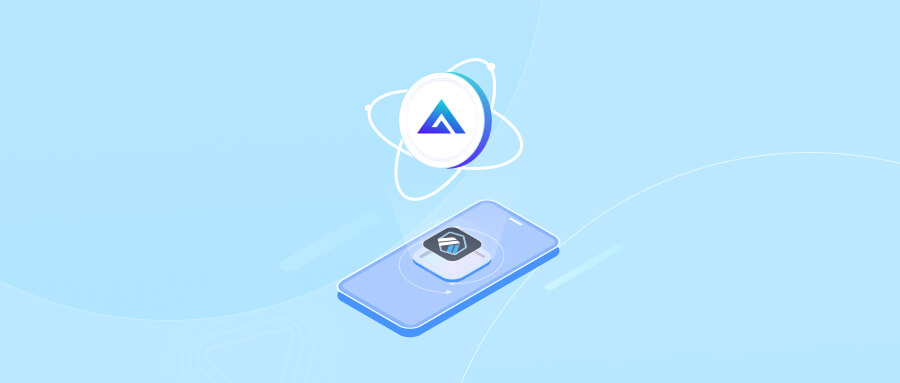 What Is GMX?
GMX is a spot and perpetual contract DEX with outstandingly low fee and zero slippage. Now, it is deployed on Arbitrum and Avalanche.

Unlike DEX based on an order book or AMM model, GMX allows slippage-free perpetual contract trades with price offers provided by Chainlink and liquidity from its GLP token.
Click here to know more about GMX.
How to Use GMX in imToken?
Preparations:



Switch your wallet from Ethereum to Arbitrum.

Depositing ETH in your Arbitrum wallet as Gas fee for trading in the network. Also, those tokens can serve as a

margin

for leverage trading.




Please be aware of potential risks before trading perpetual contracts, which are high-risk derivatives.



You can check out the tutorial below for depositing ETH assets from the mainnet to Arbitrum:

🔗: How to Use Arbitrum Wallet in imToken?
Token Swapping
1. Open your Arbitrum wallet and swipe left on the bar showing different functions to click "DApp". After that, click "GMX" - "Trade" to enter the trading page.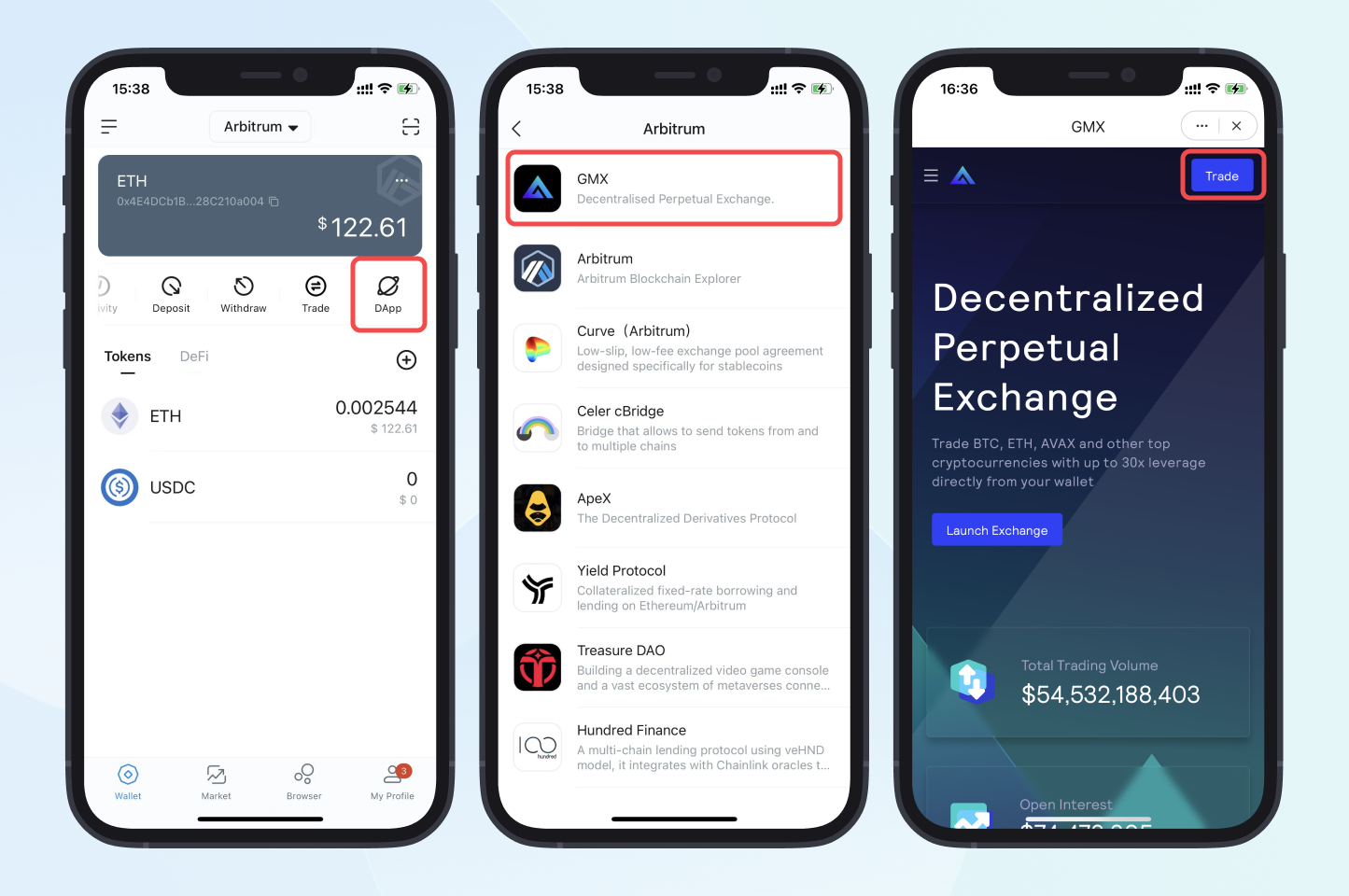 2. On the trading page, click "Connect" - "WalletConnect" - "imToken". After your wallet is connected to the exchange, you can enjoy services such as token swapping.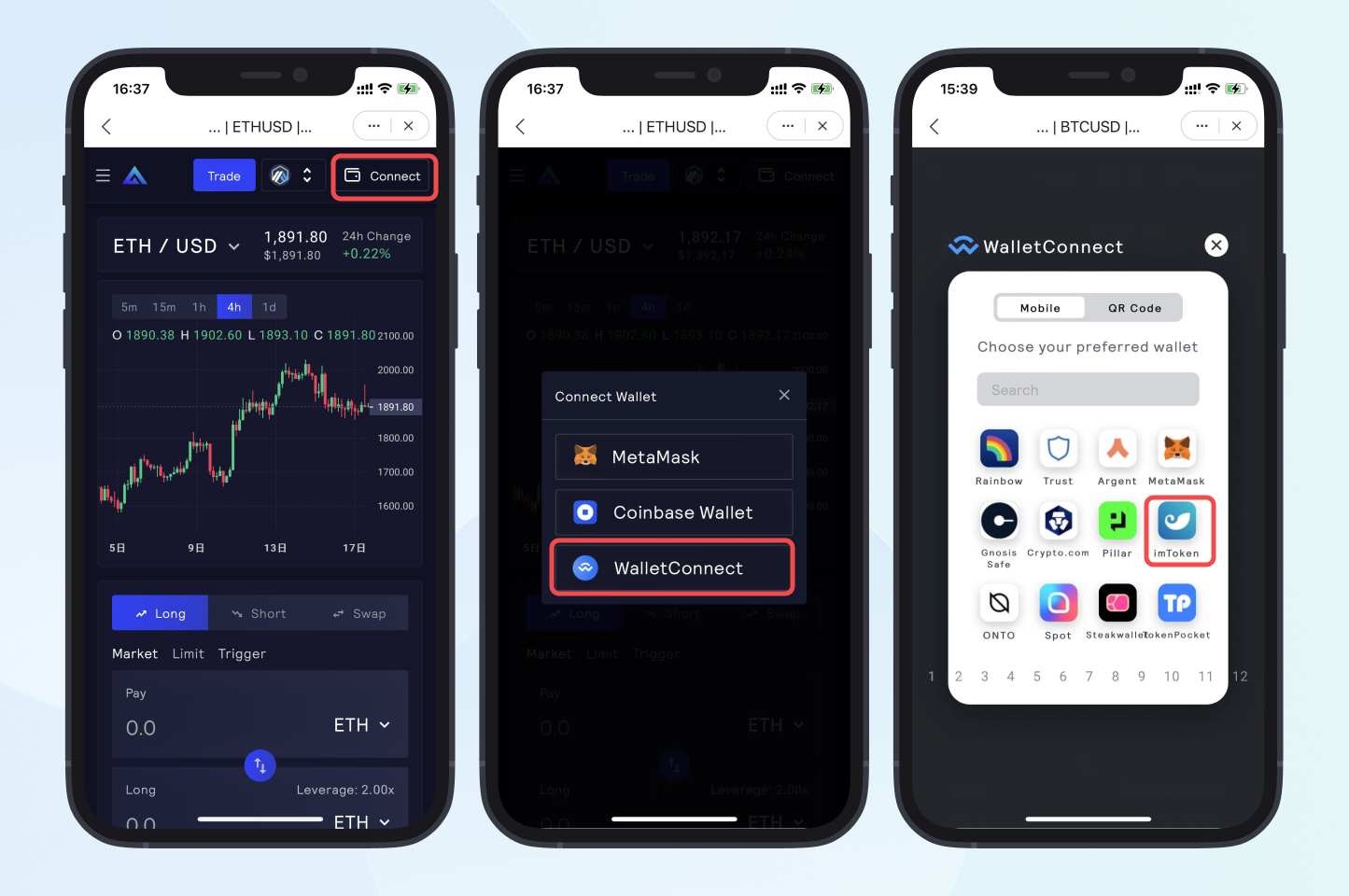 3. For example, if you want to swap ETH into USDC, click "Swap" and then choose "ETH" and "USDC" before entering the amount. With all the order details being confirmed, you can click "Swap" - "Confirm Swap" to sign the transaction message. The swapped USDC will be shown on the first page of your Arbitrum wallet if the transaction is done successfully.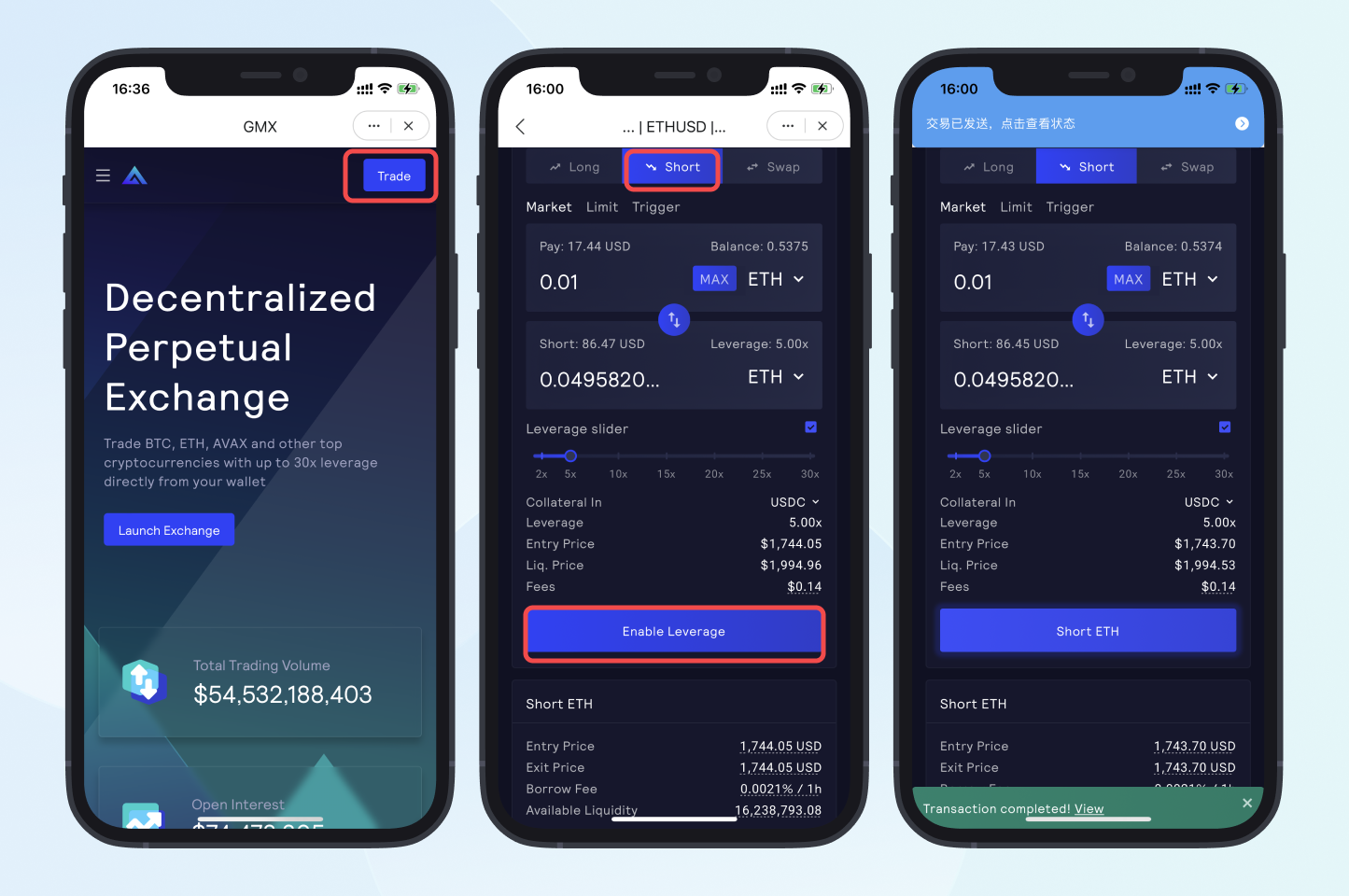 Opening Positions
1. On the trading page, click "Long" or "Short" to choose a direction for your opened positions. Please note that before trading, you should click "Enable Leverage" first to sign a token authorization message.
For instance, if you want to go short on ETH, click "Short" and choose "ETH". After that, enter the amount you want to pay and choose a leverage.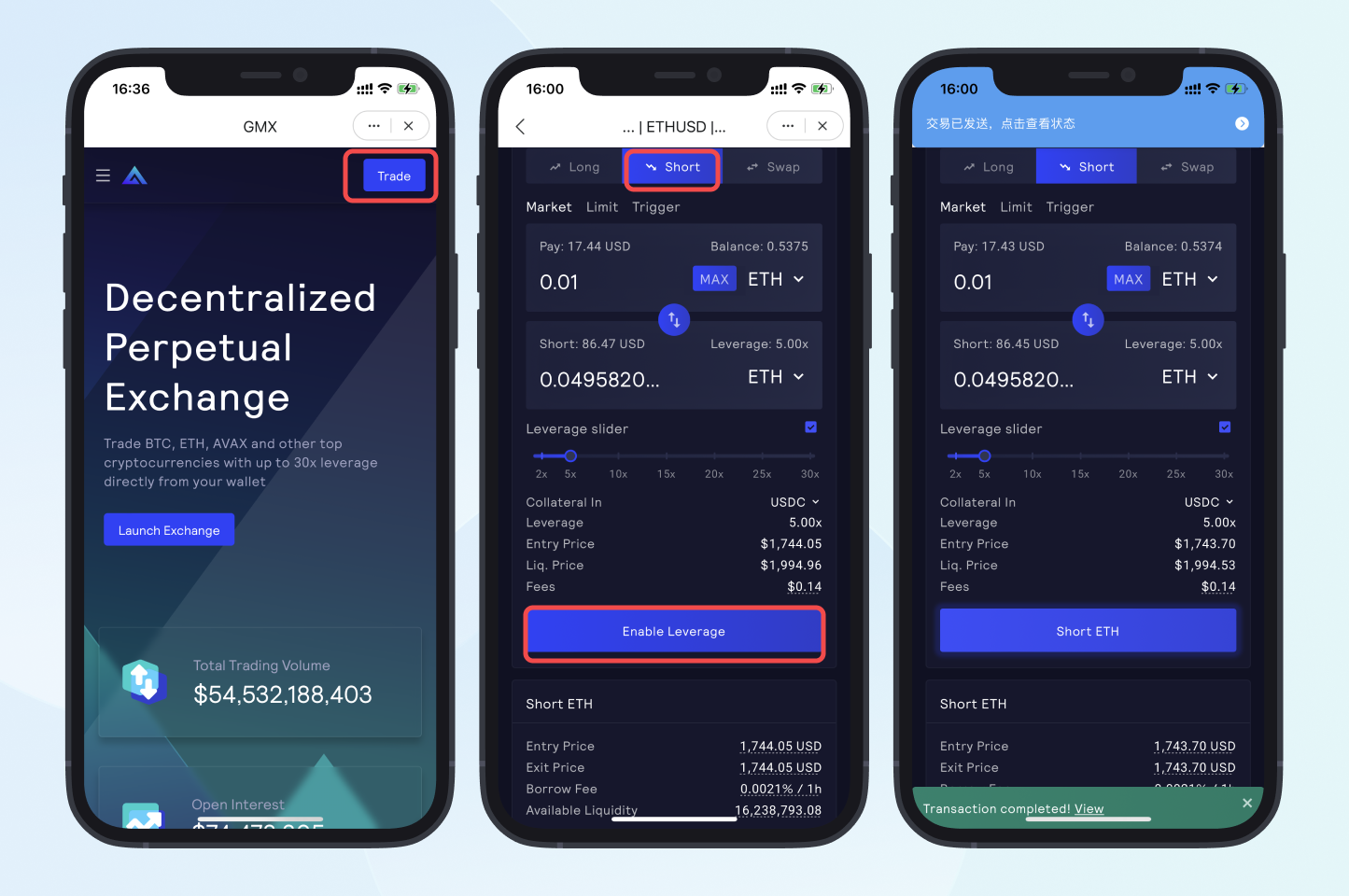 2. After confirming the details, you can click "Short ETH" - "Short" to open a leveraged short trade. The pop-up of "Requested increase of ETH Short" means you have successfully opened your position.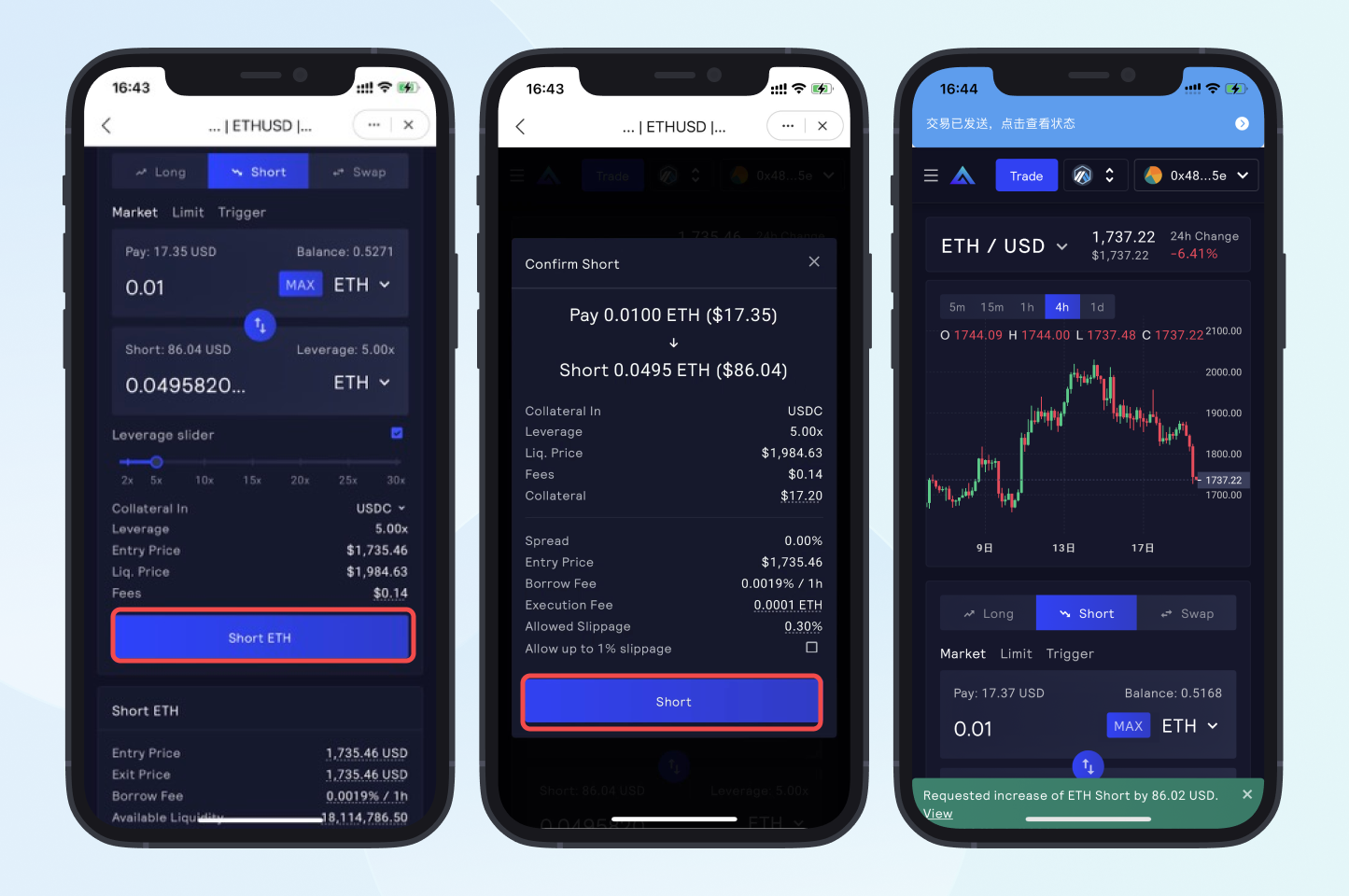 Closing Positions
You can check out the details of your opened positions, including the PnL and entry price, by swiping down on the same page where you open them.
If you want to close them, click "Close" to enter the amount you want to close. Then click "Close" again to initiate a transaction. You have successfully closed your trades if you see a pop-up of "Close submitted".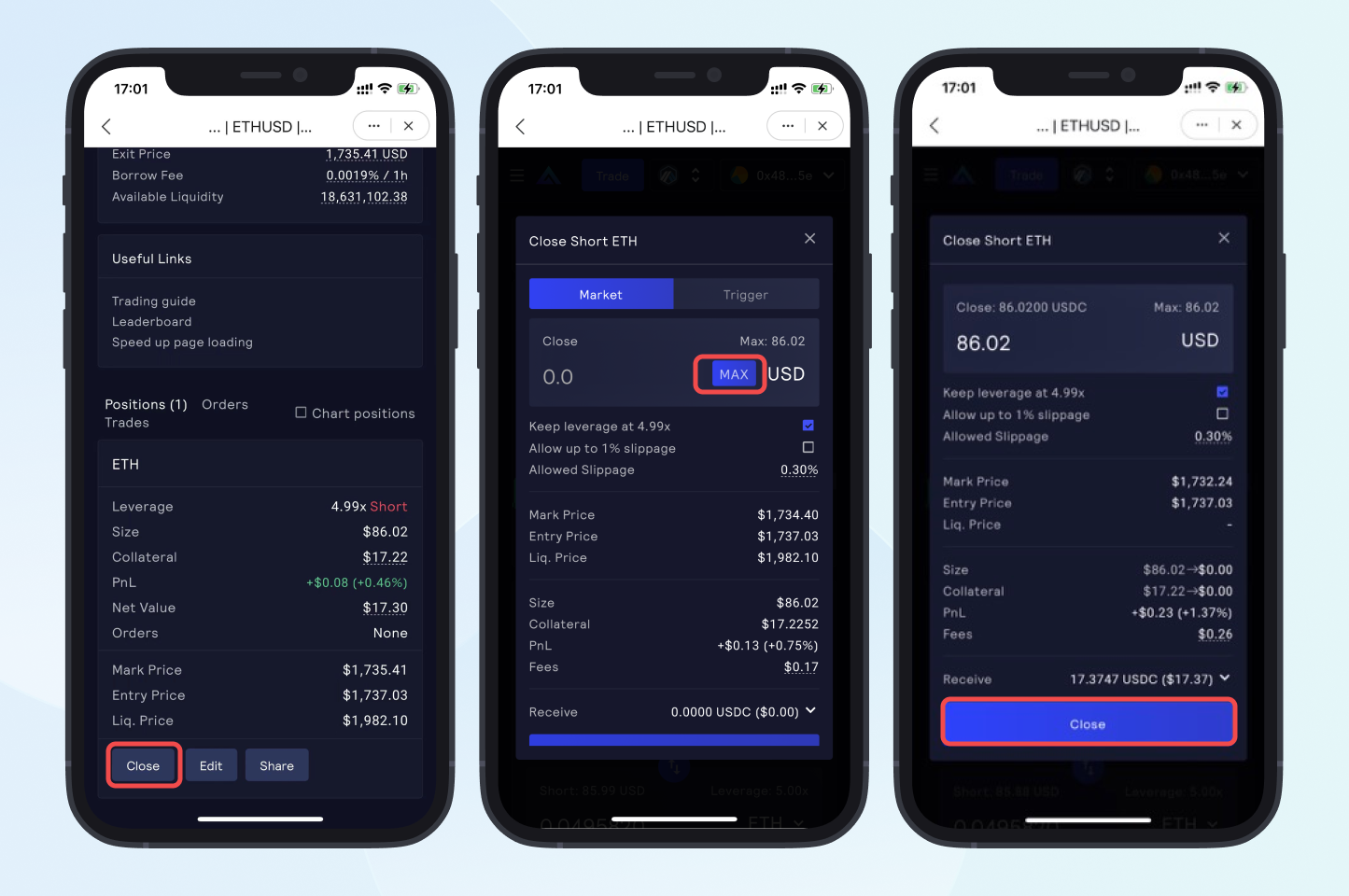 Providing Liquidity
You can be rewarded with Escrowed GMX and ETH by minting and holding GLP (GMX's liquidity provider token) to provide liquidity to the exchange. Apart from that, the price of GLP goes up along with the increased prices of assets for minting the LP token. Here are the steps to mint GLP on Arbitrum:
1. Click the menu button at the top left corner and click "Buy" to find GLP by swiping down on the page. Click "Buy on Arbitrum" to enter the GLP minting page.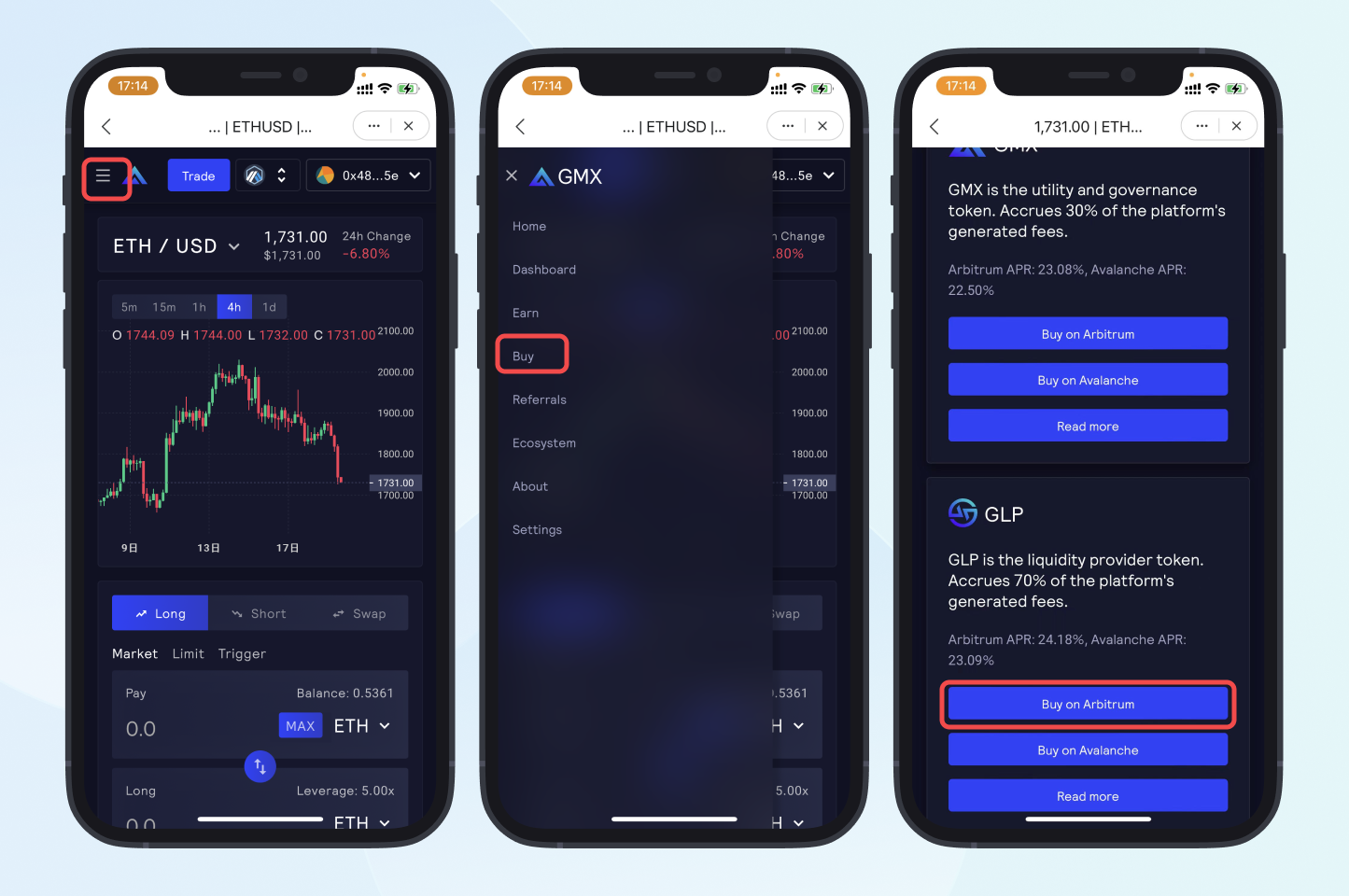 2. Click "Buy GLP" and enter the amount. Then click "Buy GLP" again to sign a token authorization message. You have successfully provided liquidity to the exchange with a pop-up showing "Buy submitted".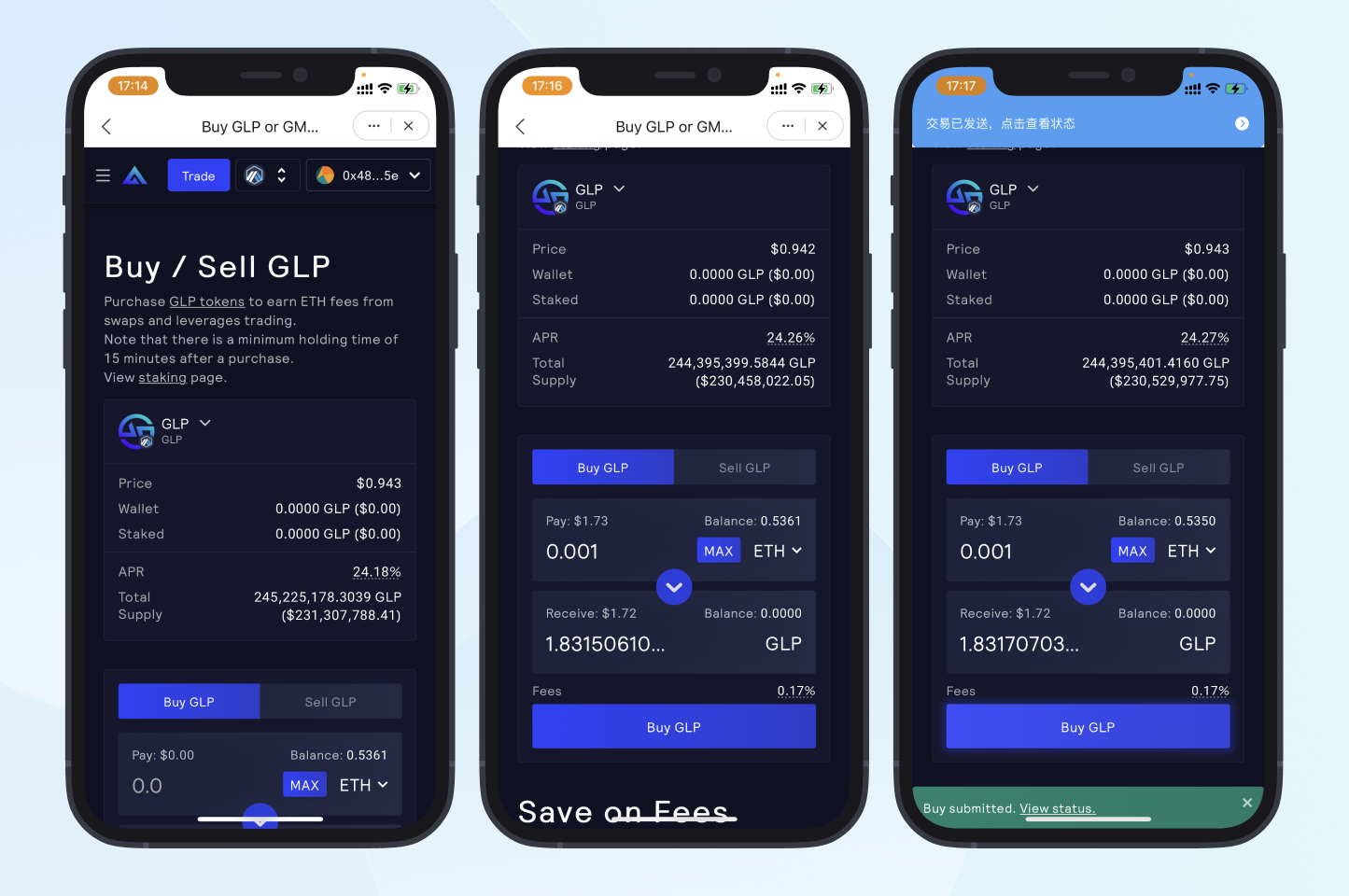 3. The minted GLP will be staked automatically. At the same time, you will be rewarded with Escrowed GMX and ETH. You can check out the rewards by clicking "Earn" in the menu button.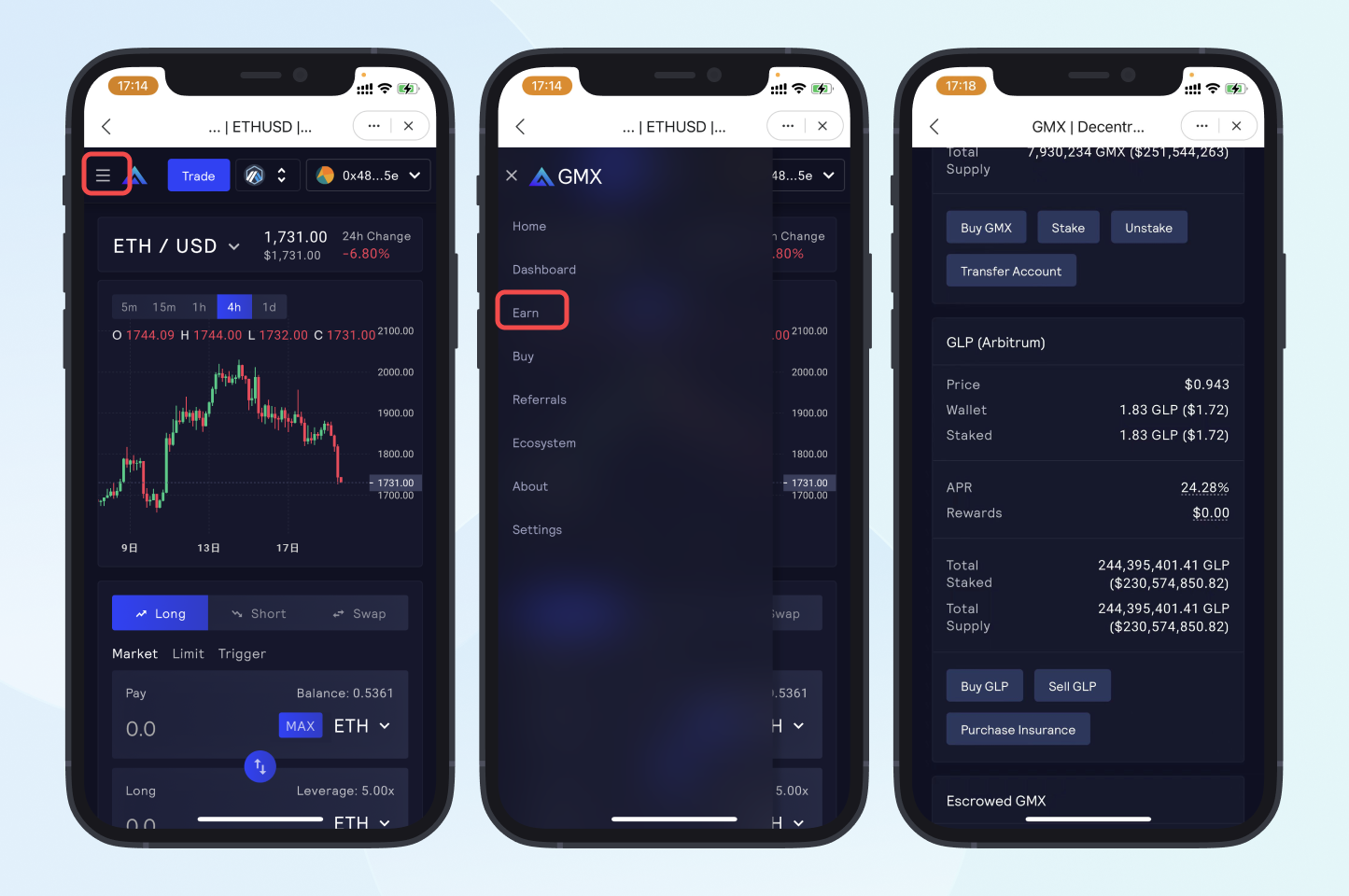 Please reach out to GMX officials if you have any problems when using the DApp:
End
imKey also supports Layer2 ecosystems so you can use GMX on Arbitrum through that device. For best security on large amounts of crypto, consider our hardware wallet, imKey.
Risk Warning: The content of this article does not constitute any form of investment advice or recommendation. imToken does not make any guarantees and promises for the third-party services and products mentioned in this article, nor assume any responsibility. Digital asset investment has risks. You should carefully evaluate these investment risks and consult with relevant professionals to make your own decisions.