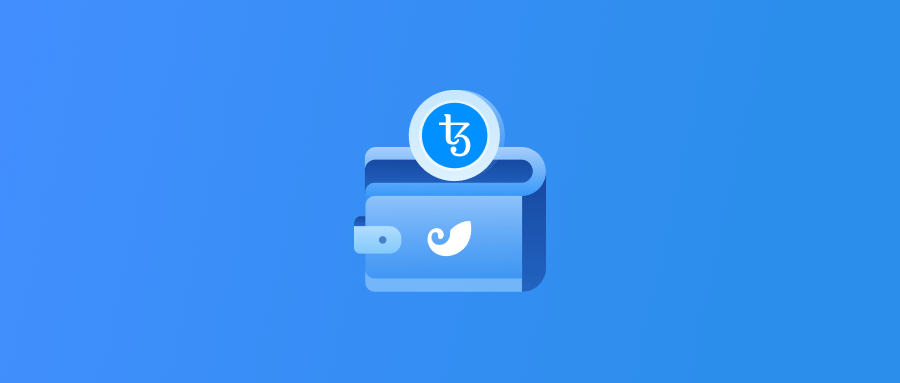 Today, we are excited to announce support for Tezos. You can update your imToken to the latest version to experience all of Tezos.
Create a new Tezos account/address

Import & Backup Tezos account

View Tezos balance & transaction history

Send and receive Tez

Delegate and undelegate tez

Watch baking rewards and accrued tez
On top, we decided to offer our own Tezos baker. You can decide to bake with imToken's baker or other popular bakers in your wallet. This is special, as we are happy to not only offer the above features but also participate in securing the Tezos blockchain.
Tezos
Tezos is a decentralized, public blockchain that evolves by upgrading itself. Stakeholders of the Tezos network vote on amendments to the protocol to reach social consensus on proposals, creating a secure and organic upgrading mechanism. The protocol's on-chain governance system, its consensus algorithm based on Proof-of-Stake (PoS), and its ability to facilitate formal verification of smart contracts, make Tezos an ideal long-term solution for high-value financial applications. Learn more about Tezos at https://tezos.com.
ON-CHAIN GOVERNANCE & SELF-AMENDMENT
All stakeholders can participate in governing the protocol. The election cycle provides a formal and systematic procedure for stakeholders to reach agreement on proposed protocol amendments.
Self-amendment allows Tezos to upgrade itself without having to split ("fork") the network into two different blockchains.
SMART CONTRACTS & FORMAL VERIFICATION
Smart contracts on Tezos are written in Michelson which facilitates formal verification - a technique used to improve security by mathematically proving that the code works without errors.
Smart contracts are used in mission-critical environments such as aerospace, nuclear, etc.
PROOF-OF-STAKE & DELEGATION
The mechanism by which the various participants in Tezos reach consensus on the state of the blockchain.
Any stakeholder can participate in the consensus process by putting in a security deposit and be rewarded for contributing to the security and stability of the network.
Users who do not wish to participate directly in the consensus protocol can delegate their tokens to other users to participate on their behalf.
Current use cases of Tezos
French CBDC tests: SocGen uses Tezos blockchain
Two months ago, the Banque de France announced it had selected eight firms to participate in its wholesale central bank digital currency (CBDC) trials. One of the eight selected companies is Société Générale (SocGen) Forge, who is using the Tezos blockchain as the platform for the trials. The tests aim to explore the settlement and delivery of securities with a digital Euro. Doubtless, most of the experiments will focus on on-chain settlement.
https://ledgerinsights.com/french-cbdc-digital-currency-socgen-societe-generale-tezos-public-blockchain/
Thai Digital Exchange built on Tezos
In July of this year, ERX was approved by the Thai SEC to launch a fully-compliant digital asset exchange. This allows ERX, a subsidiary of Elevated Returns, to issue and support exclusively non-bearer assets like real estate backed tokens. The plan is to launch over one billion USD worth of assets on Tezos. The parent company has already tokenized the St. Regis luxury resort in Aspen, Colorado, USA.
https://www.coindesk.com/erx-gets-license-to-launch-exchange-in-thailand
BTG Pactual uses Tezos for Security Tokens
One of Brazil's largest banks BTG Pactual and Dubai-based asset manager Dalma Capital announced in July of this year that they would use Tezos network to issue digital securities in excess of one billion USD. They will issue tokens backed by various assets from real estate to sports clubs.
https://www.coindesk.com/brazilian-bank-plans-to-use-tezos-blockchain-for-stos-worth-1-billion
How to stake XTZ in imToken
How to delegate?
Open the XTZ wallet and click on 'Staking'

Click on 'Bakers'

Select a baker to delegate

Complete password verification

Staking complete
Tips:
The Tezos blockchain will calculate your rewards after 7 cycles. And the rewards are frozen together with the baker's security deposit for another 5 cycles. After receiving the rewards, the baker will pay it out to delegators according to the payment schedule.

You can relegate at any time and the redelegation will take effect immediately.

The tokens you delegated are not locked or frozen. You can spend them at any time and without any delay.
How to redeem?
Open the XTZ wallet and click on 'Staking'

Click on the baker you delegated to

Redeem the XTZ tokens staked

Complete password verification

Redemption complete
Tips: Delegated XTZ can be redeemed at any time, the principal will be credited immediately. You will receive the reward according to the payout schedule after 12 cycles (about 36 days).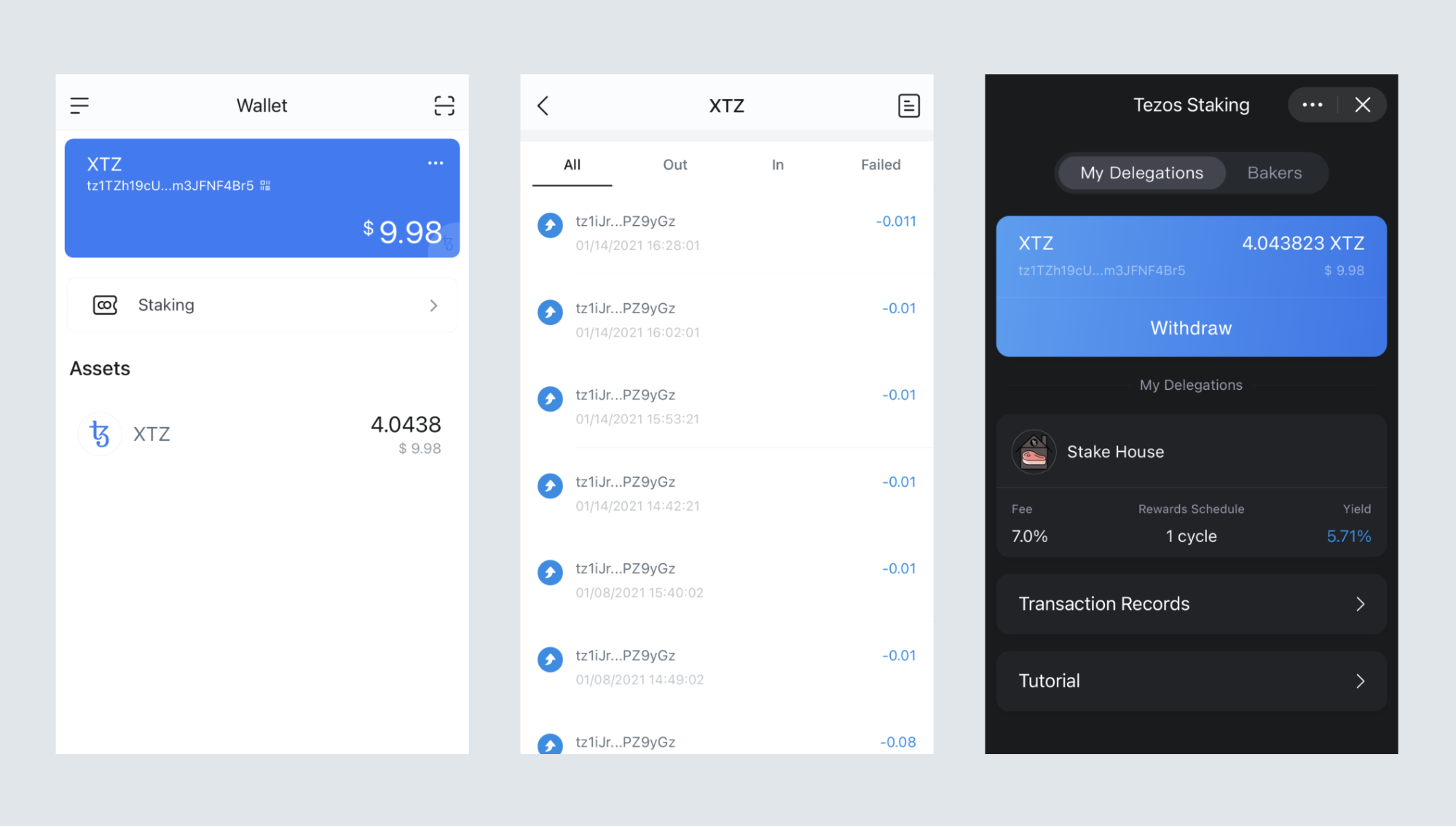 How to send and receive XTZ in imToken
Open the XTZ wallet

Click on 'XTZ', then click on 'Transfer'; or click on 'Receive' to copy your wallet address to receive funds

Input the transfer info, like amount, receiver address

Complete the password verification

Transfer complete
About imToken
imToken is the world's largest Ethereum digital asset wallet, whose users produce ~10% of all Ethereum transactions. imToken provides access to Tezos (XTZ), Ethereum (ETH), Bitcoin (BTC), EOS, Cosmos (ATOM), TRON, BCH, LTC, Nervos (CKB), Polkadot (DOT), Kusama (KSM) and more.