Main challenges faced by crypto traders
Since the boom of DeFi, crypto derivatives, and Web3, we now see more protocols than ever in crypto. This creates enormous trading opportunities for investors. However, traders still face infrastructure hurdles that prevent them from making efficient trades and applying their trading strategies.
Liquidity is fragmented across many exchanges, and token prices vary between different DEXs. This makes it impossible for traders to search for the best price from the wide array of DEXes and maximize swap returns. Without pool support on DEXes, it is also impossible to swap between some popular tokens. In addition, due to immature blockchain infrastructure, it is often not convenient to swap assets across different networks. Therefore, a multi-chain and cross-chain DEX aggregator is needed to help users trade efficiently.
Furthermore, due to the different mechanisms of DeFi and CeFi, price variations from DEXes and CEXes also bring up investment opportunities such as arbitrage. But until now, it has not been easy for individual traders to capture arbitrage opportunities.
OpenOcean acts as an intelligent aggregator. It integrates the highest quality and deepest liquidity sources across both DeFi and CeFi, bringing maximized trading returns to its users, and guaranteeing the best available swap rates. OpenOcean aims to help traders capture arbitrage opportunities and execute strategies in the most efficient way.
Introducing OpenOcean
OpenOcean, the most efficient DEX aggregator, integrates major DEXs across 17 blockchains as well as integrating with Binance, the world's highest volume CEX. OpenOcean provides users with a one-stop trading experience for DeFi and CeFi markets, thus solving liquidity fragmentation. Applying a deeply optimized intelligent routing algorithm, OpenOcean finds the best rates across dozens of DEXs as well as Binance. It does all this with NO protocol fees, ensuring the lowest slippage for traders. In addition to liquidity aggregation, OpenOcean will soon support cross-chain swaps for a seamless bridging experience between different blockchains.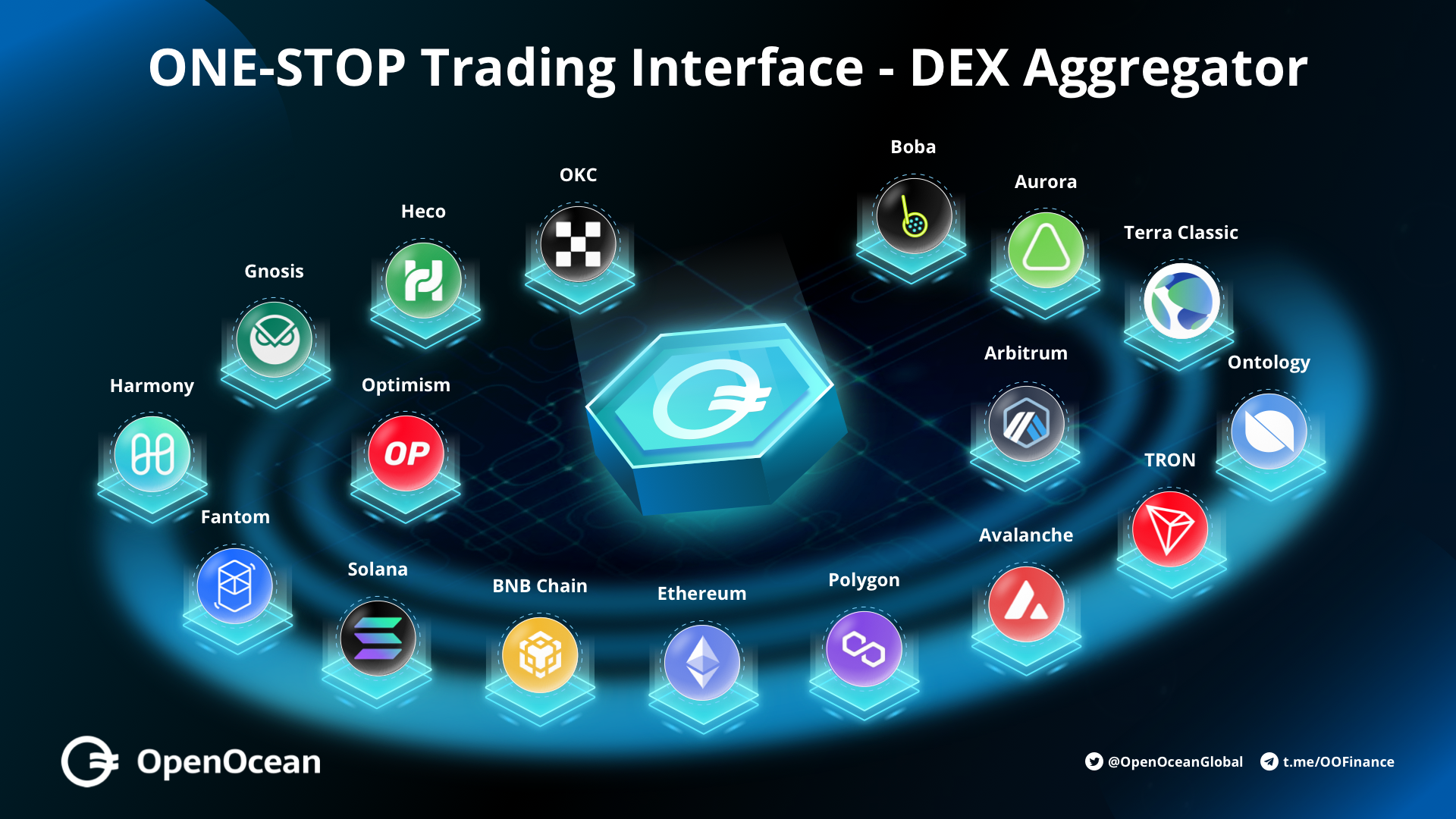 What makes OpenOcean the best trading platform?
Supports all popular blockchains: Since its inception, OpenOcean has integrated 17 blockchains, including 13 EVM compatible, 4 non-EVMs, and Binance. OpenOcean is the first and leading DEX aggregator on the Binance Smart Chain, Fantom, Avalanche, Ethereum and more. It is also the only DEX aggregator that supports both EVM and non-EVM chains.
EVM chains include: Ethereum, BNB Chain, Polygon, Avalanche, Fantom, Aurora, Harmony, Gnosis (formerly xDai), Heco, OKC; and Layer 2: Arbitrum, Optimism and Boba.
Non-EVM chains include Solana, Ontology, TRON and Terra Classic
Finds the deepest liquidity: OpenOcean currently has added liquidity pools from more than 165 DEXes. This allows traders to access the deepest available liquidity across the entire diverse DeFi space.
Finds the best prices: Never worry about potentially better prices on another DEX again. OpenOcean can save you both time and money at no cost to you. Our improved algorithm was implemented for greater trading efficiency in our most recent upgrade version– OpenOcean Atlantic. It maximizes returns, finding the best rates with faster response times, and optimizing routing to achieve lower gas fees.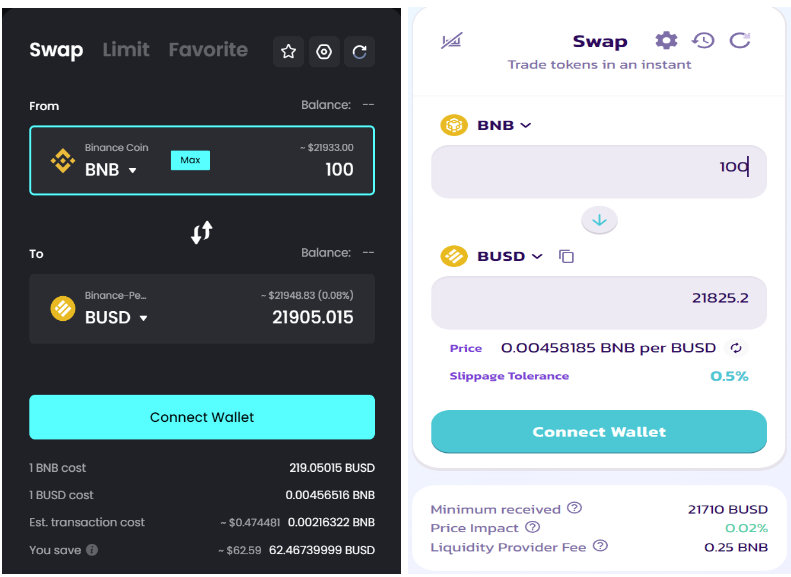 OpenOcean vs. PancakeSwap (a DEX) with an BNB/BUSD pair on the BNB chain
Also, if you want to swap a pair that does not have a dedicated liquidity pool, OpenOcean can show you the way. For example, if you are trying to swap BNX for ERA there is no liquidity pool for this specific token pair. This is where OpenOcean can help you swap at the best rate, protecting traders from price impact and reducing the probability of failed transactions. OpenOcean will even execute your trade across several different DEXs if it leads to better returns.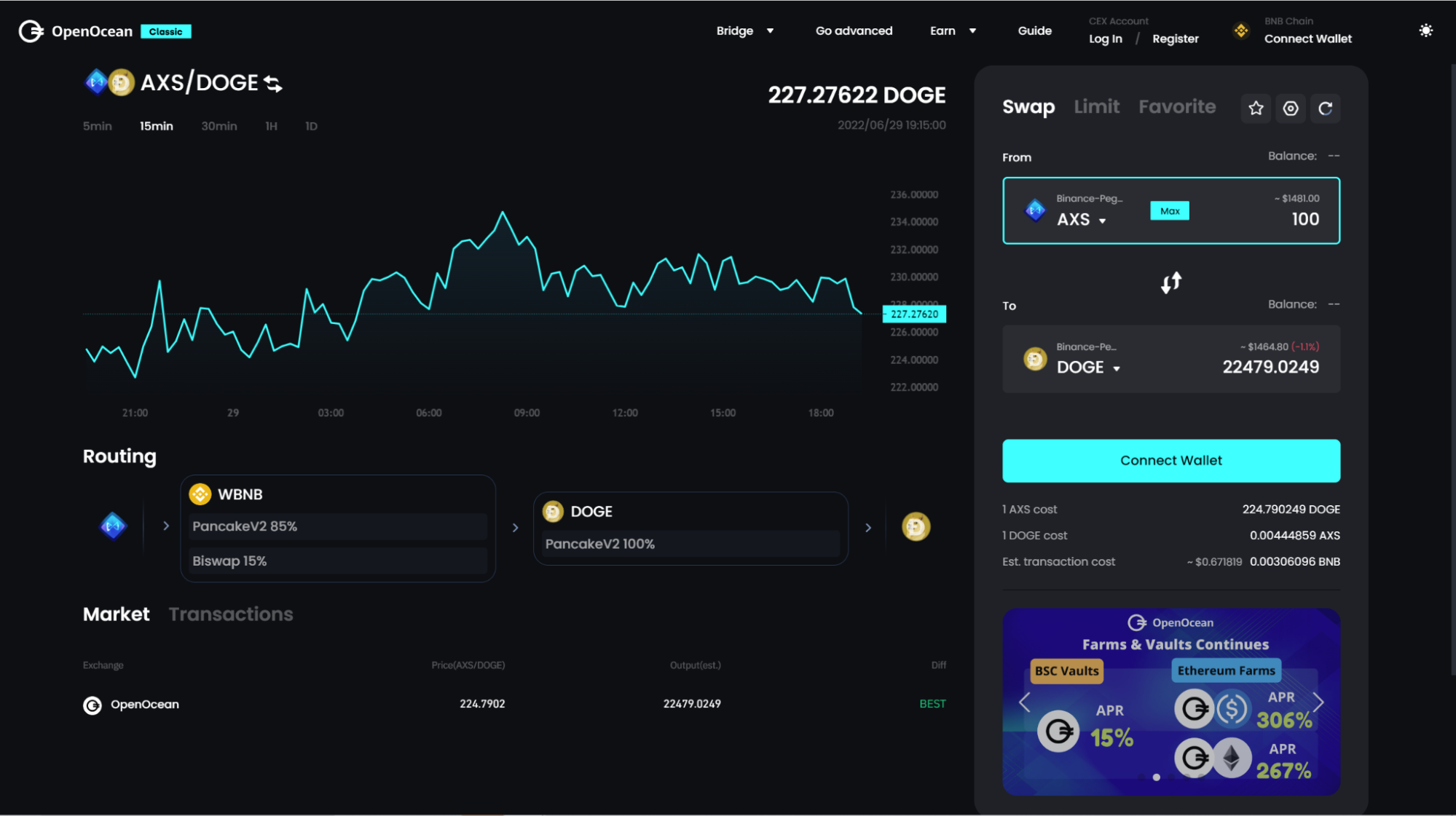 Limit order functionality: To better help traders significantly increase trading profits, OpenOcean launched Limit order functionality across multiple chains. This is a valuable tool for DEX traders to do advanced trading, offering more flexibility and efficiency.
An easy-to-use API & SDK: OpenOcean's API & SDK enable individuals and protocols to leverage deep liquidity across all major blockchains through features such as price quotes, transfers, or token swaps. With our improved Atlantic version, it provides an even better competitive price advantage than before. Our API also supports the most blockchains with the fastest response time of only 200 milliseconds, allowing near-instant price quoting.
Many projects have adopted our APIs as their underlying swap protocol, such as Ankr, Mask, and cross-chain swaps such as Li Finance and Rango. Additionally, ONTO Wallet and fWallet implemented our API for the swap function.
Looking ahead
OpenOcean will continue to fine tune our algorithm and expand to more networks such as Cronos and Near. Cross-chain aggregation will also become available soon, which allows for cross-chain transfers and swaps. Moreover, OpenOcean will start to develop aggregating derivative products. Limit orders will also gradually be expanded to all supported chains.
OpenOcean is tapping into an ample opportunity by giving users one-stop access to both DeFi and CeFi markets, offering every trader a chance to trade at the best prices and apply their investment strategies with the help of our tools.
Are you ready? Click here to Learn and Earn.
If you have any questions, please join OpenOcean community
Website: https://openocean.finance/
Twitter: https://twitter.com/OpenOceanGlobal
Discord: https://discord.gg/cxK6CCYcGp
Telegram: https://t.me/OOFinance