What is WePiggy?
WePiggy is an open source, non-custodial crypto asset lending market protocol.
In WePiggy's market, users can deposit their crypto assets to earn interest, or borrow others by paying interests.
WePiggy has been deployed on various well-known public chains and Layer 2 networks such as Ethereum, OKXChain (OKC), Binance Smart Chain (BSC), Polygon, Huobi Eco Chain (HECO), Arbitrum, Optimism, Moonriver, Harmony, Oasis Emerald, Aurora, Moonbeam and will soon be launched on Kava etc, realizing the exchange and lending of cross-chain assets.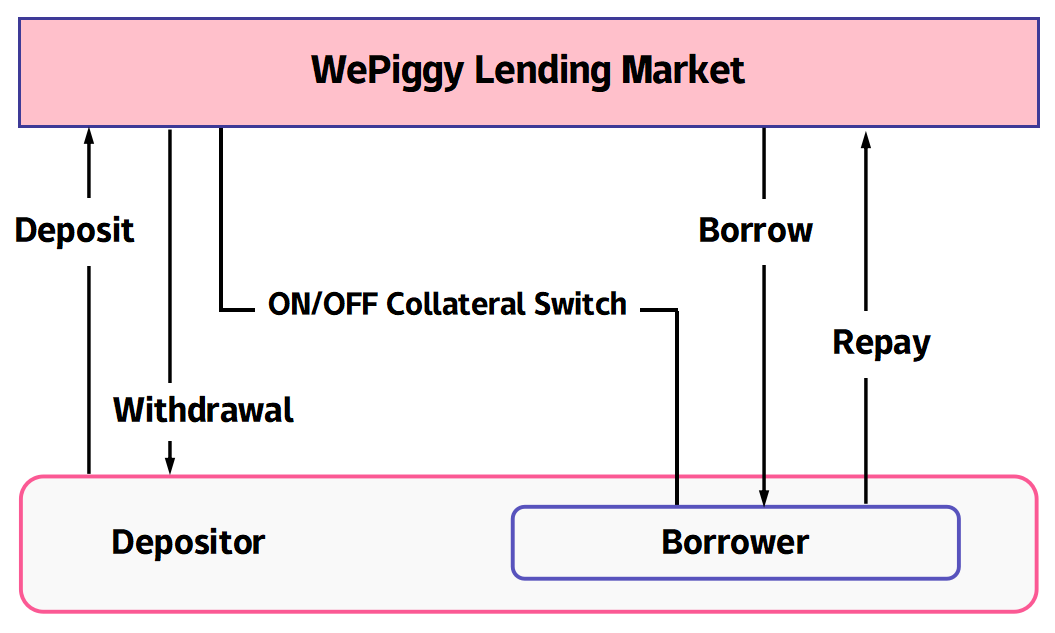 What are the differences?
Compared to pioneers such as Compound and Aave, WePiggy aims to create more markets to add choices for uses, and to optimize the execution efficiency of smart contracts, and lower gas cost. The project also equips users with more financial tools, not only flash loans, but also margin trading, options etc. Of course, all the improvements are premised on the basis of users' fund safety.
Also, WePiggy aims to bring better user experience to users. Especially in the East Asia market. By bringing more improvements it lowers the learning barrier for users. With the gradual improvement of the protocol, WePiggy builds up a series of dApps for users here.
In WePiggy's governance, the core team would like to take a more positive and responsible role. We believe in the importance of goals and fundamental principles, and we fully understand that high quality governance won't happen in a soulless project.
Therefore, at the early stage of WePiggy's governance, the core team will actively participate in the governance to work with the community to form an atmosphere of scientific governance. We will discuss the basic governance framework of WePiggy Protocol with all members of the community in our first proposal after the governance forum goes live.
WePiggy Coin
WePiggy Coin ("WPC") is the governance token of WePiggy protocol, officially going live on Dec 22, 2021!
WPC contract address: 0x6F620EC89B8479e97A6985792d0c64F237566746 (all networks the same)
WPC is completely generated through mining, no VC allocation, no private sale, no pre-mining.
Total amount: 8,000,000,000 WPC
For every 1 WPC mined, the WePiggy Foundation will receive an additional 0.39 WPC as a reward. That is to say, the community will account for about 71.94% of the token distribution and WePiggy Foundation will account for about 28.06%.
In detail:
0.12 WPC for risk reserves, which can only be auctioned to pay off debts in the case of extreme market conditions or contract risks, accounting for 8.63% of the total;
0.10 WPC for business development, will be used for new strategic partners development in the future; expand more applications in WePiggy's ecosystem and resource integration. This part would not be circulated in the secondary market, accounting for about 7.19% of the total;
0.08 WPC for team voting, to ensure that the core team has enough say in the development of the protocol. This part would not be circulated in the secondary market, accounting for about 5.76% of the total;
0.07 WPC for team funds, are used for the salary expenditure of the core team, will be circulated in batches after the protocol is officially launched, as a source of team funding, accounting for about 5.04% of the total;
0.02 WPC for volunteer rewards, will be distributed to outstanding volunteers in the community through proposals and votes after the protocol is officially launched, accounting for about 1.44% of the total.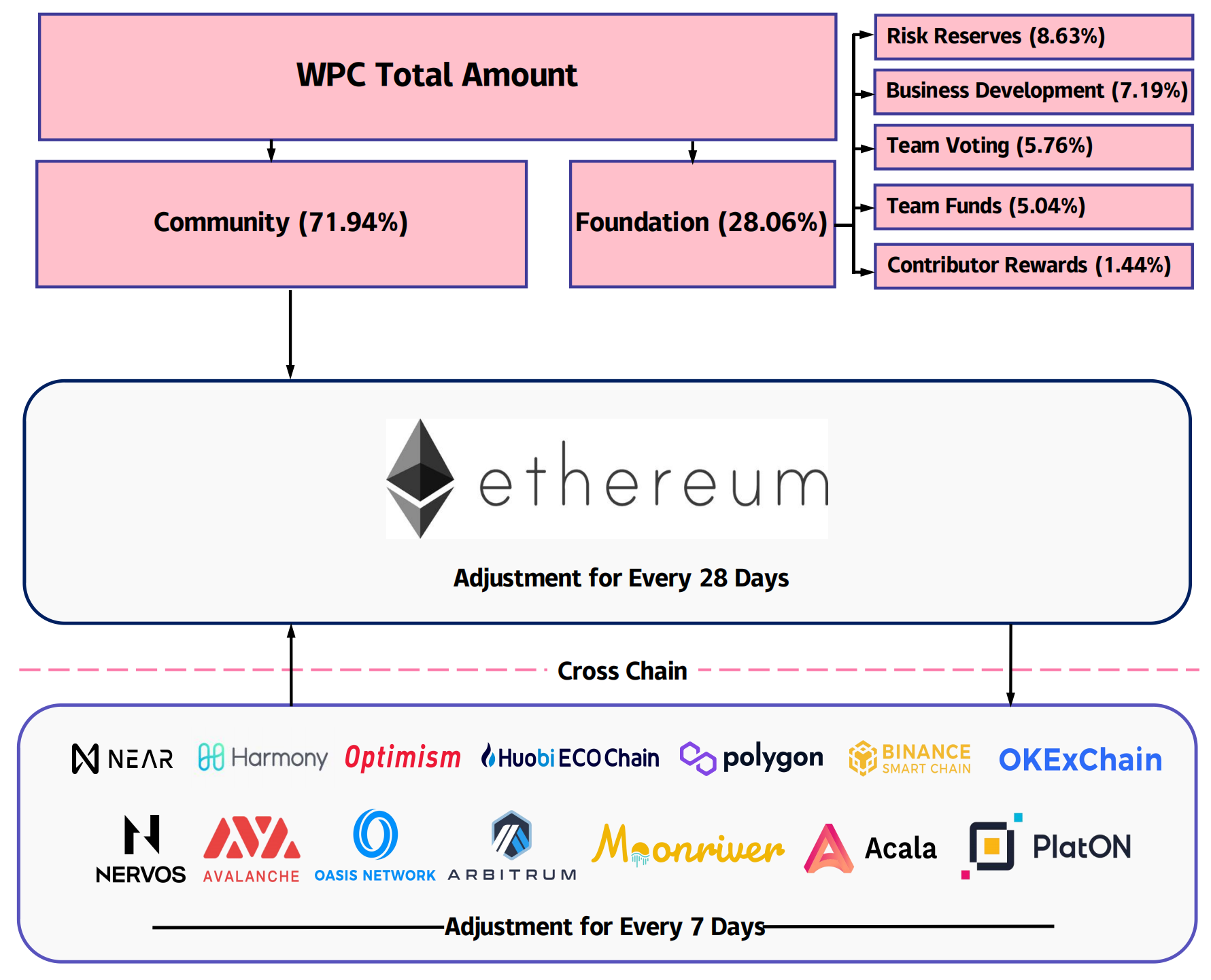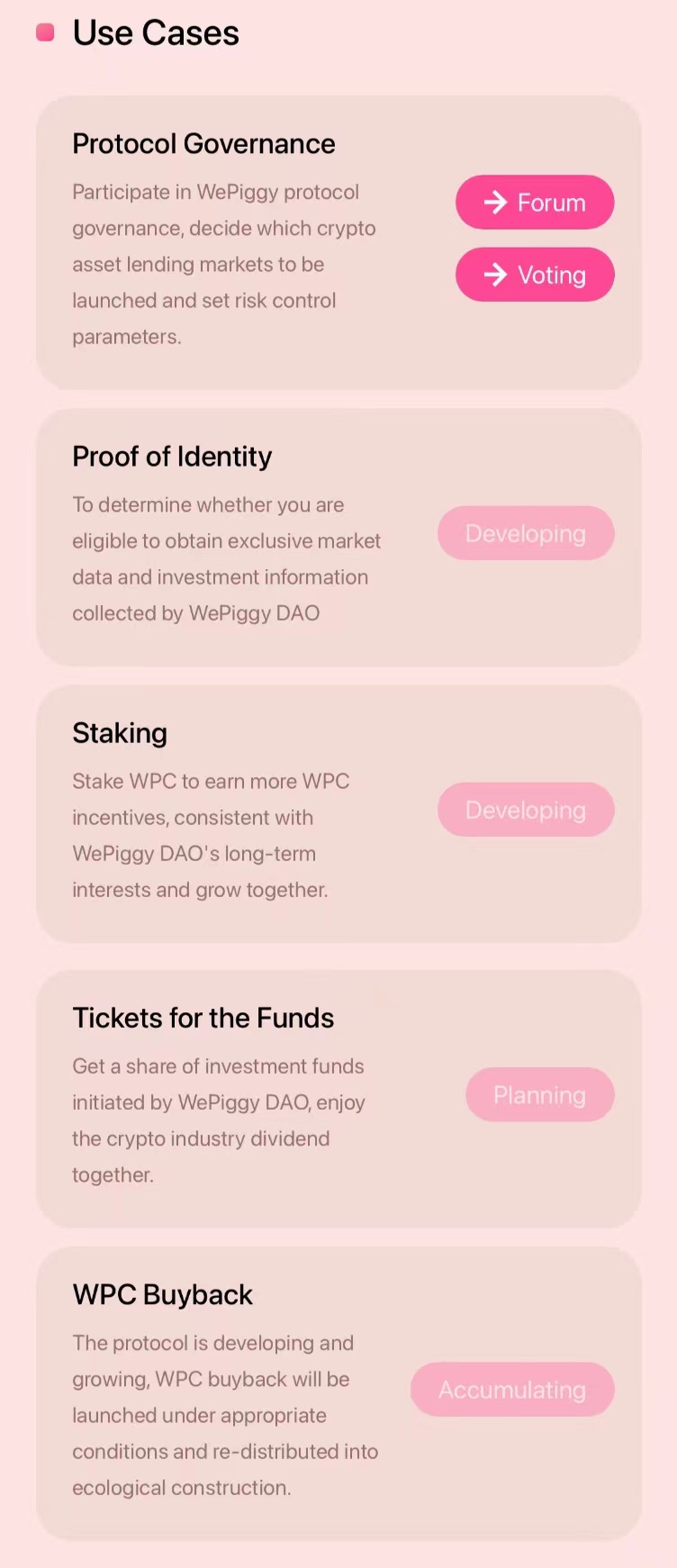 Safety is WePiggy's first priority
The smart contract code of the WePiggy protocol is open source and has been strictly tested and audited. WePiggy's assets are stored transparently and traceable in the blockchain network which cannot be embezzled by the team.
1. Professional Security Audit
WePiggy's contracts have been audited by SlowMist. Subsequent new business types will also give priority to user asset security and will be launched after full testing and auditing.
2. Private Key Multi-Signature Management
Be jointly managed by 7 members of WePiggy's core development team through a multi-signature mechanism to prevent single-point of failure. In the future, management will be transferred to the community, and the protocol will be upgraded through the WePiggy Improvement Proposal (WIP). Welcome to join the community and participate in governance.
3. Original Liquidation Reminder Function
The user can set an email address. When the used ratio or borrow APY reaches the pre-warning value, the system will automatically send a notification email to remind the user to repay their outstanding borrowings or add more collaterals in time.
4. Deposit Cap for Each Lending Market
Under extreme market conditions, the liquidity may shrink extremely, which might lead to certain currencies not being liquidated in time. For the safety of users' assets, the WePiggy protocol reasonably sets up deposit caps for each different lending market.
5. Prevent Front-End Attacks
The core development team has prepared backup domain names. If the front end is attacked, users will be guided to use backup domain names. In addition, community volunteers wrote tutorials for users to make sure they can use the protocol through the blockchain explorers.
6. Risk Assessment & Vote for Listing
All assets listed on the WePiggy protocol must meet the standards of the risk assessment framework, and they can only go online after in-depth discussion in the community forum, formal voting, and publicity of the results. This process ensures that the protocol is as transparent and fair as possible.
7. Chainlink Oracle Integration
Chainlink, a leading decentralized oracle network provides WePiggy with highly accurate, available, and tamper-proof on-chain prices, which prevents WePiggy from being affected by flash loan attacks and network congestion.
8. Timelock Delayed Execution
All contract modifications will be executed after a 2-day delay so that users have enough time to decide whether to accept this modification and deal with their assets in the WePiggy protocol.
9. Bug Bounty Program
WePiggy values the input of hackers acting in good faith to help us maintain the highest standard for security and safety. For those discoveries that can prevent asset loss or freezing and prevent users from being harmed, the core development team will offer rewards based on the severity and exploitability of the vulnerability.
WePiggyV2 Buildling
Phase1
Optimizing the liquidation mode
Ensure the security of user assets, allowing the protocol to capture part of the liquidation revenue.
Flexible WPC Reward Distribution
Goal: WePiggy V2 will focus on incentivizing mainstream asset lending, which is safe and efficient.
Dual Oracles Mechanism
Use the median of multiple price sources to replace the single price source to resist extreme market conditions and reduce security risks.
Optimizing the Interest Rate Model
Replace the block-based interest rate model with a timestamp-based interest rate model to make interest rate calculations more stable and accurate.
Add [Repay With Deposits] Function
Support one-click repayment of borrowings (partial/full) with deposits, eliminating tedious repayment steps & excess transaction fees.
Phase2
Stay tuned!
Are you ready? Click here to go to Learn and Earn.
Official Website: