What Is Synthetix?
Synthetix is a derivatives liquidity protocol that issues synthetic assets. The trading costs on Synthetix have been increased by unaffordable gas fees of Ethereum, lowering the SNX staking return. Fortunately, after being migrated to Optimism, a Layer 2 network, Synthetix has seen gas fees decreasing by orders of magnitude, creating opportunities for users to increase their synthetic assets and for asset management protocols.
The Staking of SNX
Why Should We Stake?
1. You can enjoy sUSD fees generated on Synthetix Exchange and SNX inflationary rewards.
2. You can start trading on Synthetix Exchange with the minted sUSD through the staking of SNX.
How to Stake SNX?
Depositing
1. Open your ETH wallet in imToken. Type "Synthetix" on the "Browser" page to enter the DApp.
Note: New users of the DApp should connect their wallet to it by clicking "CONNECT WALLET" at the top right corner - "CONNECT WALLET" - "IMTOKEN".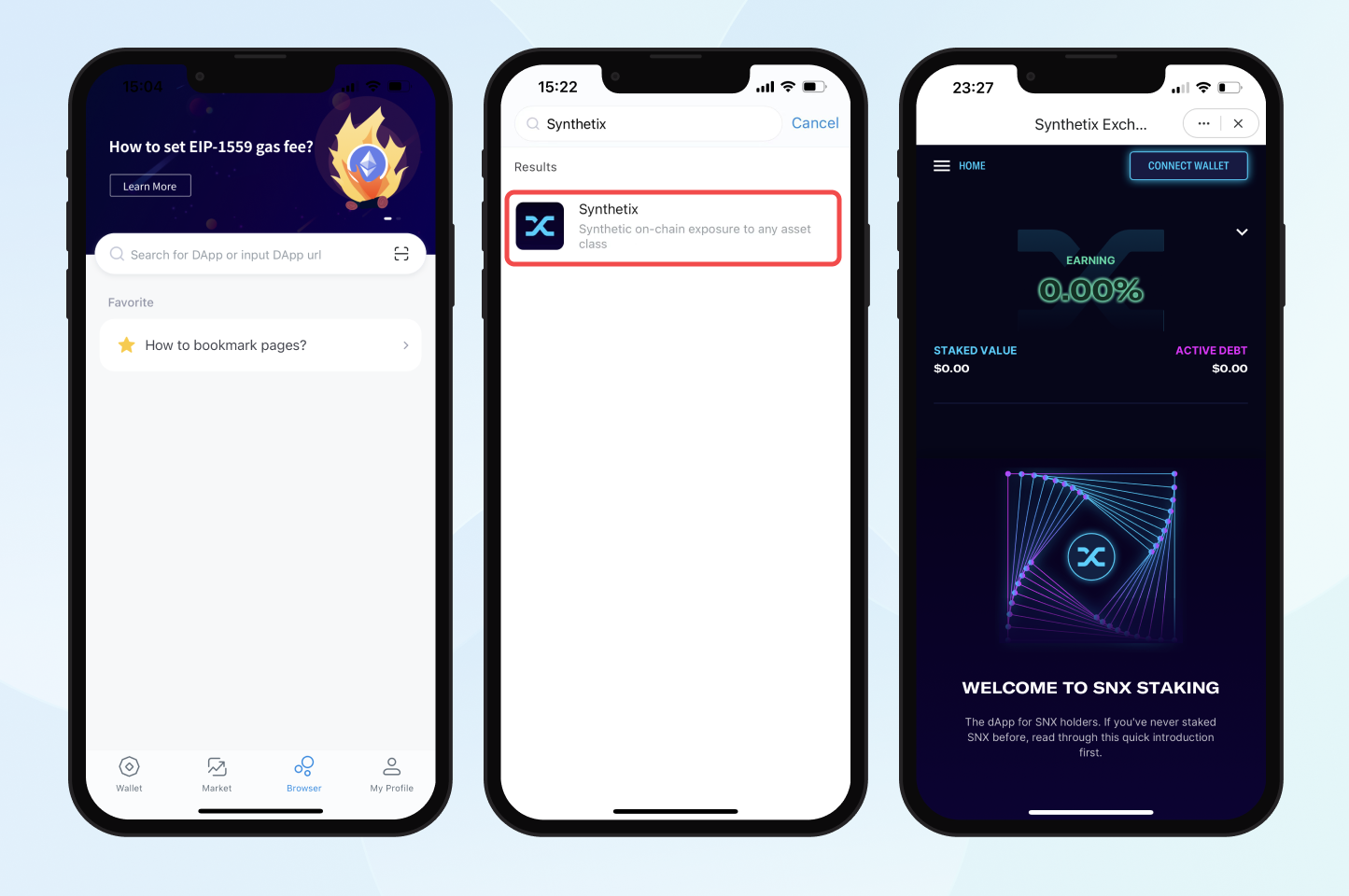 2. Click "MIGRATE TO LAYER 2" - "Deposit SNX" to enter the Optimism Gateway page.
Note: Please make sure that you have enough sUSD to pay the debt before transferring the SNX staked in Layer 1 to Layer 2 networks.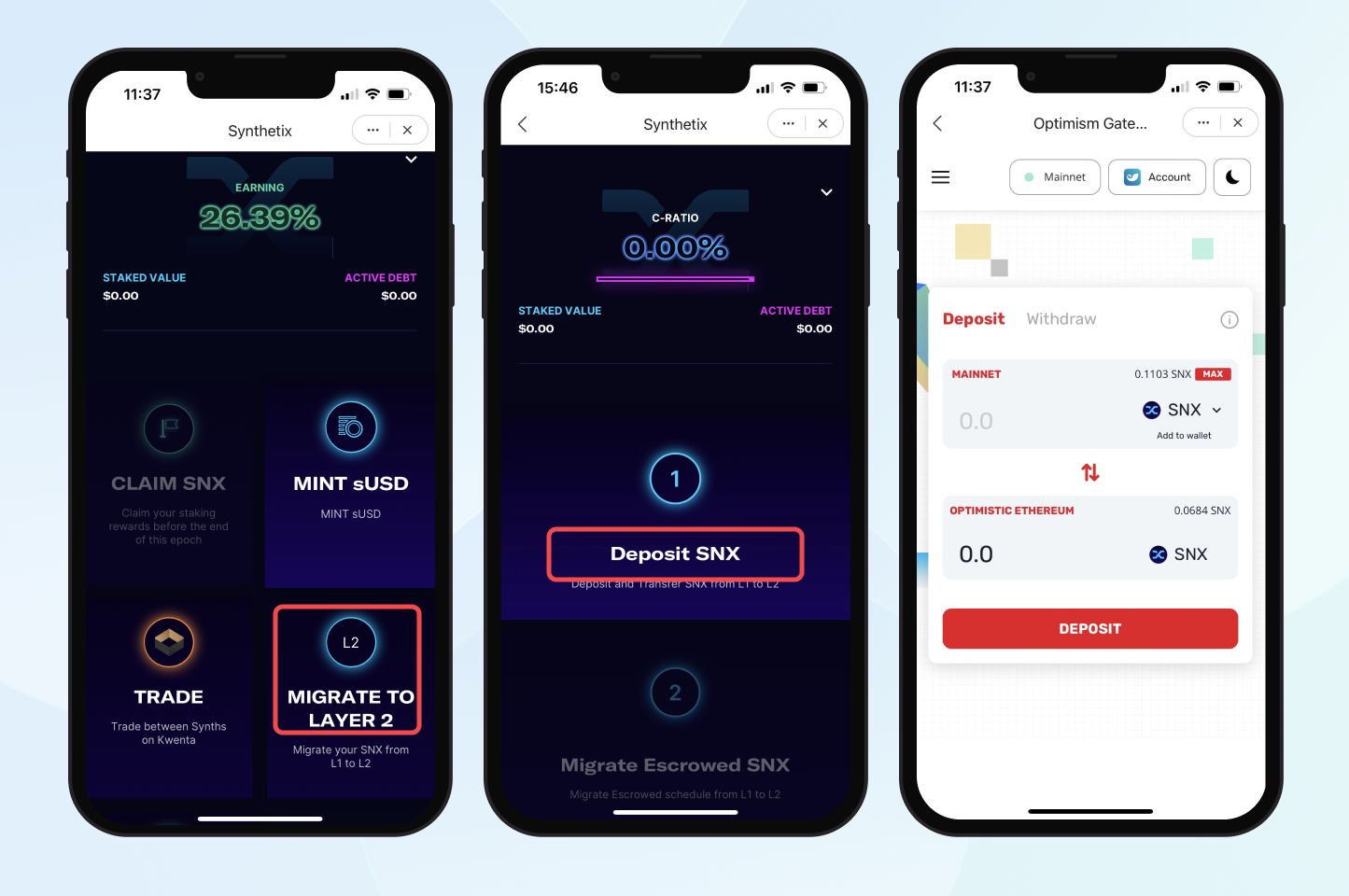 3. Enter the SNX amount you want to deposit in the "MAINNET" bar then click "DEPOSIT" to confirm. After clicking "DEPOSIT" again to pay gas fees, you can complete the deposit with a "Deposit complete" pop-up shown 20 minutes later.
Note: The first SNX deposit in Optimism Gateway requires your authorization.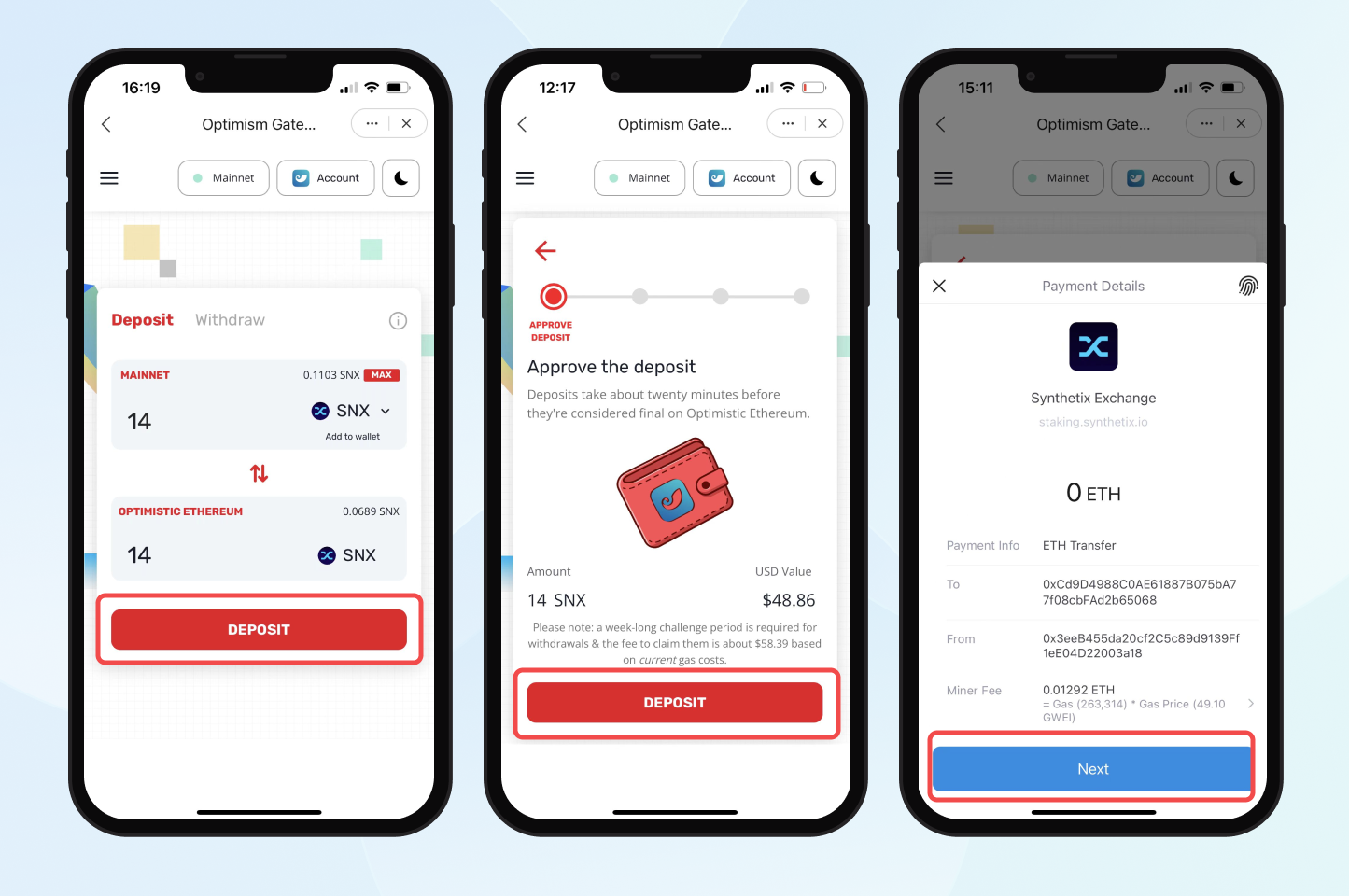 Staking
1. Switch to the Optimism wallet , swipe the function bar to the left then click "DApps" - "Synthetix" to launch the DApp.
2. Click "MINT sUSD" and choose "MINT MAX" or "MINT CUSTOM". Through these two options, you can mint sUSD by staking all or a certain amount of SNX in your wallet.
In the end, after clicking "MINT sUSD" again, you can see the amount of the staked SNX and the minted sUSD with a "Minting complete" pop-up.
Note: Your stake is at risk of liquidation if your collateral ratio (C-RATIO) has gone under 200%, and remained less than 500% for more than three days. Click here for more.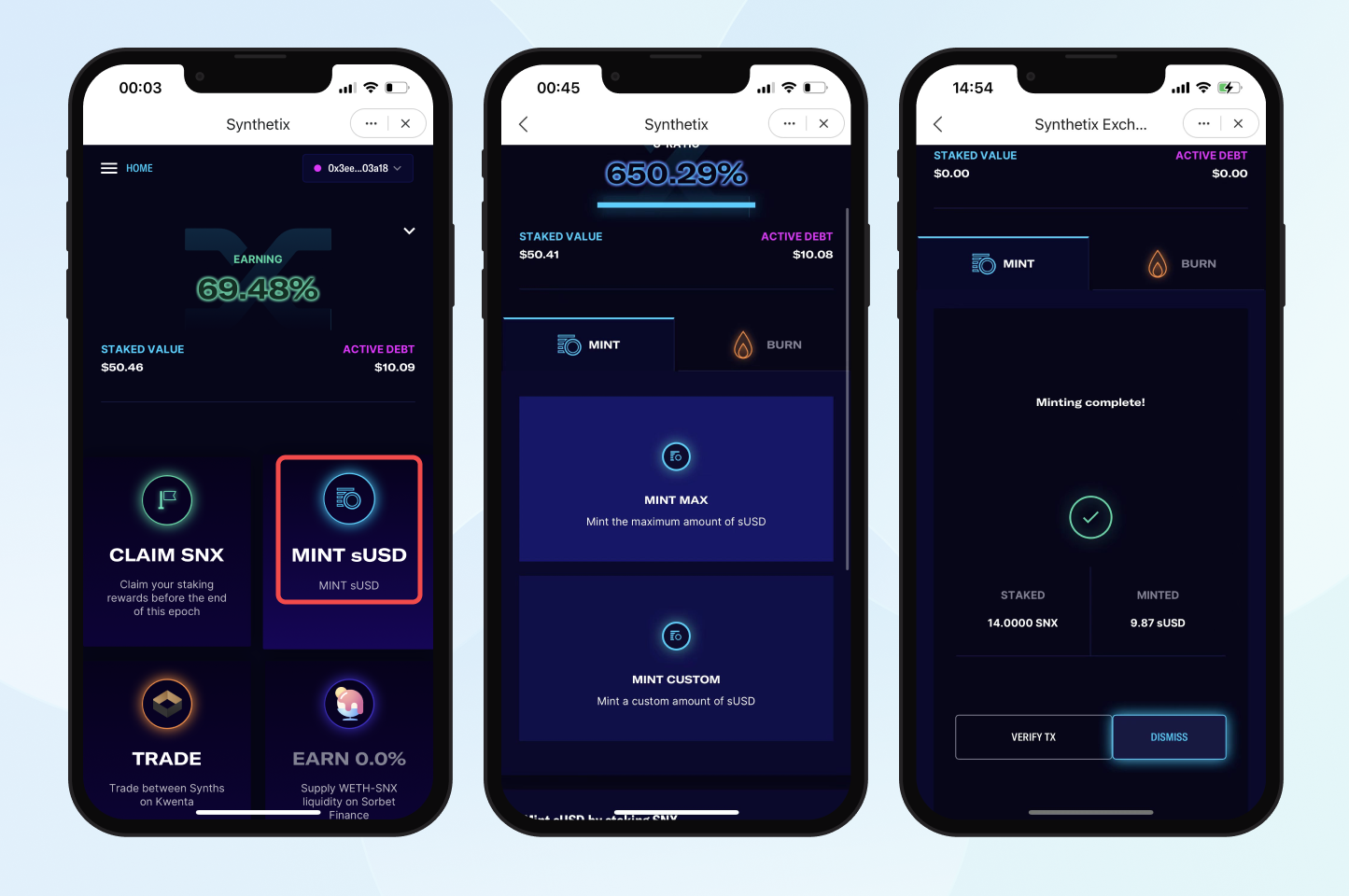 Claiming Your Rewards
Back to the homepage of Synthetix, you can claim your rewards by clicking "CLAIM SNX" - "CLAIM REWARDS" and confirming the transaction.
Note:
1. Rewards cannot be claimed with a C-RATIO lower than 600%.
2. The rewards of the previous round should be claimed before 10:00 AM (SGT) every Wednesday. Otherwise, they will be redistributed to other stakers in the pool.
3. The claimed sUSD can be used immediately while there is a one-year lockup for SNX.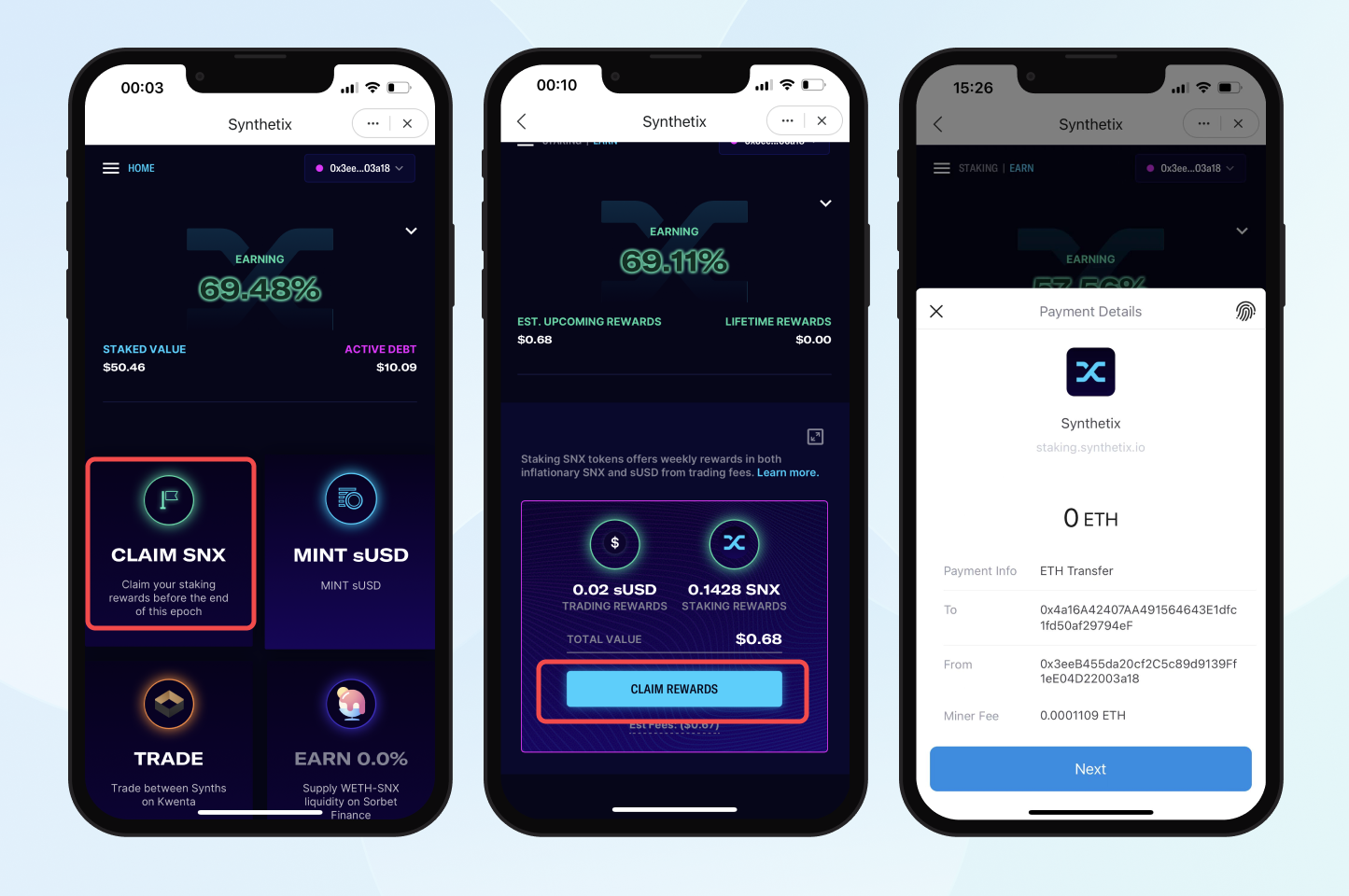 The Redemption of SNX
You can see four options on the homepage of Synthetix after clicking "MINT sUSD" - "BURN":
BURN MAX: burn all sUSD in the wallet to unstake SNX.

BURN TO 500%: burn sUSD required to meet the targeted C-RATIO.

BURN CUSTOM: burn a certain amount of sUSD to unstake a part of SNX.

CLEAR DEBT: clear all debt to redeem all the staked SNX.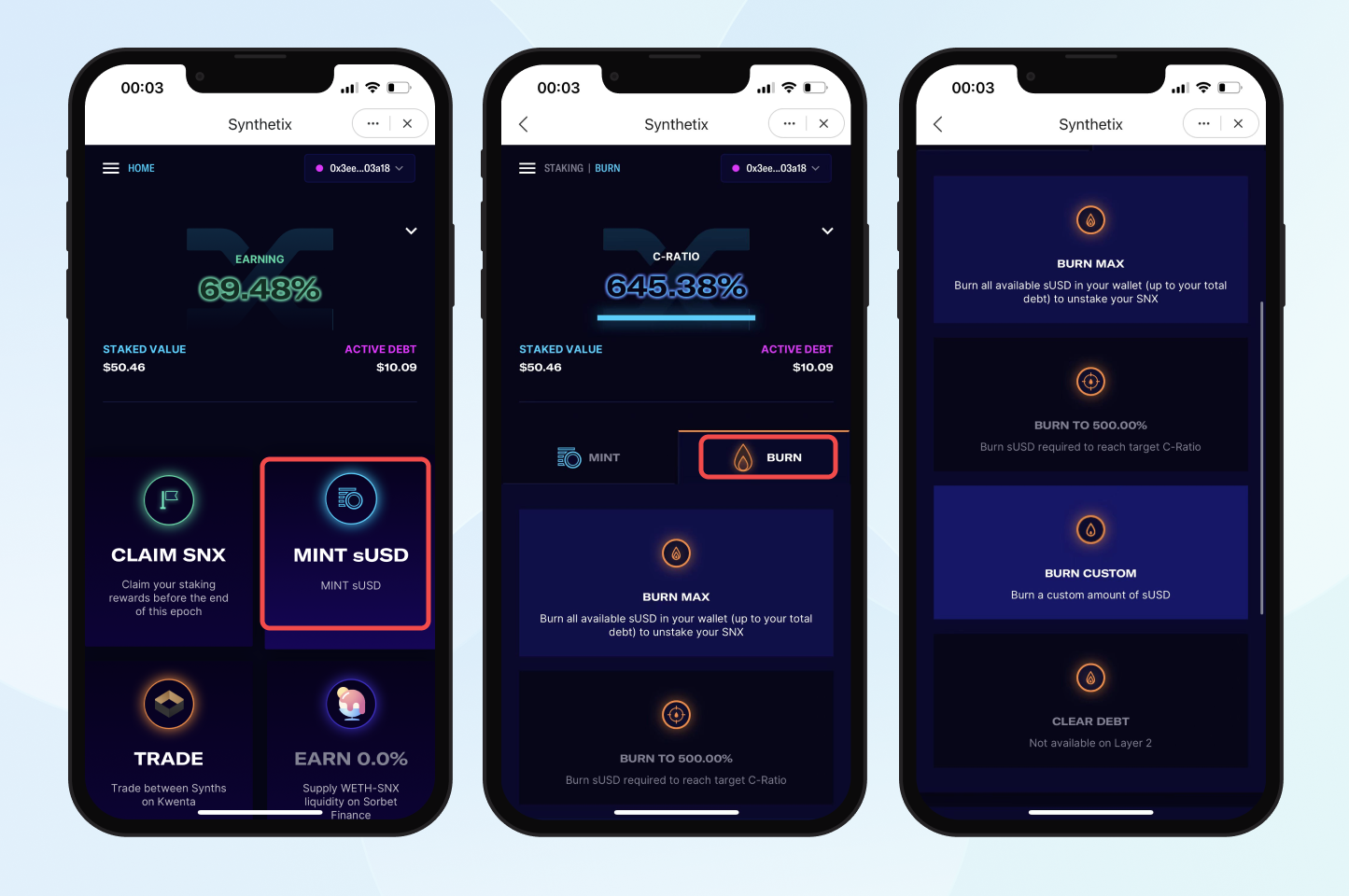 For More Details
End
For best security on large amounts of crypto, consider our hardware wallet, imKey. imKey also allows users to use Synthetix on Optimism and supports Layer 2 ecosystem.
Risk Warning: The content of this article does not constitute any form of investment advice or recommendation. imToken does not make any guarantees and promises for the third-party services and products mentioned in this article, nor assume any responsibility. Digital asset investment has risks. You should carefully evaluate these investment risks and consult with relevant professionals to make your own decisions.