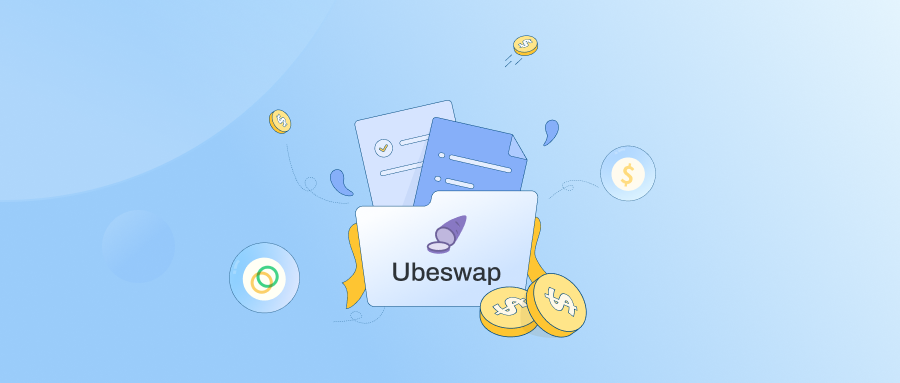 Recently, imToken added support for the Celo chain. Helping users to manage their digital assets on the Celo chain and have a chance to experience the Celo's ecosystem on imToken.
Compared to Ethereum mainnet, Celo has lower fees for on-chain transactions and better network performance. Since Celo is EVM compatible, developers can easily and quickly deploy smart contracts and DApps on Celo.
EVM is the abbreviation of Ethereum Virtual Machine, which executes smart contracts on Ethereum environments.
To fulfill Celo's mission of building a better, more equitable financial system. Ubeswap is a decentralized exchange and automated market maker protocol optimized for mobile-phone. At its core, Ubeswap enables Celo users to swap between any two Celo ERC-20 tokens with negligible transaction fees (less than 0.01$).
Ubeswap's mission is to bring the benefits of mobile-native DeFi to any person with a mobile phone, and believes that the first step to getting there is to make it cheaper for users to trade on-chain by increasing liquidity. The Ube team is working hard on building an easy, cross-chain, and secure user experience for yield farming and swapping on Celo.
Currently, Ubeswap supports 6 Layer-1 bridged assets and more. Celo's users can generate additional rewards – $UBE token by participating in the yield farming of Ubeswap.
Bridged assets refer to the tokens bridged to the Celo network using bridges like Optics
bridge, Allbridge, Multichain Bridge, etc. Users can bridge them back to their naive/any other supported network they want.
Yield farming is a way to generate additional rewards on their existing crypto by staking or lending crypto assets in order to generate high returns or rewards in the form of additional cryptocurrency.
Ubeswap will launch the incentivized lending/borrowing market, NFT & Metaverse markets in the future.
Event Start
2022/01/14 11:00 - 2022/01/20 18:30 (SGT)
Event Rules
Follow imToken and Ubeswap's Twitter, share the form link with at least one friend who fills it out for a chance of some of $7,000 in UBE

During the campaign period, one 1 lucky user will be awarded $1,000 in UBE each day, with the highest scores and then fastest completion of the questions.

The lucky user prize will last for 3 days and the total prize pool will be $3,000 in UBE.

Please fill in your imToken's Ethereum wallet address after completing the quiz.

The winner list will be announced in the imToken Discord community within 7 business days with the rewards releasing. Join the

imToken Discord community

.
How can the winner check their UBE rewards?
Click on "Ethereum Mainnet" at the top of the imToken asset page and select Celo.

Click "+" → "Custom Token" on the asset page, enter the UBE contract address in "Token Contract Address": 0x00Be915B9dCf56a3CBE739D9B9c202ca692409EC and save.

Return to the assets page to see the UBE reward.
Event Entrance: https://landings.token.im/en-US/r/ubeswap
We will announce the relevant information on Discord 👇