We are happy to announce that imToken now fully supports Aurora for our iOS and Android users. As a non-custodial wallet, imToken lets you handle your assets on Aurora with full control, use DApps and more.
Aurora is an EVM scaling infrastructure built on the NEAR Protocol, which is a high-throughput, scalable and future-safe platform, with low transaction costs for users.
The ecosystem of Aurora contains not only the Rainbow bridge, an official bridge to transfer tokens among the Ethereum, NEAR and the Aurora blockchain, but also leading industry projects like Terra/Luna, 1inch, DODO, The Graph, Chainlink, NEAR, Definer. Lately, Aurora has integrated Moonpay as well, which lets users buy NEAR token via fiat currency.
The latest version of imToken allows users to:
💸 Manage Aurora asset balances,

💹 Observe all token prices,

💱 Send and receive Aurora-based assets,

📊 Build their DeFi portfolio and

🎮 Use DApps on Aurora
Using Aurora on imToken
To get started, download the latest imToken from Google Play, Apple App Store, or directly at https://token.im/.
Entering the wallet and switching to 'Aurora' in the menu on the top.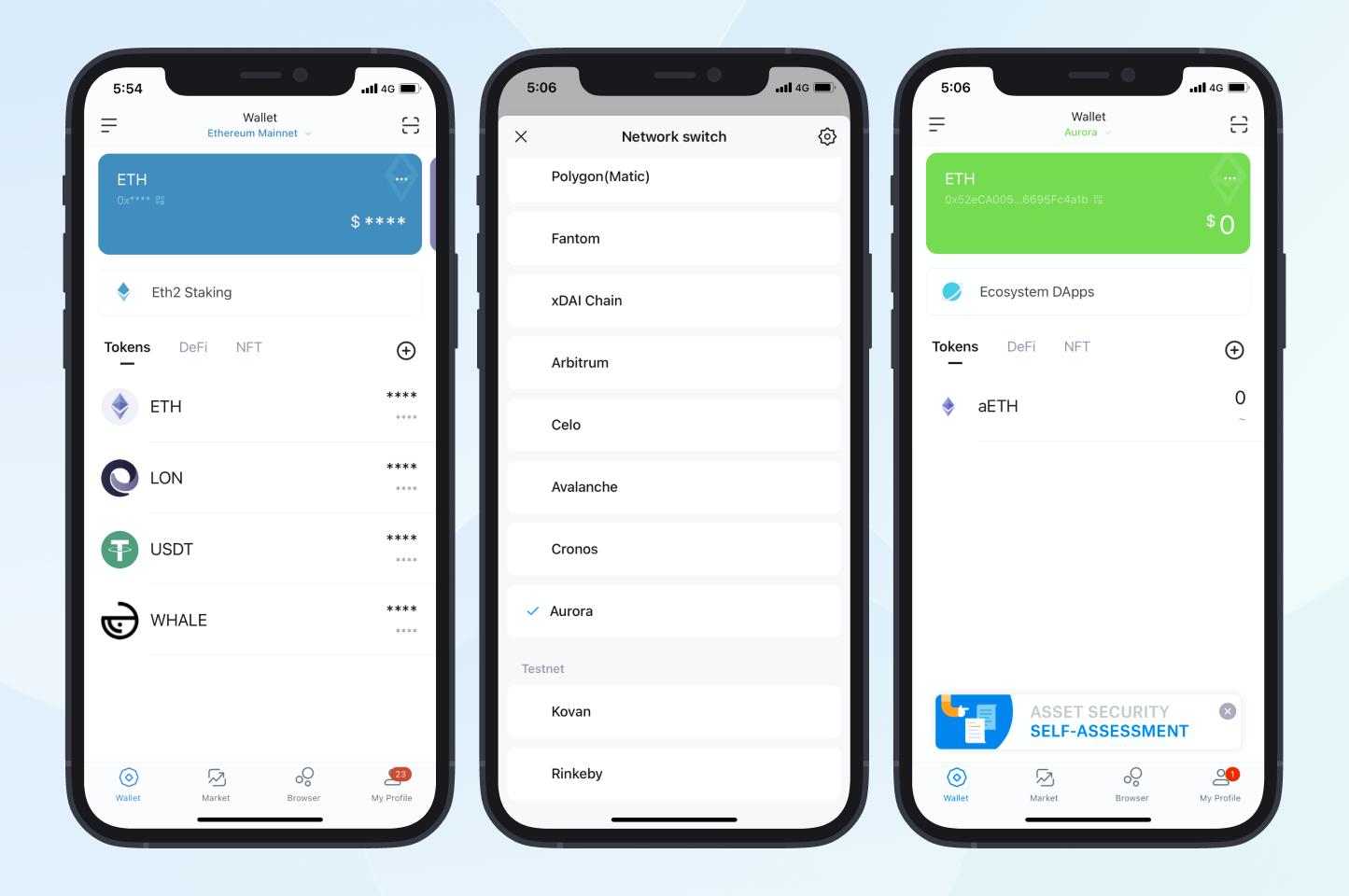 Also, Click the 'DeFi' on the Aurora wallet, then you are able to follow your Defi portfolio on imToken.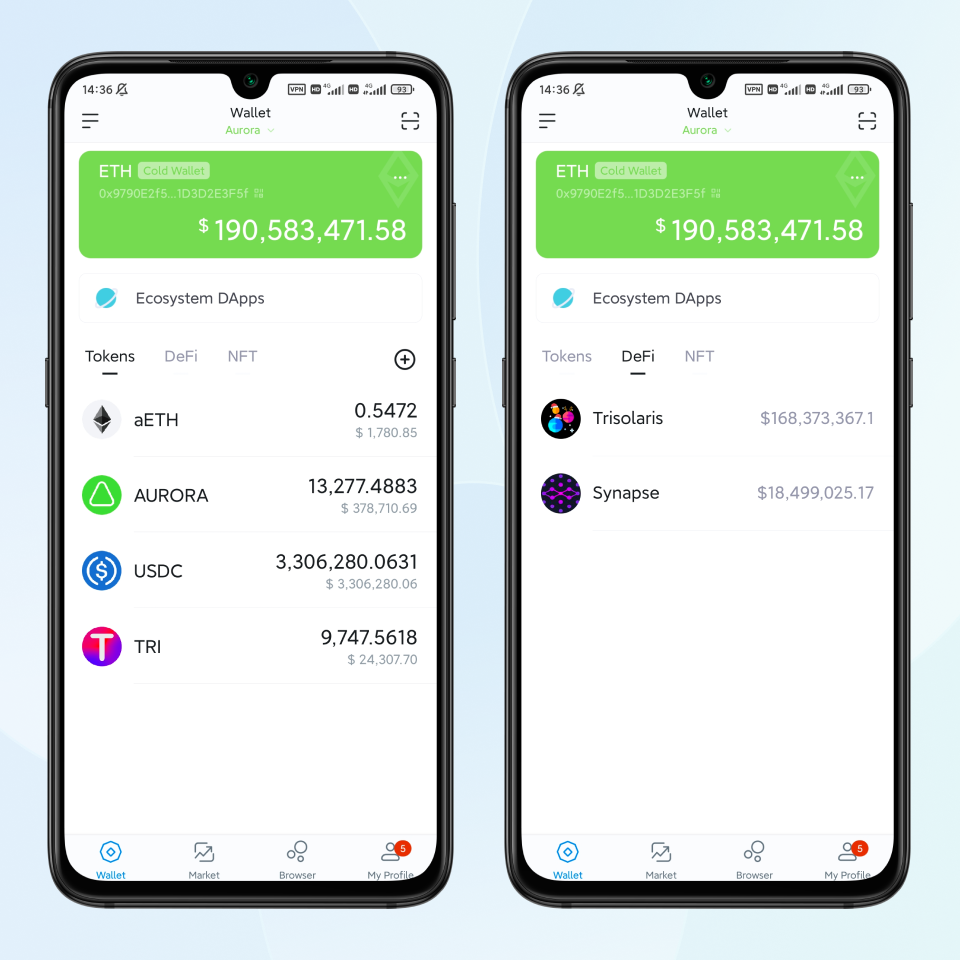 Clicking the ecosystem button on the main page, that brings the user to their favorite DApps on Aurora.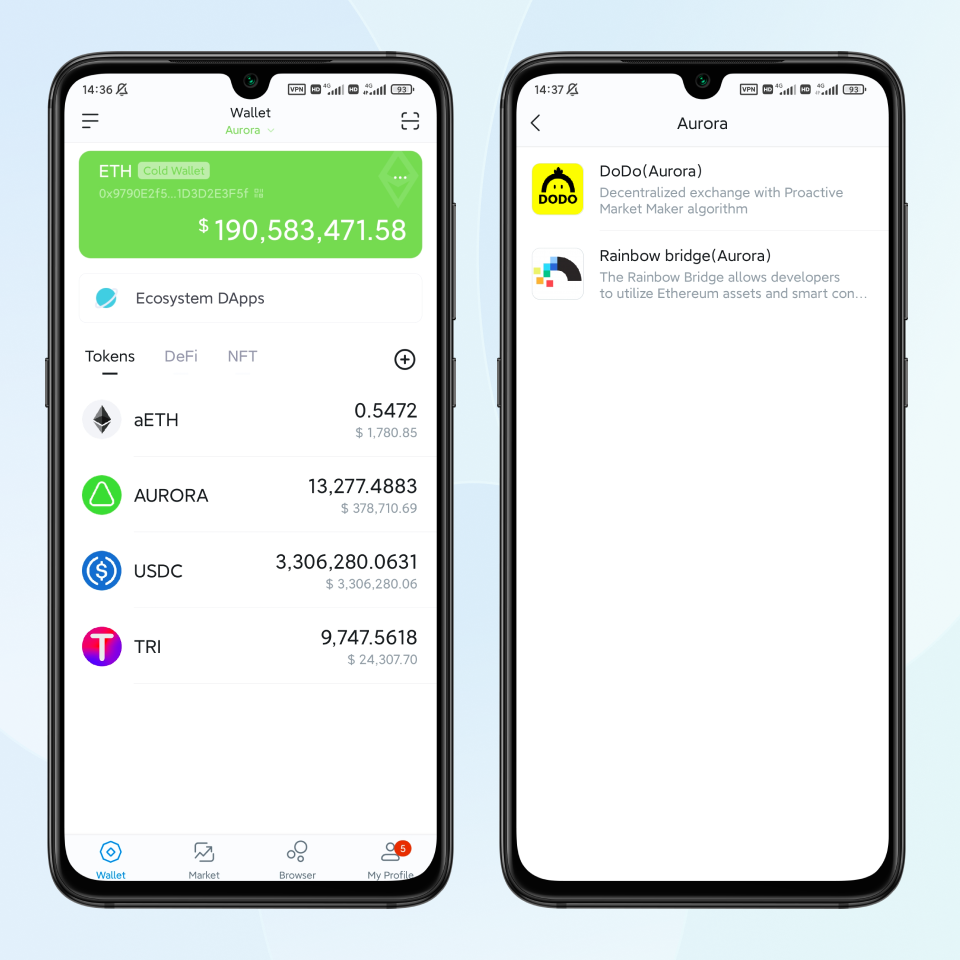 After you enter the Aurora ecosystem and open the DApp, like Rainbow Bridge. Choose the existing token that you want to transfer.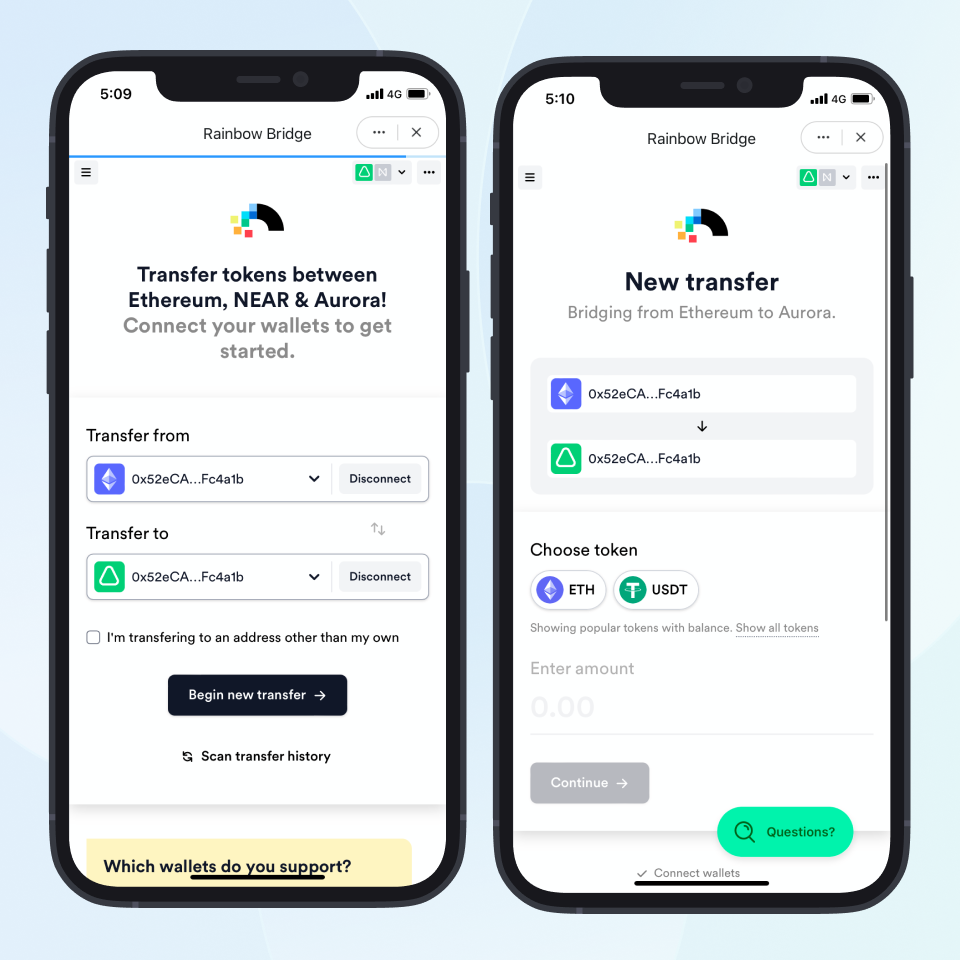 About Aurora
Aurora is an Ethereum Virtual Machine (EVM) built on the NEAR Protocol, providing a solution for developers to deploy their apps on an Ethereum-compatible, high-throughput, scalable and future-safe platform, with low transaction costs for their users. Aurora is backed by top VCs such as Pantera Capital, Electric Capital, Dragonfly Capital, Three Arrows Capital, and Alameda Research.
Thanks to Aurora's EVM, Ethereum native applications can seamlessly be deployed on a Ethereum L2-like environment but enjoying the low transaction cost and fast finality of NEAR. Developers may enjoy familiar Ethereum tooling when working with their Solidity smart contracts on Aurora. The base fee of Aurora is ETH, which provides a smooth experience for dapps' users.
The features of the NEAR Protocol, such as delegated Proof-of-Stake consensus mechanism and dynamic resharding (Nightshade), allow unprecedented transaction speeds and scalability.
Join Aurora community: Website | Twitter | Telegram | Discord | Medium
About NEAR
NEAR is a high-performance blockchain that is designed to be super-fast, incredibly secure, and infinitely scalable. NEAR's vision is to create a network that acts as an on-ramp for billions of people to access the next generation of the web.
NEAR is built by an award-winning team of engineers and entrepreneurs to be simple to use, inclusive and good for the environment. NEAR is backed by top VCs such as A16Z, Pantera Capital, Electric Capital, Dragonfly Capital, Coinbase Ventures, Blockchain.com, and Baidu Ventures.
Join NEAR's community: Telegram | Discord | Twitter: @NEAR_Blockchain & @NEARProtocol
About imToken
imToken is a decentralized digital wallet used to manage and safeguard a wide range of blockchain- and token-based assets, identities and data. Since its founding in 2016, it has helped its users transact and exchange billions of dollars in value across more than 150 countries around the world. imToken allows its users to manage assets on 20+ mainstream blockchains, as well as seamlessly connect with DApps via a decentralized applications browser.
Download imToken: Google Play | Apple App Store