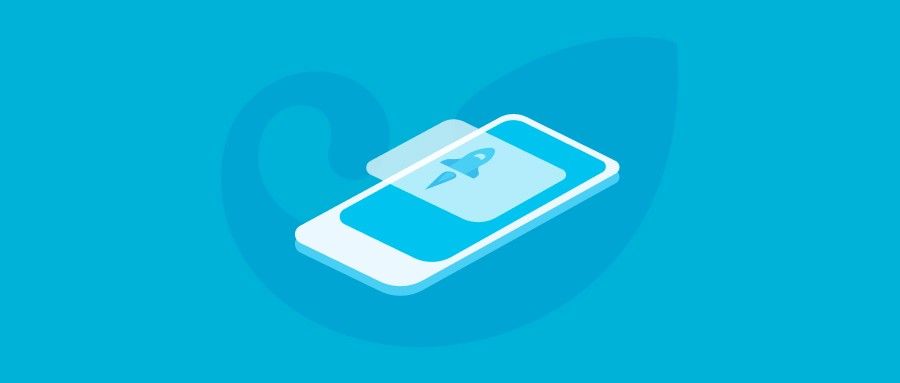 You may have heard about EIP-1559 before. Ethereum's latest network upgrade, which is responsible for burning over 1M ETH until today as well as bringing better gas estimates.
The good news for you: With the latest version 2.9.8, imToken supports the EIP-1559, burning ETH and also giving you better gas estimation to our 12 million users. At the same time, imKey supports EIP-1559 as well.
Included in this new version:
Supporting Ethereum EIP-1559 for better gas fee estimation

Supporting more EVM-compatible chains, like Celo & Avalanche

Supporting SVG NFTs

More optimizations and fixes
Better gas fee estimates for you with EIP-1559
Before the London hard fork, gas fees were calculated via an auction mechanism leading to high volatility. Sending a transaction, it was hard to predict which gas price to choose.
Gas price volatility decreased with EIP-1559
With EIP-1559, the gas calculation is more stable by adjusting the block size dynamically.
Don't worry if that seems too complex. For you, it simply means fewer stuck transactions, and less transactions where you overpay the gas fee. The image above shows how the gas fees became more stable directly after the adoption of EIP-1559.
EIP-1559 on imToken
More successful transactions: Thanks to EIP-1559's more accurate gas fee prediction, you will rarely have transactions stuck, like in the old days
Less overpaid transactions: Less spikes in gas prices mean no more waiting for picking the right time to send a transaction
Customizable: Simply set your transaction speed, or customize MaxFee, MaxPriorityFee and Gas in the custom settings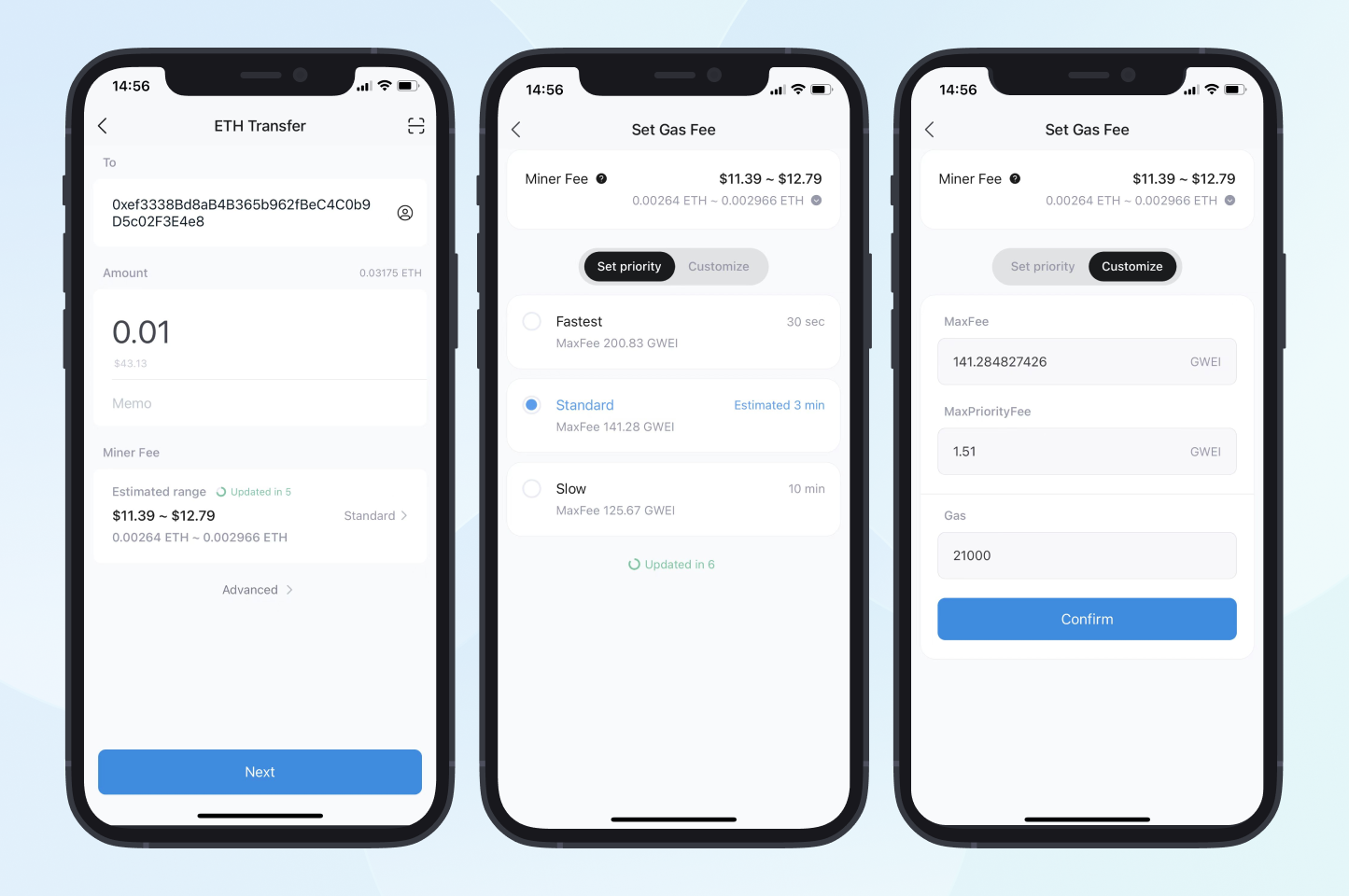 Support for Celo and Avalanche Chains
With imToken v2.9.8, we now support Celo and Avalanche. Switch to Celo and Avalanche wallet on the homepage, manage your assets and enter their DApp ecosystem.
What is Celo?
Celo is a mobile-first, open-source ecosystem of technologies, organizations and individuals that all share a common mission of building a financial system that creates the conditions for prosperity for everyone.
What is Avalanche?
Avalanche is one of the fastest smart contracts platforms in the blockchain industry, as measured by time-to-finality, and has the most validators securing its activity of any proof-of-stake protocol.
How to use?
Open the ETH wallet, click the tab "Ethereum Mainnet" and select "Celo" or "Avalanche" to switch to the corresponding wallet and explore its DeFi DApps.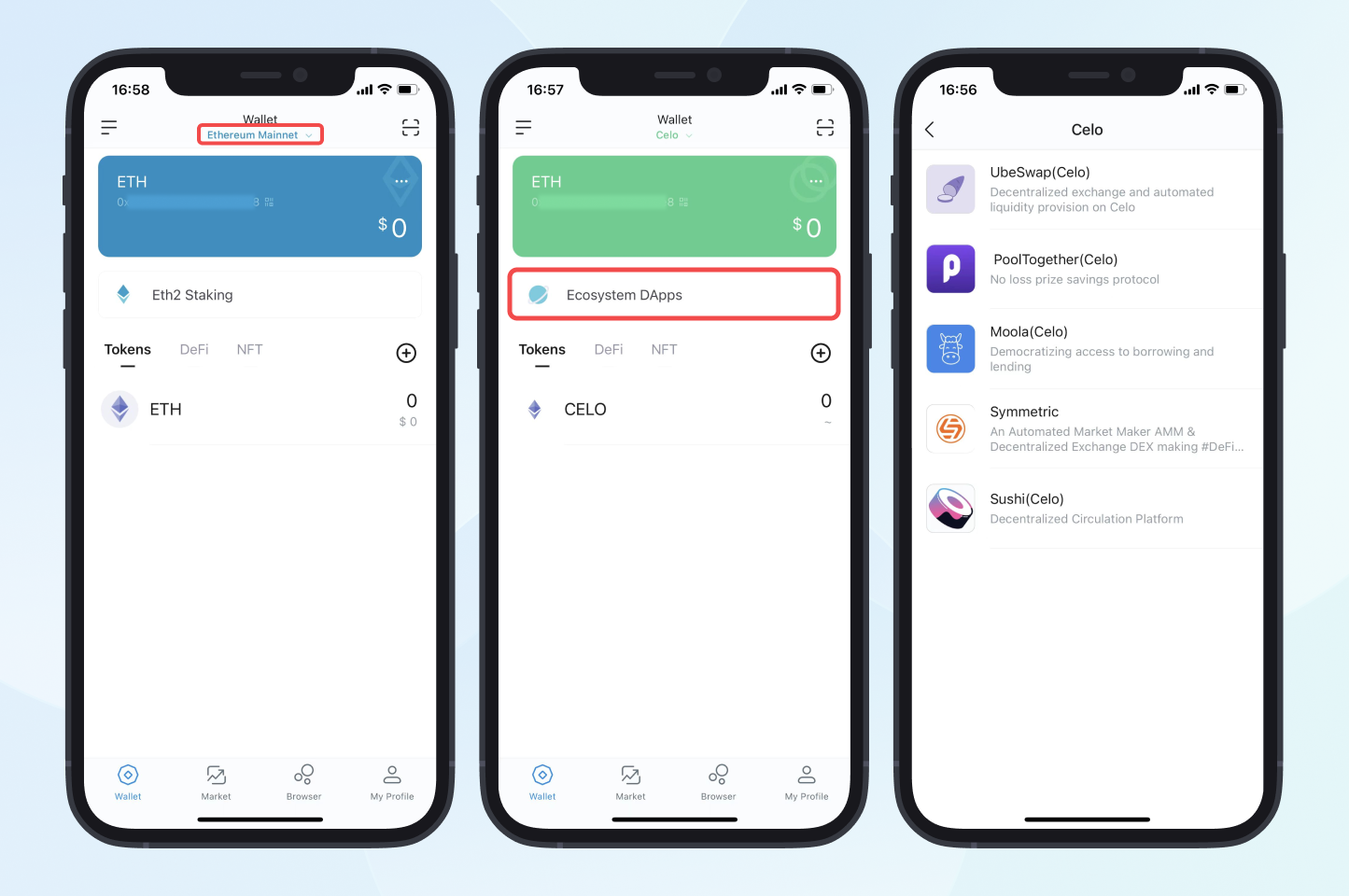 How to Update?
Android users: You can download from the official website

https://token.im

or at your favorite App store (

Google Play

).

iOS users: You can download from the

App Store
Always Backup Your Keys
Before upgrading, please make sure that all wallet identities have been backed up properly. Please write down the Mnemonic phrase on a physical paper, never store it in the network;

Please refrain from sharing your private key, Mnemonic phrase or Keystore to anyone! If you find potential hacking activities in imToken, please report to us via email at hack@token.im to prevent more people from being deceived;
Please have a look at our Help Center at https://support.token.im/hc/en-us for more detailed information about imToken.
Download imToken: Google Play | Apple App Store