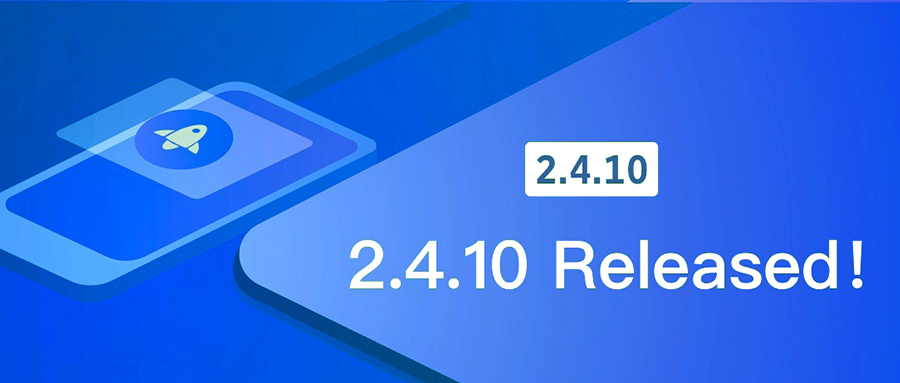 imToken 2.4.10 Update:
Optimized, new user experience: Easily complete the wallet creation/import/backup

Support BTC OP_RETURN: Store information to the blockchain, and lock for mining

New Tokenlon novice guide: quickly get started with decentralized exchange

Rating: Welcome to "About Us" to rate imToken.

More optimization
Optimized user experience, and easy wallet creation, import, backup
In order to reduce the learning cost of new users entering the blockchain world. Older users provide a smoother experience, and imToken has optimized the "onboarding" process.
If you download or reinstall imToken 2.4.10 for the first time, you will be pleasantly surprised to discover that the user guide has been completely renewed:
The more vivid wallet introduces the core features of imToken in a simple and interesting carousel illustration.
Whether it is a new user who "uses the wallet for the first time" or an established user who already has a wallet, both are able to see clear prompts on the front page. Simply click on the bottom of the tutorial to get details "imToken 1.0 migration strategy"
More intimate display of the Mnemonic phrase
(1) When creating an identity, the Mnemonic will be displayed in 12 squares, avoiding confusion of the sequence and lack of words in the backup;
(2) When recovering the identity, you find an auxiliary word association function and word error function. As we support BIP 39, inputting the first few letters of the word is enough, which reduces the cost of inputting the letters one by one; when the word is wrong, the corresponding prompt will appear "The word is invalid/wrong", and the problem can finally be found!
BTC OP_RETURN
Simply put, OP_RETURN is a function of "storing information" in the Bitcoin network. This function supports writing Hexadecimal information to the Bitcoin network. "OP_RETURN" can use the irreversibility as advantage of the BTC network to permanently record important information or use this information to perform special operations (such as ChainX mining and more).
Click to learn 👉 How to set up OP_RETURN
New Tokenlon novice guide: Quickly get started with the DEX
The new Tokenlon novice guide teaches you the concept of a "miner fee", "authorization" and "handling fee" of the DEX.
How to update to the latest imToken 2.0
Android users: You can download updates on the imToken website: https://token.im

iOS users: App store is under review, thank you for your patience :)
For 1.0 users, please follow the tutorial below to upgrade 1.0 to 2.0 safely:
https://support.token.im/hc/en-us/articles/360013262654
https://medium.com/imtoken/tutorial-step-by-step-guide-for-upgrading-to-imtoken-2-0-dbe3b392242
If you face any difficulty using imToken or have any comments and suggestions for us, please submit your feedback directly within the app.
Always backup your keys!
Before upgrading, please make sure that all wallet identities have been backed up properly. Please write down the Mnemonic phrase on a physical paper, never store it in the network;

Please restrain from sharing your private key, Mnemonic phrase or Keystore to anyone! If you find potential hacking activities in imToken, please report to us via email at hack@token.im to prevent more people from being deceived;
Please have a look at our Help Center at https://support.token.im/hc/en-us for more detailed information about imToken.