What is Scroll?
Scroll is a Layer 2 scaling solution based on zkEVM technology. Its development team consists of cryptography researchers, engineers, experts, and community supporters. The founders include mathematician Ye Zhang, system engineer Haichen Shen, and Web3 investor Sandy Peng. Scroll's mission is to provide an accessible scaling solution that preserves the essence of Ethereum – trust-minimized, secure and open source.
Click here for more about the Scroll.
How to Use the Scroll Wallet in imToken?
Switching nodes to enter the Scroll Wallet
Open your ETH wallet then click "Ethereum" at the top of the page, and select "Scroll" in the pop-up window.
Note:To switch back to the ETH wallet from Scroll, click on "Scroll" at the top of the page, and select "Ethereum" in the pop-up window.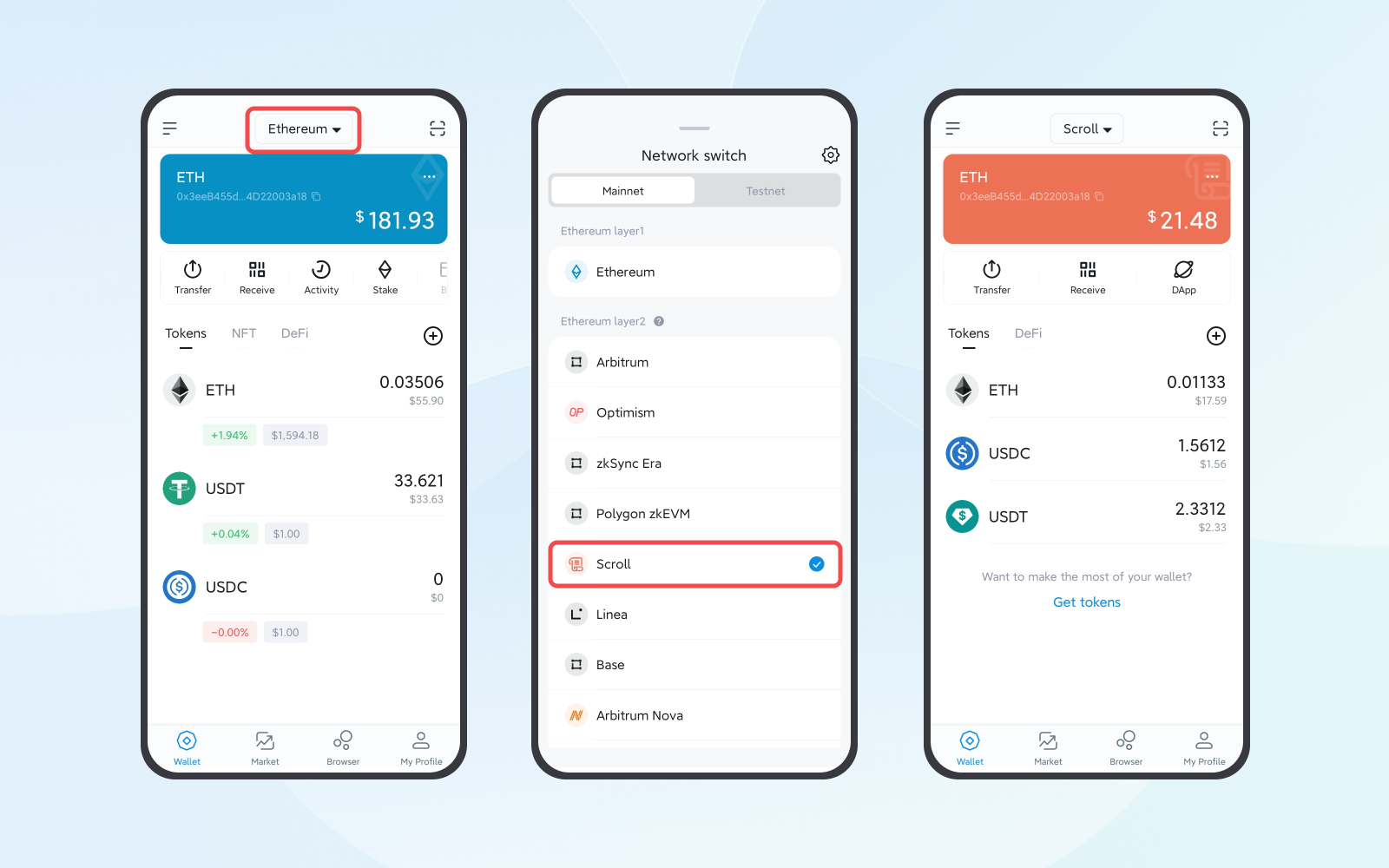 Transferring and Receiving
In the Scroll wallet, select the token you want to transfer or receive. Let's use ETH as an example.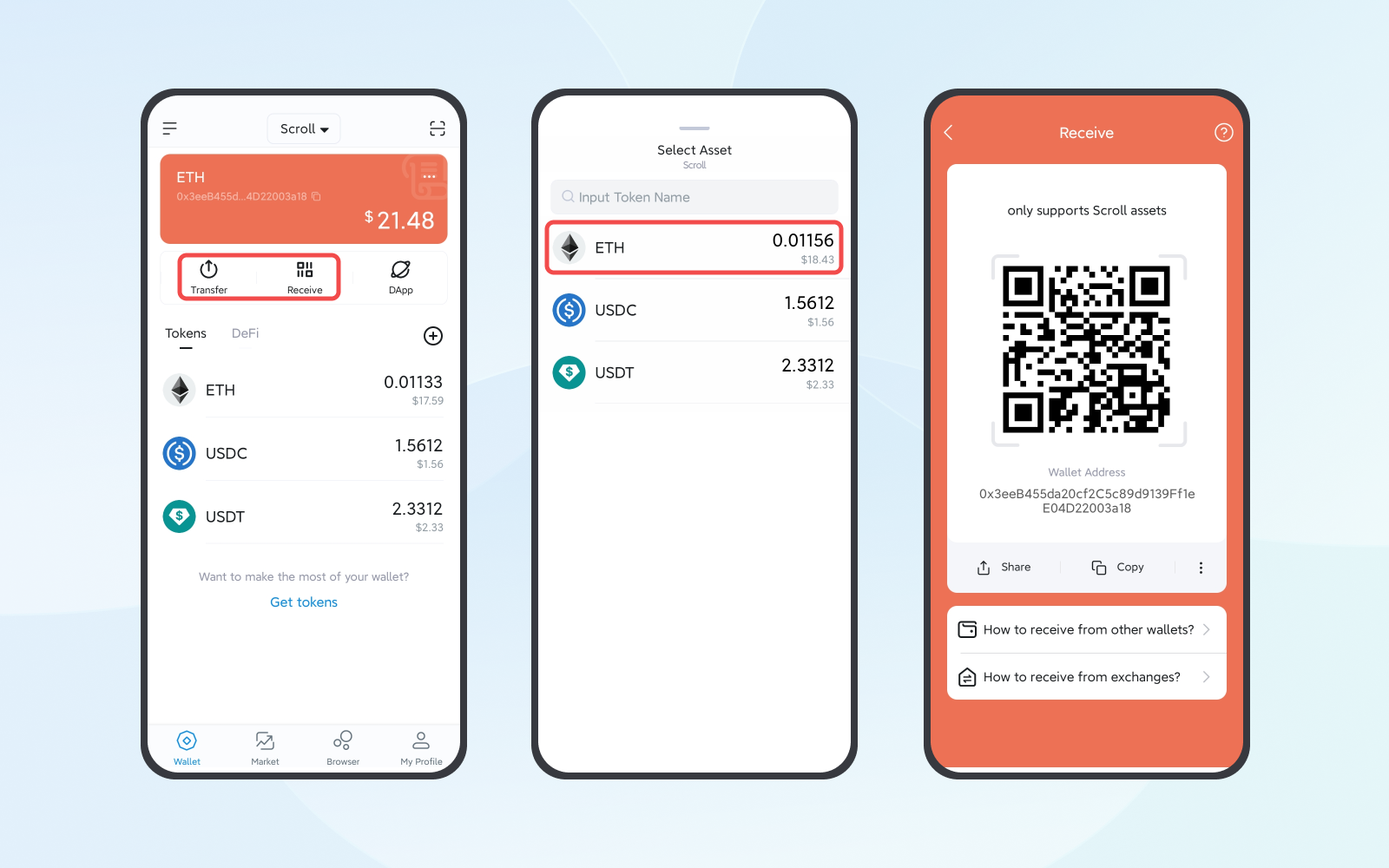 Transferring
Click "Transfer" then enter the amount and the recipient's address.
Notice:please make sure that there is sufficient ETH in your wallet to pay for the gas fee before transferring.
Receiving Assets
Click "Receive" to share your QR code or wallet address on the page to receive assets from others.
Cross-chain Deposit and Withdrawal
Through the Scroll Bridge, you can perform cross-chain transfer of ETH between Ethereum and Scroll.
Deposit
1. Click "DApp" and select "Scroll Bridge" from the DApp list. After the DApp is launched, click "Connect Wallet" then "MetaMask" to connect your wallet.
Note: After clicking MetaMask, Scroll Bridge will complete the connection with the imToken wallet.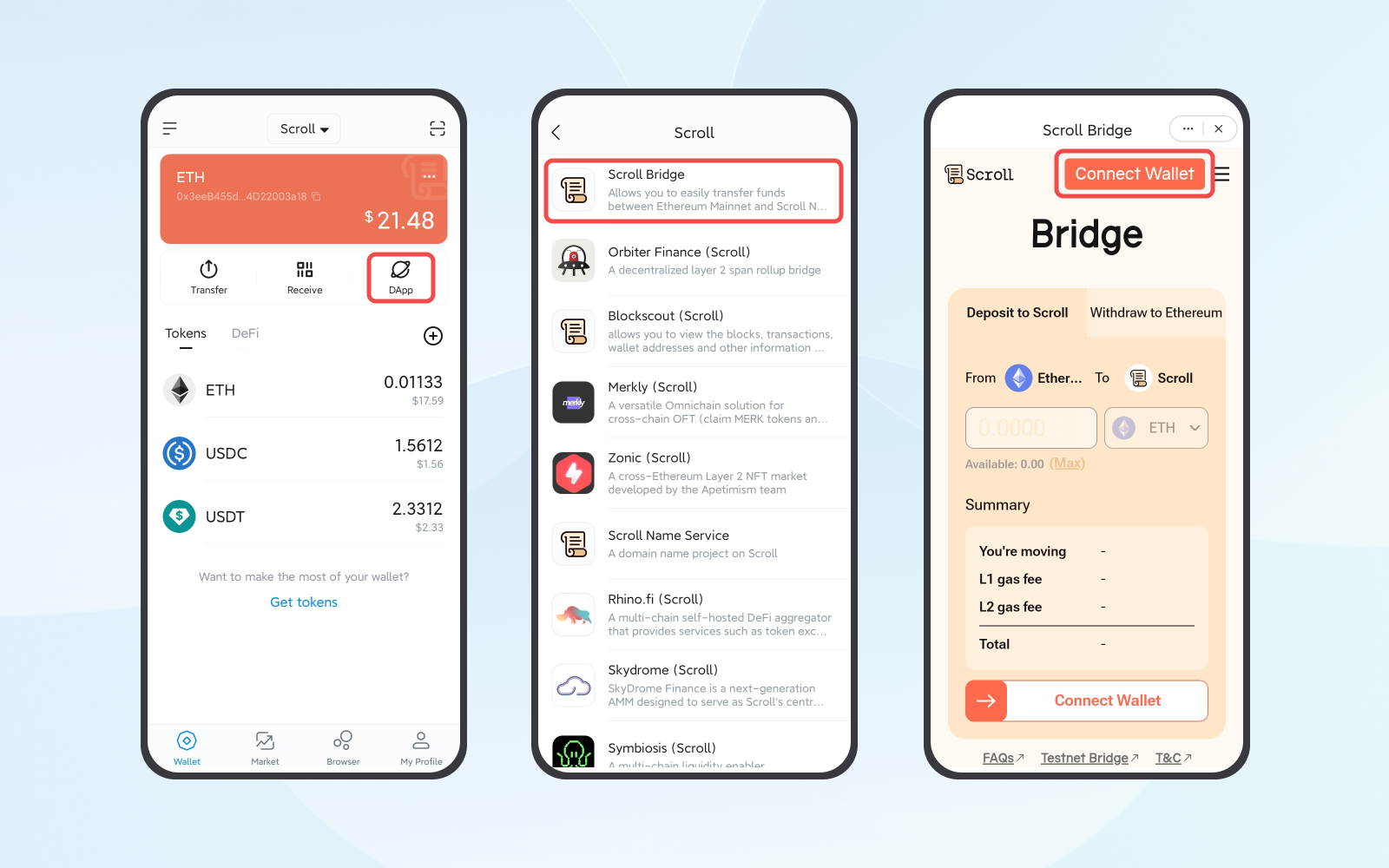 2. Once the connection is established successfully, you can initiate a cross-chain transfer. Here we'll show how to send ETH from Ethereum to Scroll. Simply input the desired transfer amount and proceed by clicking the "Deposit Funds" button.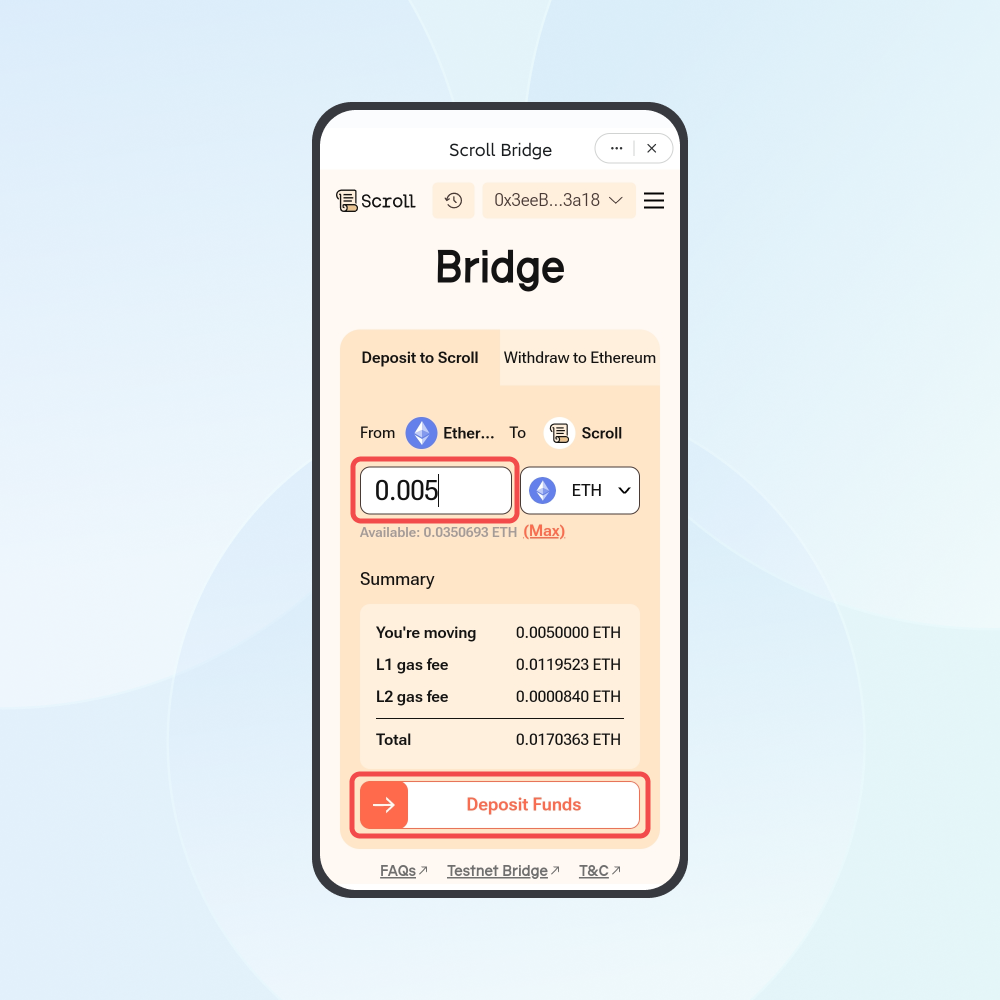 Withdrawal
Here's an example of transferring ETH from Scroll to Ethereum. Click "Withdraw to Ethereum", enter the transfer amount, and then click "Withdrawing Funds".
Note: To withdraw funds from Scroll to Ethereum, you need to wait for about 4 hours after step1 and then return to the " Withdraw to Ethereum " page to continue the withdrawal.
Experiencing DApps on Scroll
Open the imToken App, switch to the Scroll wallet, and then select "DApp" to explore its diverse ecosystem.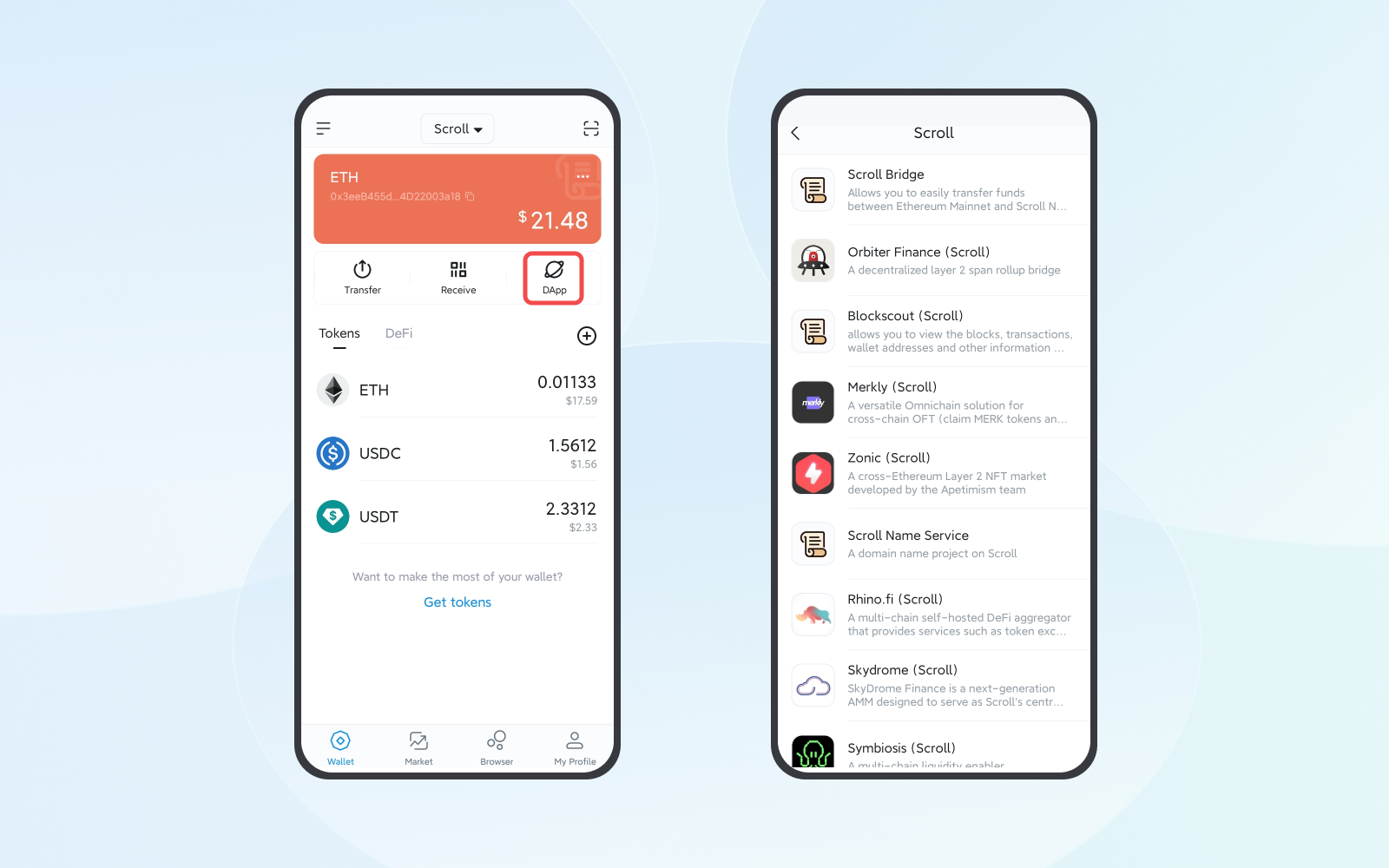 End
For best security on large amounts of crypto, consider our hardware wallet,imKey. imKey also allows users to use the Scroll wallet.
Risk Warning: The content of this article does not constitute any form of investment advice or recommendation. imToken does not make any guarantees and promises for the third-party services and products mentioned in this article, nor assume any responsibility. Digital asset investment has risks. You should carefully evaluate these investment risks and consult with relevant professionals to make your own decisions.