Are you troubled by high fees and complicated processes when transferring USDT from a TRX wallet to an ETH wallet?
Try imToken's Tron bridge to enjoy more convenient, cheaper, and safer cross-chain experience!
Feeling tired of switching back and forth between wallets and exchanges, and anxious about waiting for confirmation of cross-chain transfers? Or find yourself helpless in face of those high fees and complicated operation steps?
All these bad feelings are going away with imToken's newly released Tron bridge that simplifies cross-chain transfers. With just a simple click, you can transfer USDT from the Tron network to Ethereum. Come and try it out now!

How to Use the Tron Bridge?
In the imToken Tron wallet homepage, tap "Bridge" in the quick access area.
On the Tron Bridge page, enter the amount of USDT you want to transfer and the ETH address, then tap "Confirm to send" - "Next" and enter your wallet password. The transaction request will be sent and you are done.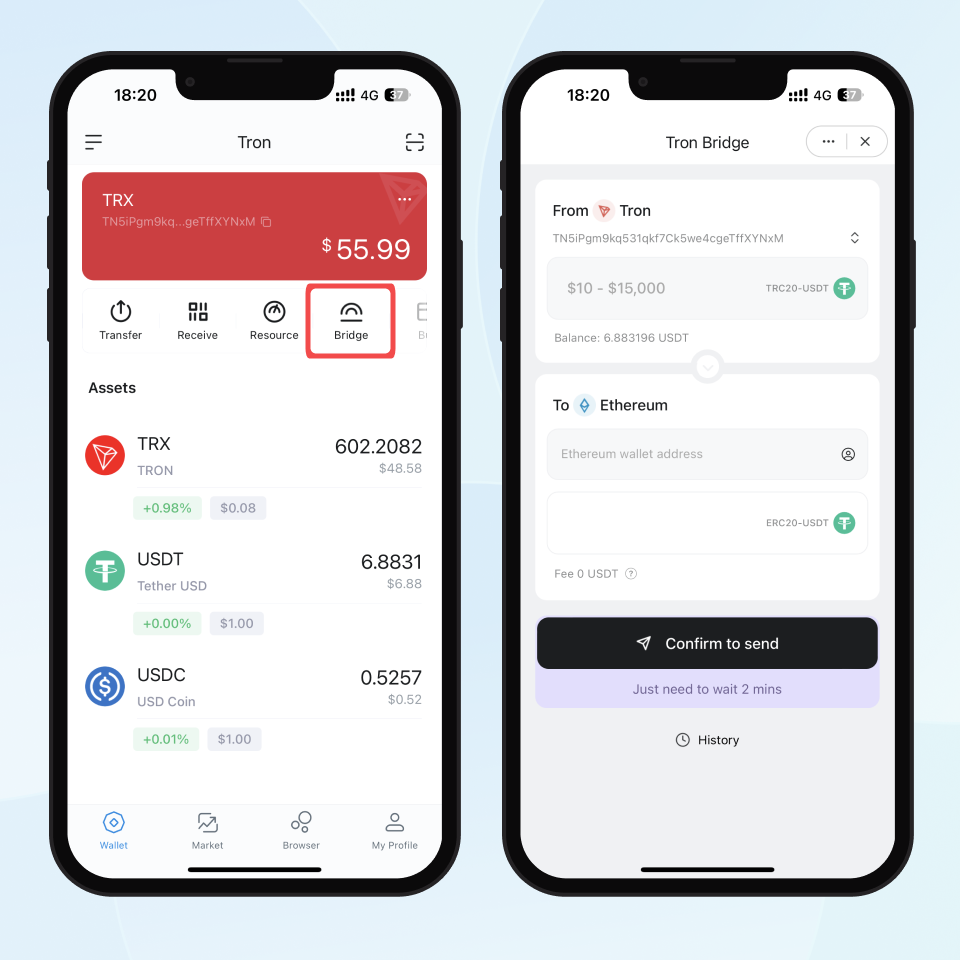 Frequently Asked Questions



Q1. I got an "Energy/Bandwidth insufficient " prompt after initiating a transfer. Why is that?
A: According to the latest protocol of the TRX network, each transaction consumes energy and bandwidth points as transaction fee, and carrying notes (required to send across a transaction code) consumes 1 TRX for each transaction. Please read How to get energy and bandwidth? to see what to do when you don't have enough energy and bandwidth.
Q2. How is the transaction fee charged? How much USDT can I send in a single cross-chain transaction?
A: Tokenlon charges 5 USDT for a cross-chain transaction lower than 2000 USDT and 3‰ of the amount for a transaction higher than 2000 USDT. You can send 10–15,000 USDT in each cross-chain transfer.
Q3. I made a transfer from TRON to ETH but my ETH wallet has not received the transfer after a long time. What should I do?
A: Go to your Tron wallet to check for the transaction details. If it shows "Cross-chain transaction in progress", please wait patiently. If it shows "Cross-chain transaction failed" or "Cross-chain transaction succeeded", please contact us at support@token.im for support.
Q4. Can I initiate another transaction before the previous transaction is completed?
A: Absolutely. You can just close the page of the cross-chain transaction in process and initiate another one as you'd like.
Q5. What assets does the Tron bridge support now?
A: The Tron bridge supports the transfer of USDT from Tron to Ethereum. But we will definitely support more assets in the future.
For other questions, please contact us through imToken Help Center.

imToken aims to provide the most convenient cross-chain transfer experience
Please stay tuned as we provide cross-chain transaction services to more assets and networks. We welcome any suggestions and ideas you may have. Feel free to contact us anytime.:

Help us in discovering more possibilities and shaping an exciting blockchain world.