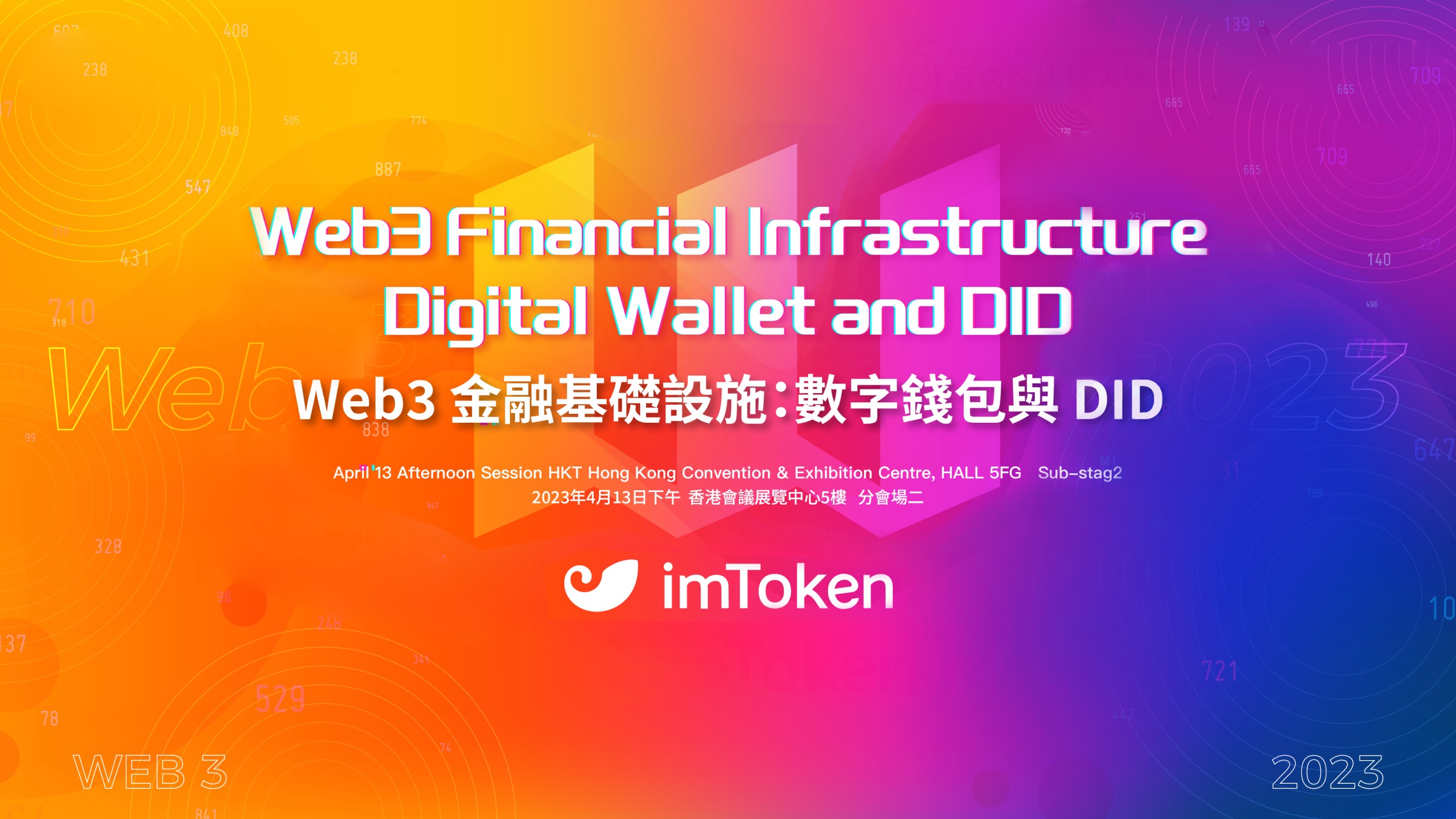 imToken Wallet will participate in the 2023 Hong Kong Web3 Festival, launched by Wanxiang Blockchain Lab and HashKey Group, and jointly organize the "Web3 Financial Infrastructure: Digital Wallet and DID" themed forum on April 13th. Industry experts are invited to explore the applications and challenges of digital wallets and decentralized identities in future financial infrastructures.

imToken CEO Ben He will deliver a keynote speech on "Breaking Wallet Trilemma: Balancing UX, Security, and Scalability in the Decentralized Era," sharing imToken's perspectives on wallet advancements.
The forum will also invite guests from SlowMist, Web3Auth, JoyID Wallet, UniPass, ZKP Lab, .bit, PADO Labs, HashKey DID, SevenX Ventures, Mask Network, Dmail Network, and zCloak Network to discuss digital wallet security, expanding the next generation of wallets, and the applications and prospects of ZK technology in DID.

Venue: 5/F, Hong Kong Convention and Exhibition Centre - Sub-stage2
Time: 2:00 PM - 6:00 PM, 13 April 2023
Agenda:

imToken is looking forward to coming together with everyone to discuss the latest advancements and upcoming trends in the areas of digital wallets and DID.

Join imToken's Discord to learn more about the festival.

About imToken
imToken is a decentralized digital wallet used to manage and safeguard a wide range of blockchain- and token-based assets, identities, and data. Since its founding in 2016, it has helped its users transact and exchange billions of dollars in value across more than 150 countries around the world. imToken allows its users to manage assets on 12 mainstream blockchains and all EVM chains, it also supports decentralized token exchange and an open DApp browser.

Official website: https://token.im

About the 2023 Hong Kong Web3 Festival



Web3 Festival will bring together the world's brightest minds, top Web3 projects and leading venture capitals presenting content-rich discussions and topics centered around Web3. Hong Kong regulatory representatives will also dive into and interpret the latest digital asset regulation policies. Adhering to the Web3 spirits of openness and cooperation, we will invite partners to plan and organize part of the activities together for mutual development.

Official website: https://www.web3festival.org/hongkong2023