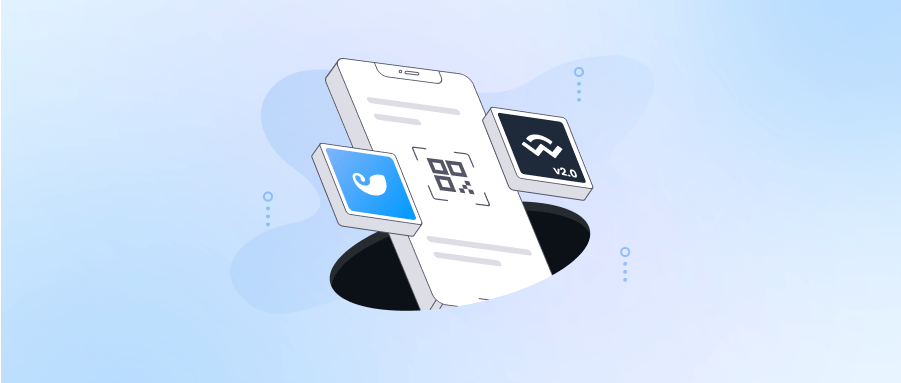 imToken is dedicated to delivering the most reliable and intuitive wallet experience and digital asset management services to its users. The latest version supports WalletConnect 2.0, which allows users to effortlessly connect to DApps on multiple networks with a single click.
Furthermore, imToken has enhanced the token risk control system to provide an additional level of security protection for users' assets.
New on the latest version:
Support for WalletConnect 2.0, which provides a more seamless DApp connection experience for users

Upgrading the risk control system of ETH wallets to block risky tokens and prevent token scams

Optimized node delay display and prompt notifications for any node abnormalities

Adding network name to the notifications center's transaction notice list
WalletConnect 2.0: Connect to multiple networks with one click
In imToken 2.5.8, we supported WalletConnect 1.0, enabling users to easily switch between mobile devices and computers to access DApps on Ethereum via QR code scanning.
imToken 2.11.3 now supports WalletConnect 2.0, allowing users to connect to EVM-compatible chains such as Polygon, BSC, and Gnosis Chain, as well as Layer 2s such as Optimism, Arbitrum, and Arbitrum Nova, expanding access to DApps on a variety of networks.
By scanning the QR code with imToken, users can view the name of the network that the DApp is requesting to connect to, and with a single click on the "Approve" button, they can connect to all supported networks.
Note: imToken cannot establish a connection if the requested network includes an unsupported or unrecognized network.
Enhanced risk control system
By gathering reported fraudulent tokens from users and information provided by third-party security teams, imToken has classified risk tokens on Ethereum into the following categories:
Warning: Tokens with potential risk

Risk: Tokens with identified risk

High Risk: Tokens with extremely high risk
When you transfer a token that has been labeled as "Warning", imToken will pop up a security alert.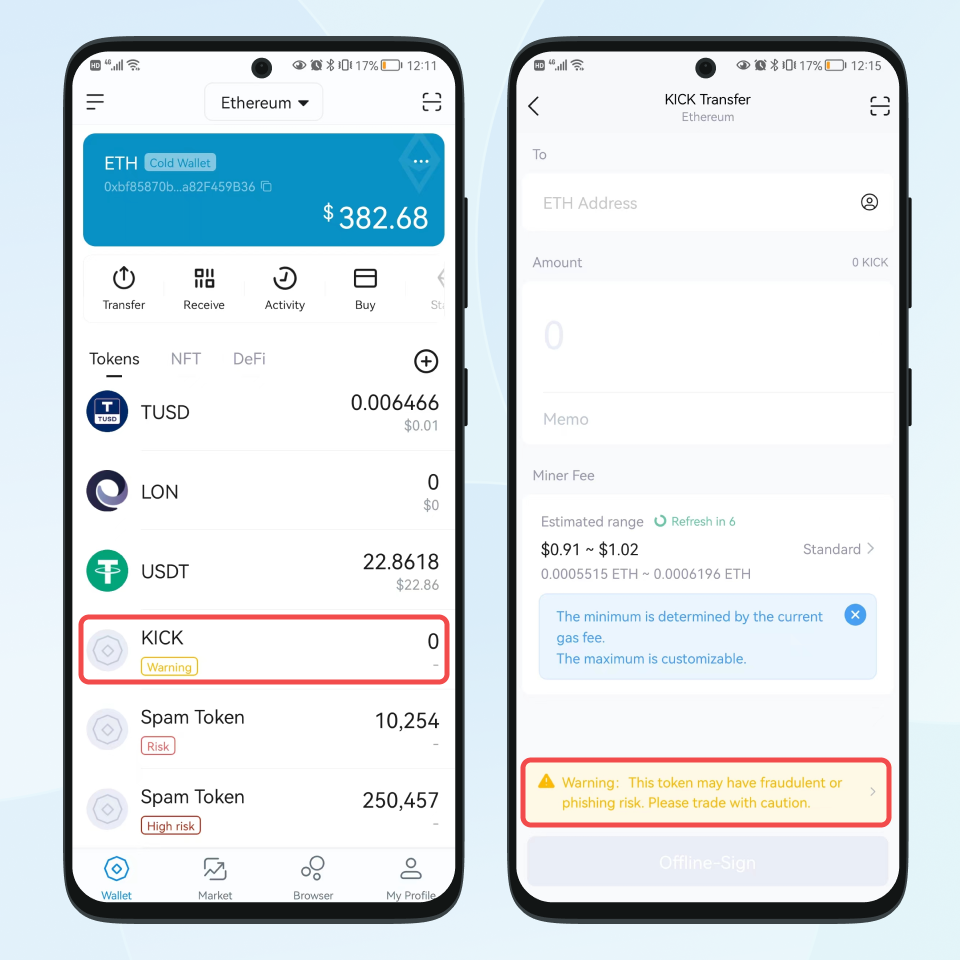 And tokens marked as "Risk" or "High Risk" due to identified or extreme risks will not appear on the wallet page to stop users from falling victim to scam tokens.
Furthermore, the latest version of imToken identifies domain tokens as "Spam Token", which contain phishing links in their names. If a token named "Spam Token" is found in your wallet, it indicates it's a fraudulent token.
Adding network name to the transaction notice list
imToken now displays a network identifier in the transaction notice list, making it easier for users to view the network involved.
For instance, if you transfer USDT from a TRX wallet, the notification will show "Tron" in the lower right corner, indicating it was initiated on that network. How to Update?
Android users: You can download from the official website https://token.im or at your favorite App store (Google Play).
iOS users: You can download from the App Store.
If you encounter any problem during the process, you can also send an email with the subject "Download" to support@token.im to get the latest version of imToken App.
Always Backup Your Keys
Before upgrading, please make sure that all wallet identities have been backed up properly. Please write down the Mnemonic phrase on a physical paper, never store it in the network;
Please refrain from sharing your private key, Mnemonic phrase or Keystore to anyone! If you find potential hacking activities in imToken, please report to us via email at hack@token.im to prevent more people from being deceived.
Please have a look at our Help Center at https://support.token.im/hc/en-us for more detailed information about imToken.
Download imToken: Google Play | Apple App Store